Football: Clermont Foot boss Corinne Diacre backed by Vicky MacQueen
By Dev Trehan
Last Updated: 02/08/14 3:54pm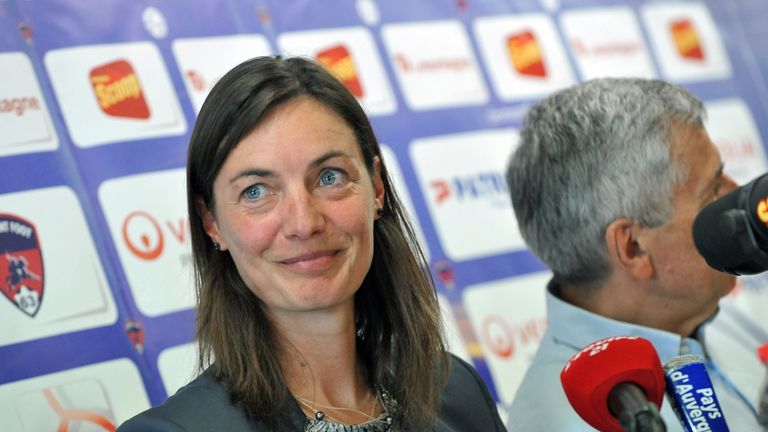 Clermont Foot boss Corinne Diacre has a great chance to demonstrate the managerial abilities of women, according to former England Women's rugby international Vicky MacQueen.
Former France women's captain Diacre is preparing for her first league match in charge of the Auvergne-based outfit as they travel to Brest in their opening match of Ligue 2 on Monday.
And MacQueen, who has had first-hand experience coaching men's rugby at Hinckley RFC, insists Diacre's appointment is a step in the right direction for women striving for equality in sport.
"It's absolutely brilliant - the more women coaches we see in that kind of role is vital and it just shows that women are out there and can do it," MacQueen told Sky Sports.
"There might be some misconceptions about her but I would imagine they'd be squashed by the club. I'm sure as soon as she takes charge and does her bit, then she'll get that respect
"On my level 3 rugby course, there were probably two girls out of 40 of us, but it's getting better and there are more women out there showing that they can do the job.
"It shouldn't be judged on whether you are a man or a woman. It should be based on if you can do the job.
"If you can do the job, then that's great but fair play to her, she's doing really well and I wish her luck for the game."
Diacre's managerial ability will inevitably be placed under the spotlight in the weeks that lie ahead but MacQueen believes the 39-year-old may find it easier to coach men rather than women.
"I think that men are very different to coach than women, but it's almost easier," she said.
"They just take on board what's been told to them, they listen and they do it. Women question a lot more, which in a lot of ways is a good thing but women do like to question why we are doing this.
"If you tell men something, a lot of the time they'll just do it. They might not listen probably but their attitude is very much like 'this is what I need to do, let me do it'.
"Girls would ask why and I think in some ways, she'll find it quite refreshing. She'll tell them what to do and they'll do it."
Diacre replaced former manager Helena Costa whose tenure at Clermont Foot lasted just seven weeks, but MacQueen is pleased to see the club give another woman the opportunity to prove herself.
"It just means that they haven't been sort of knocked down by 'oh, that's a woman' and didn't go 'why has she left'.
"I think they've kept faith in the fact that she was right for the job whether she is a man or a woman and I find that really refreshing."