UEFA Champions League: Celtic manager Ronny Deila admits side were not good enough
Last Updated: 07/08/14 12:29pm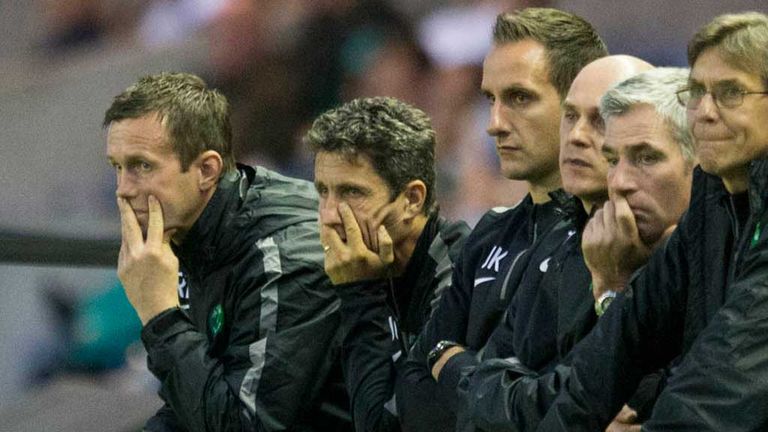 Celtic manager Ronny Deila admitted his side were not good enough after their UEFA Champions League hopes were ended by Legia Warsaw.
The Hoops lost the second leg of their third qualifying round tie against the Polish side 2-0 at Murrayfield on Wednesday night, to exit 6-1 on aggregate.
Goals from Michal Zylo and Michal Kucharczyk either side of the break saw Scottish champions Celtic drop into a Europa League qualifier and they were booed off the pitch at both half-time and full-time.
"I have to accept that is the level right now and have to work from here," said Deila.
"I have a big job to do to improve as a team so we can win the league and get into the Europa League, which would be a good achievement for us.
"I have been here for six weeks but right now it is not good enough, from what I can see.
"We need to make the squad better by getting in new players but we also have to do the best with what is here.
"Right now, of course it is not good enough. We have injuries and I was glad to see James Forrest coming on, with his pace, so that was positive on a very black day.
"I wasn't embarrassed but I am not satisfied. I feel sorry for the players, they wanted it but we didn't perform well enough and that is where we are."
Captain Charlie Mulgrew added: "The whole pre-season was geared towards the Champions League.
"We are not there now but we need to be as positive as we can. We never competed well enough.
"I'm not taking anything away from them but we could do a lot better. It takes time for the manager to bed things in but we are not using this as an excuse.
"It is up to is to respond to what he wants us to do and quickly. It is devastating but we all have to pick ourselves up quickly."
Legia Warsaw boss Henning Berg said: "Our team did really well. We are a strong team, with good technique.
"I am sure they will say that Celtic didn't play well but I look at my team and say that we made them play not so well.
"It is more that we played well than they played badly."