Willy Caballero warns Joe Hart he will fight for the number one spot at Manchester City
Last Updated: 12/08/14 6:10am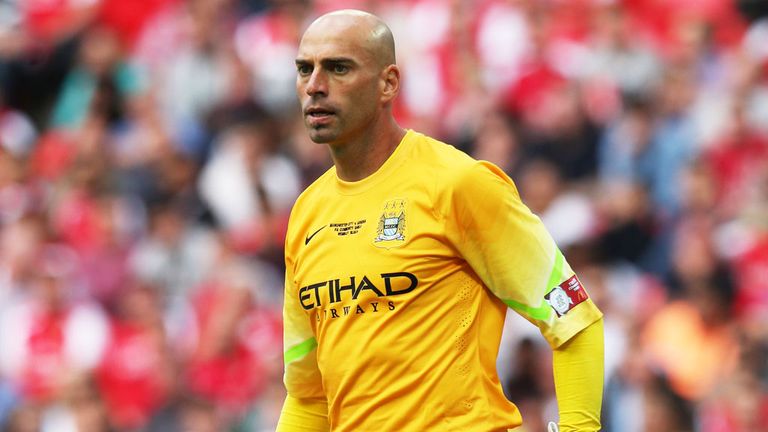 Manchester City goalkeeper Willy Caballero has told Joe Hart to expect a battle for the number one spot this season.
There is fresh competition at City for the keeper's jersey after Caballero joined from Malaga in the summer, with the Argentine getting the nod ahead of Hart in last Sunday's 3-0 Community Shield defeat by Arsenal.
The England international was previously left out by manager Manuel Pellegrini last Autumn after a string of errors, but soon returned to City's line-up as they went on to win the Premier League title.
When asked about his first choice, Pellegrini has refused to offer any guarantees over places, and Caballero, his No 1 pick at Malaga, is determined to secure a regular starting role.
"I want to be number one." he said.
"Both of us will train for that chance, but I came to fight for the number one spot."
Caballero was beaten by Santi Cazorla, Aaron Ramsey and Olivier Giroud in Arsenal's win, but insisted he gained valuable experience at Wembley.
"It was an important match for me. I have a chance to play. I am happy for this, but not for the score," Caballero said.
"I have been training well, but there is no doubt that this was not one of my best games - they attacked three or four times and they scored three goals.
"However, the decision (about who plays) is for the manager."
Team-mate Stevan Jovetic also received some much needed playing time, staying on the pitch for the full 90 minutes in a rare starting appearance.
The Montenegrin admits he must drag himself up the pecking order of fellow strikers, who include the likes of Sergio Aguero, Edin Dzeko and Alvaro Negredo.
But still hopes to play a key role in the upcoming Premier League campaign.
"Everybody knows that when they come to City, they have to compete in the biggest squad in the world," Jovetic said.
"Especially in attack - we have five very good strikers and we know it is not easy to play every game.
"When I played last season, it was good but I was just injured a lot of the time so I was always behind with the conditioning.
"That was the number one problem but in the final three or four months, it was fine and I was playing.
"This year it is going to be better."