Champions League: Legia Warsaw to take expulsion to CAS if UEFA appeal fails
Last Updated: 13/08/14 10:49am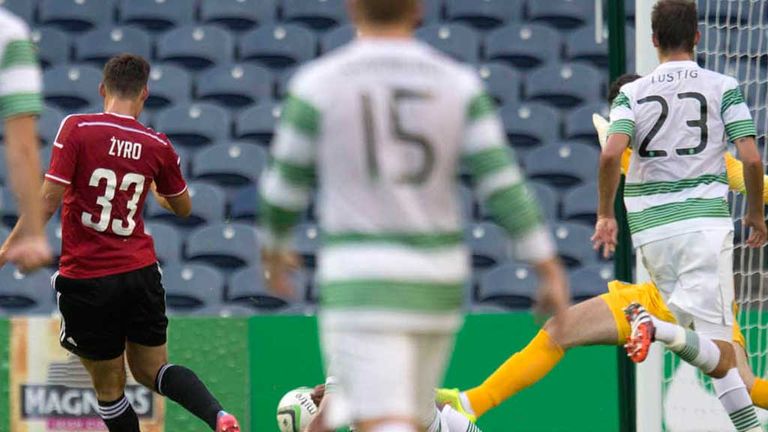 Legia Warsaw will take their Champions League expulsion to the Court of Arbitration for Sport (CAS) in Switzerland if they are unsuccessful with their appeal to UEFA on Wednesday.
UEFA's control and disciplinary body will hear Legia's appeal against the governing body's decision to award Celtic a 3-0 second-leg victory following the Polish champions' registration error.
Legia saw a 6-1 aggregate victory turned into an away-goals defeat after bringing on Bartosz Bereszynski in the belief that he had served a three-match ban - only to discover they had not registered him in their squad for the previous round.
The Polish club's co-owner Dariusz Mioduski told Sky Sports News: "We will take it all the way. If we are not successful today, as I hope we will be, we will take it to the Court of Arbitration in Lausanne because we believe we are in the moral right.
"This is not only about that. If we are forced to play in the Europa cup we will do so and will abide with whatever the final (CAS) decision is but we believe what has happened in this case is a bigger issue."
Mioduski was adamant his club had acted in good faith and added: "We haven't really broken the rules. I think we are quite sure that if UEFA looks at the situation and the facts they will see the rule that was broken could easily be misinterpreted. This is what happened in our case.
"Basically what it comes down to is the interpretation. It's a clerical mistake, a misunderstanding on our side but a misunderstanding also on the interpretation on the UEFA side which we are trying to clarify.
"The facts are that the player actually served the suspension so I think the spirit of the regulations whatever, however, it was interpreted was a guess and this is what we will try and show.
"I would say we are cautiously optimistic (on the outcome of the hearing). We have acted in good faith. Our argument basically goes to the questions of the interpretation of the regulation.
"If they had a bit more time they would not have taken that decision and we are looking for them for proportion. In other words, even if there was a mistake it cannot result in such a harsh penalty."