Capital One Cup: Nigel Clough admits Sheffield United needs to sharpen up in front of goal
Last Updated: 15/08/14 10:51am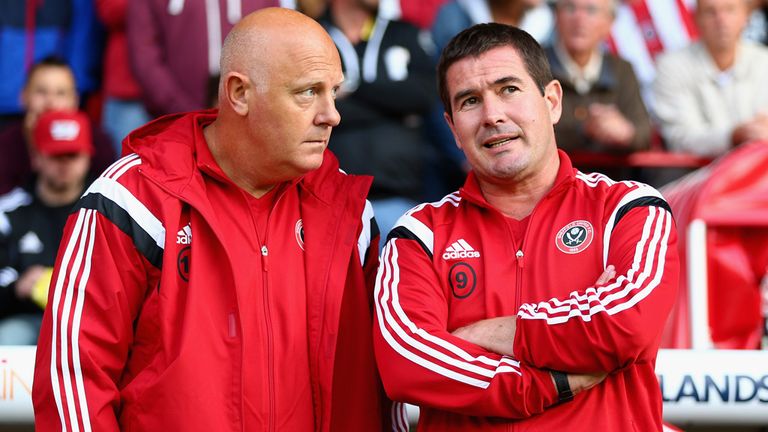 Sheffield United boss Nigel Clough spoke of the need for his side to capitalise on the chances they are creating after their 2-1 win at home to Mansfield in the Capital One Cup.
Summer signing Marc McNulty scored an 86th-minute winner after Alex Russell levelled for Mansfield just four minutes after Paul Butler's opener.
Clough said: "There were some good things in the performance. I thought we created some good chances to score more than two goals.
"If you look at our first two games, we could have scored three or four in each game, really, so that's something we need to work on.
"I don't think we need to do much work on the goal we conceded. He miss-hit it and then it hit the lad on the shin and went in, so there's not too much you can do about that.
"Everybody got a game and it was good from that point of view. It's only fair to give everybody a go.
"You saw the difference when Michael Higdon came on. I thought he did very well and helped make the winning goal.
"I thought Ben Davies was the star player. You can't ask for any more than the goals he's putting in at the moment."
Mansfield manager Paul Cox spoke about his frustration with a worsening injury situation at the club.
He said: "I stated before the game that I didn't want any more injuries, but we're going down like flies at the minute.
"We had 18 fit players before the game but then Liam Hearn went off after the lad fell awkwardly on his knee and Martin Riley went off with a groin problem.
"If Hearn is going to be long-term, it leaves us with one fit centre-forward at the club, which doesn't look good for a League 2 club.
"We took Jamie McGuire off because we can't afford to lose any more bodies and he was on a booking.
"I thought the lads were absolutely tremendous and probably deserved to at least take the game into extra-time against a very good Sheffield United side.
"I'm proud of my players because I thought we put in a great performance.
"You want to win every game but my main focus this season is on the league. It would just be nice to have a fully-fit squad to choose from.
"My biggest frustration is that, as a team, we're nearly there in terms of being a half-decent side at our level of football. We're taking two steps forward and then having to come back three and it's massive frustration."