Premier League: Burnley boss Sean Dyche insists his side are ready for the new season
Last Updated: 15/08/14 9:57am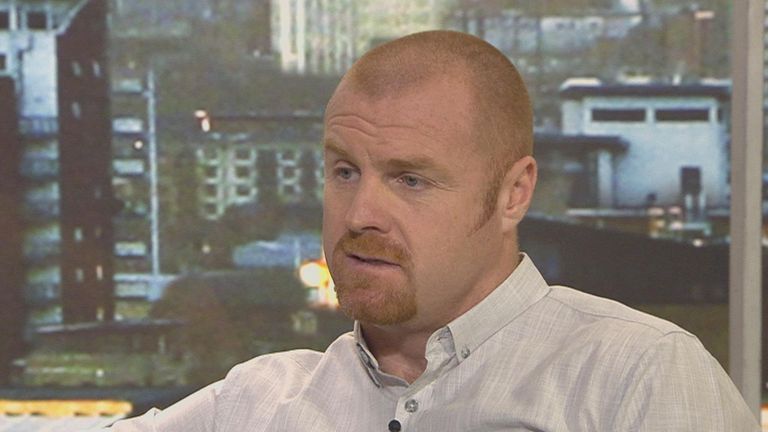 Jose Mourinho may have to accept a lower quality of wine than he is used to when he brings Chelsea to Turf Moor on Monday but Clarets boss Sean Dyche hopes the fare on the pitch will be of Premier League quality.
Burnley were the surprise package in the Sky Bet Championship promotion race last season and earned their spot in the top flight by finishing second in the division.
The Clarets are favourites to be relegated this season, the same fate that befell them in their only other Premier League season in 2009-10 and manager Dyche accepts his side are not competing on a level playing field.
"We're as ready as we can be," he said. "We've had a decent pre-season so we're happy with that. The players have come through fit and well, mostly.
"We had a few scary ones early into pre-season but they were only minor things that players got over quickly, and that's important. We're working with a low number at the moment, particularly compared to the norm in the Premier League.
"We're not naive, we understand the challenges and we understand some of the powerful clubs that are out there and some of the players that are out there. We want to be relentless in our attitude towards games."
There will be no chance for Burnley to ease themselves into life in the top flight as they face Chelsea in their opening game of the season and Mourinho is likely to hand competitive debuts to new signings Diego Costa and Cesc Fabregas.
Dyche has brought in the likes of Steven Reid, Matt Taylor and Lukas Jutkiewicz and insists there is no such thing as an easy game in the Premier League.
"Who do you get in the Premier League who you think's going to be an easy one? I don't think there is such a thing," said Dyche.
"We've got to play them all at some point. For sure it's a tough challenge - fantastic manager, fantastic club, fantastic team, and amazing power in the market.
"But there are no guarantees for anyone. Jose was open in saying it last year, he felt it was one of the leagues that he's worked in that's more open than others. We're obviously hoping so and we'll be working hard to make sure it is."
The match also brings Dyche into direct competition with Mourinho for the first time.
Burnley fans have dubbed Dyche the 'Ginger Mourinho' for his achievements at Turf Moor, a nickname the former defender is happy to wear.
"It's a bit of fun," he said. "The fans started it a long time ago. They haven't always called me that, I must say. It's amazing how success brings those tags.
"I think there's a nice connection between myself and the people of Burnley, and the players as well. And that's an important factor for us."
This will be Dyche's first experience of managing in the Premier League. The 43-year-old began his coaching career at his old club Watford after retiring in 2007 and worked his way up to become manager in 2011.
He lasted only a season, the victim of a change in ownership, but succeeded Eddie Howe as Burnley boss in October 2012.
Dyche has made a point of picking up tips along the way from his fellow managers: "You try and learn off all managers and I've found managers are pretty open," he said.
"You just try to nick ideas and ways of working. I think there is a spirit among managers. They all know how tough the job is no matter what level you're working at."
Dyche has spoken to Mourinho on the phone and will happily share a bottle of wine with his opposite number after the match.
"He could be interested in the Clarets' claret," said the Burnley boss. "I'm not quite sure it'll be to the level of the market that he's used to."
The Burnley boss is hoping to add to his squad before the window closes, but once again refused to discuss Burnley's reported interest in Nottingham Forest's Henri Lansbury.
He said: "We're closer on a couple of things but there's no guarantee. We're not a club who can throw money at every situation so we have to be wise and prudent."