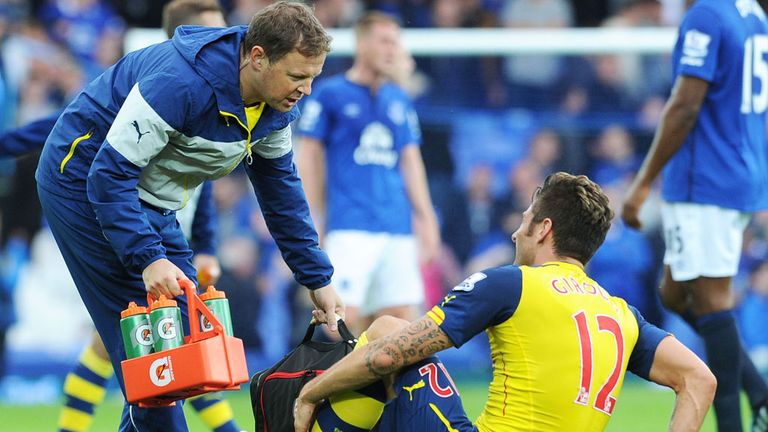 Arsenal will send Olivier Giroud to see a specialist amid fears that the striker suffered a broken ankle against Everton.
The France international headed a late equaliser for the Gunners in Saturday's 2-2 draw, but then injured himself while charging down a clearance from Sylvain Distin in the final minute at Goodison Park.
Giroud will miss the Champions League play-off second leg against Besiktas on Wednesday and could be absent for around three months if Arsenal's worst fears are confirmed.
"Olivier will not play against Besiktas and will see a specialist, then we'll make an announcement of how long he'll be out,"  said manager Arsene Wenger in Tuesday's press conference.
"It can be (a long term injury). We'll see tomorrow. I don't know (if it's broken). It's sad for us."
Wenger may now be forced to dip into the transfer market in search of a replacement if the Gunners' worst fears are realised and the Frenchman faces an extended spell on the sidelines.
When asked if his absence would impact on transfers, Wenger replied: "I don't know. We are 24 hours from a big game and our focus is more on that than the transfer window.
"I've learnt one thing in our job - you say nothing categorically."
Summer signing Alexis Sanchez is likely to operate as the loan striker against Besiktas, although there are doubts about his ability to perform the role.
Theo Walcott remains sidelined with a knee problem and Wenger could turn to the out-of-favour Lukas Poldolski, who has been linked with a move away from the Emirates, while Joel Campbell could also start.