Capital One Cup: Micky Mellon delights in Shrewsbury's win at Leicester
Last Updated: 27/08/14 4:06pm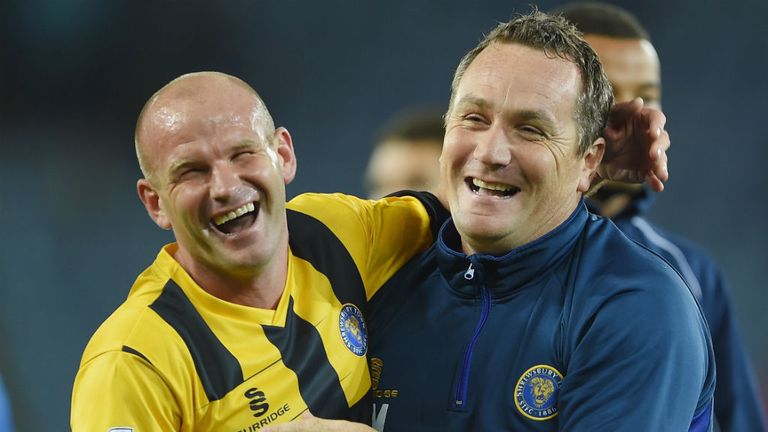 Micky Mellon admits his Shrewsbury side enjoyed 'a special night' as they stunned Premier League Leicester in the the Capital One Cup.
Andy Mangan, a free-transfer signing from Forest Green Rovers during the summer, scored the only goal of the night at the King Power Stadium to send the League Two Shrews into the third round.
It was nothing more than Mellon's team deserved as there was often little to determine which side was in the top flight and the other three leagues below.
Mellon said: "We're absolutely delighted.
"We came here determined we were going to give a good account of ourselves, to get the ball down and pass it because we believe we've good young footballers.
"For them to go out and perform like they did was a really special night for us.
"I said to the players before the game 'these are big moments in your career'. They don't come along too often.
"The players are young but fearless. We came here with an attacking formation, and we were determined we weren't going to be backs to the wall and nick a result.
"Instead, from minute one, we played with no fear. A lot of the lads stood up, were counted and gave a really top performance.
"On the night it's a wonderful result, and one we will remember for a very long time because this club needs moments like this - it hasn't had many recently."
Mangan's 38th-minute free-kick winner was his fourth goal in four matches, but there was a downside as he appeared to injure his hamstring in striking the ball.
Tonight wasn't good enough. We lacked quality, yet the players out there should be good enough
Nigel Pearson
Mellon joked: "I don't know if it was shock he scored a free-kick.
"I've seen him hit loads of those over the years, and trust me, they don't go in all the time."
He added: "But what a fantastic little guy. I've had so many moments like this with him.
"I was determined to get him into the club because I know what he is capable of.
"He deserves his break because he works so hard, loves his football, so I'm really, really pleased for him, but he was devastated he had to come off because he was causing them an awful lot of problems.
"It (the injury) may not be as bad as we thought, a touch of tightness. Hopefully we might get away with it."
City boss Nigel Pearson made eight changes from the team beaten 2-0 at Chelsea at the weekend, handing debuts to four players, including three youngsters.
Pearson pulled no punches in his condemnation of a wretched display far below Premier League standard.
"It was not a good performance, but I'd like to congratulate Shrewsbury Town because they probably played well enough to win the game," said Pearson.
"We didn't do enough throughout the entirety of the game to progress in the competition, so I'm very disappointed.
"We had a number of players making debuts, and players starting who have not figured in the Premier League games so far.
"But it was a performance best forgotten in many ways. It shows you that how we applied ourselves in the first two Premier League games, that has to be the baseline.
"But tonight wasn't good enough. We lacked quality, yet the players out there should be good enough.
"If they are good enough, then it (the defeat) had to be about the approach to the game and the application. It can't be anything else."