Women's football: Chelsea Ladies' Emma Hayes proud to be only female boss in FA WSL 1
By Dev Trehan
Last Updated: 01/09/14 12:54pm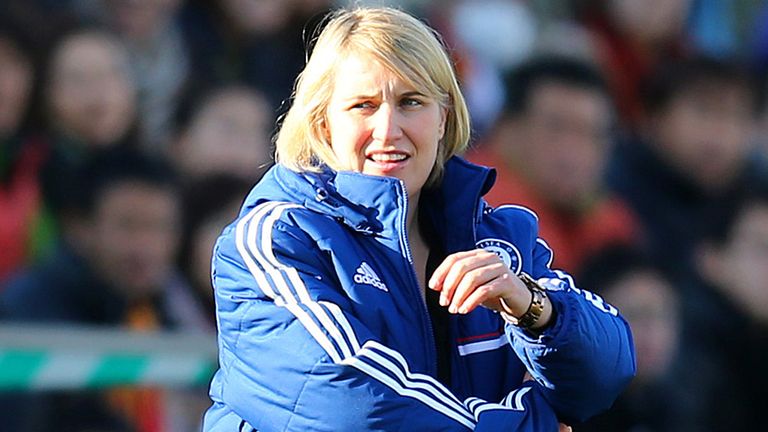 Chelsea Ladies manager Emma Hayes says she feels as though she's on familiar territory as the only female manager in FA Women's Super League 1.
Hayes became the only female coaching in the top-flight of women's football in England after Shelley Kerr parted company with Arsenal Ladies following their 2-0 FA Cup final win over Everton.
And the former Chicago Red Stars head coach, whose Chelsea side currently lead the FA WSL, says she feels happy delivering in a role where she feels totally at ease.
"To be honest I'm used to it. Even when I coached in the American league, I was the only female so it's not an unusual place for me," Hayes told Sky Sports.
"I'm a professional, I'm a coach that has been in it for a long time. I've got a lot of experience and I feel comfortable delivering at this level. It's something that's second nature to me.
"I've been in the women's game when it was amateur and I've been in it at pro level so I'm just doing my job.
"I'm obviously very proud of being the only female manager in the league but I very much enjoy being in the company of men and I have a lot of respect for my peers."
Hayes admits she would like to see more female managers in the top-flight of women's football and says it is possible provided aspiring female coaches have a dogged, single-minded approach to succeed.
"At the end of the day I see myself as a coach - I don't see myself as a female coach but I think it's important to keep pushing the boundaries," she added.
"I'd like to see more females come through and be given opportunities. I try and encourage aspiring coaches as much as I can, but female coaches also need to push to make it happen.
"If they want to talk about what they need to do to get right to the very top as a female, then they should speak to the best females in the game, because you can make it happen.
"You just have to be gutsy about it and have an absolute belief in your convictions otherwise you won't make it.
"It's a dog-eat-dog world. It's an aggressive industry but I don't see why more can't come through."