Zlatan Ibrahimovic proud to become Sweden's all-time record goalscorer
Last Updated: 05/09/14 4:02pm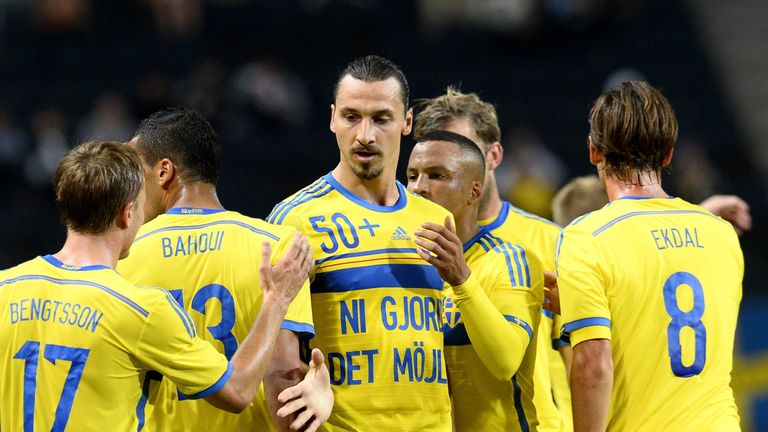 Zlatan Ibrahimovic has spoken of his delight after becoming Sweden's all-time record goalscorer.
The Paris St Germain striker netted both goals in Thursday's 2-0 friendly win over Estonia to take his international tally to 50 and break Sven Rydell's record which has stood since 1932.
Ibrahimovic, whose second goal against Estonia was a typically audacious back-heeled flick at the front post, said of breaking the record in Expressen: "It feels unbelievable. It's something I've been waiting a long time and now I'm finally there."
He added on TV4: "I'm glad it's done. It means a lot to me and my whole family, and everyone around me."
Sweden team-mate Kim Kallstrom hailed Ibrahimovic's feat as "impressive" and "incredible".
The experienced midfielder said in Helsingborgs Dagblad: "Fifty goals is impressive. It is an incredible achievement and had someone said that when he started out maybe they wouldn't have been believed.
"But slowly and surely, he has gotten closer and it's incredible achievement. We have to compliment him, and he deserves it."
Impressive though Ibrahimovic's record-setting second goal against Estonia was, it will not go down as the best the 32-year-old has notched for his country.
That honour, according to the man himself, was his brilliant long-range bicycle kick against England in November 2012
"I think the nicest goal is the one against England. Nothing beats it. But all goals are important because they have helped me get the record," said the former Barcelona, Inter Milan and Juventus forward, who has played 99 times for Sweden.