England avoid France clash
England avoided France in the 2014 World Cup qualifiers, Scotland and Wales will meet, Ireland face Germany and N Ireland tackle Portugal.
Last Updated: 31/07/11 9:35am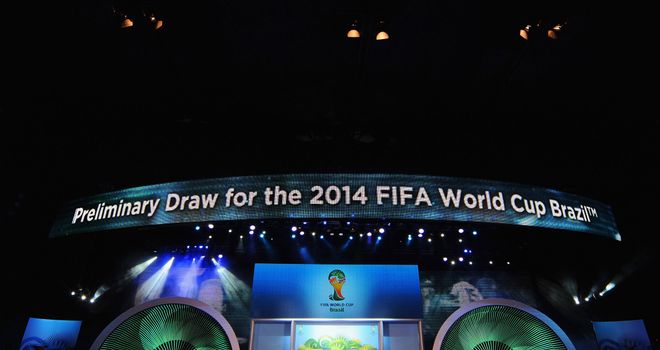 England avoided France in the draw for the 2014 World Cup qualifiers, Scotland and Wales have been drawn in the same group, the Republic of Ireland will face Germany and Northern Ireland will tackle Portugal.
The Three Lions had been in danger of meeting France on the road to Brazil with just two names left to be pulled out of the hat in Rio de Janeiro.
However, top seeds England were handed a berth in Group H, leaving 1998 winners France, who were second seeds, to tackle reigning champions Spain in the five-team Group I.
England, who will have a new coach for the qualifiers next autumn after Fabio Capello steps down following Euro 2012, will again have to come up against Montenegro.
The two sides are currently fighting for qualification for Euro 2012, while England will also meet Ukraine, Poland, Moldova and San Marino in Group H.
There will be a Home Nations tussle on the road to Brazil after Scotland and bottom seeds Wales were drawn alongside each other in Group A.
Balkan rivals Croatia and Serbia are also in that group, along with Belgium and Macedonia.
Ireland will face perennial qualifiers Germany in Group C, along with Sweden, Austria, the Faroe Islands and Kazakhstan.
Northern Ireland, meanwhile, were drawn in Group F and will face Portugal, Russia, Israel, Azerbaijan and Luxembourg.
Spain against France is arguably the most mouthwatering pairing, with Belarus, Georgia and Finland also in Group I, while Italy, Denmark and the Czech Republic are all in Group B, along with Bulgaria, Armenia and Malta.
Holland and Turkey, currently coached by Dutch tactician Guus Hiddink, are in Group D, along with Hungary, Romania, Estonia and Andorra.
Group E comprises Norway, Slovenia, Switzerland, Albania, Cyprus and Iceland, while Group G contains Greece, Slovakia, Bosnia-Herzegovina, Lithuania, Latvia and Liechtenstein.
The winners of the nine groups qualify automatically and the eight best runners-up play off for the four places remaining.
2014 World Cup qualifying draw, European Zone:
Group A - Croatia, Serbia, Belgium, Scotland, Macedonia, Wales
Group B - Italy, Denmark, Czech Republic, Bulgaria, Armenia, Malta
Group C - Germany, Sweden, Republic of Ireland, Austria, Faroe Islands, Kazakhstan
Group D - Holland, Turkey, Hungary, Romania, Estonia, Andorra
Group E - Norway, Slovenia, Switzerland, Albania, Cyprus, Iceland
Group F - Portugal, Russia, Israel, Northern Ireland, Azerbaijan, Luxembourg
Group G - Greece, Slovakia, Bosnia-Herzegovina, Lithuania, Latvia, Liechtenstein
Group H - England, Montenegro, Ukraine, Poland, Moldova, San Marino
Group I - Spain, France, Belarus, Georgia, Finland