Sir Alex Ferguson says Liverpool striker Luis Suarez is 'laden with controversy'
Sir Alex Ferguson says Liverpool's Luis Suarez is a magnet for controversy ahead of Sunday's Manchester United showdown.
Last Updated: 13/01/13 2:37pm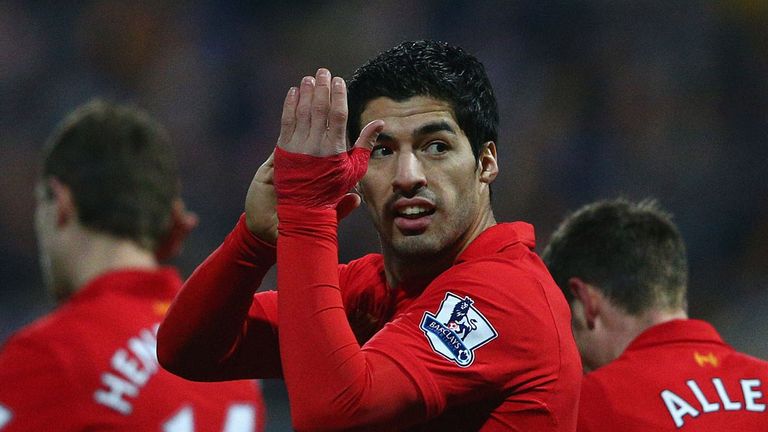 Suarez refused to shake Patrice Evra's hand in the corresponding fixture last season after the Uruguayan had been suspended for racially abusing the United defender during the meeting at Anfield in October 2011.
Last weekend had Suarez splashed across the backpages again when the ball hit his hand en route to scoring Liverpool's decisive goal against Mansfield Town in the FA Cup.
"I didn't see the Mansfield game, so it's difficult to say if it was deliberate or not," said Ferguson. "But I think the lad is laden with controversy. I don't know if he enjoys it or not."
Liverpool boss Brendan Rodgers is confident Suarez can cope with any abuse aimed at him at Old Trafford, saying: "His mental fitness is very strong.
"If anything he thrives on it and it gives him a greater motivation and I think everyone has seen that since he has been here."
And Ferguson is not surprised that Rodgers has leapt to Suarez's defence as the United boss can see elements of his own management style in that.
"You're always going to support your own player," he said. "That's not surprising from Brendan Rodgers. I've done it myself. It's part of your loyalty and protection of the player.
"I just hope we don't suffer from some of the decisions that went Suarez's way on Sunday."
Indeed, Ferguson wants the action to be concentrated on the pitch, rather than the obvious animosity between two sets of fans spill over as it has done in the past.
"We've got the two most successful clubs in the country and you hope it's a good game," he said.
"Over the years they've been relatively free from controversy. No sensational decisions have marred the game."
Yet, as Ferguson acknowledged, it is a fine balance, adding: "It is always an immensely important game. It is intense and emotional.
"Everything you can think of in a derby game will probably be there."
Liverpool are presently 21 points adrift of United, stuck in mid-table and a tough task ahead of them just to reclaim a place in the Champions League and, after the ill-fated second spell of Kenny Dalglish, Ferguson believes Rodgers needs the patience of owner John Henry.
"Patience is a real commodity in football and if Brendan's getting that then he's very lucky," said Ferguson.
"It's terrific if Liverpool fans are prepared to be patient because it's going to require it because it's a long way back to where they used to be.
"It is difficult to measure the Liverpool side of the moment against those teams of the past. For any young manager, it is going to be a challenge.
"They haven't won the league for more than 20 years. It's a long time for a club like Liverpool."
Manchester Utd v Liverpool is live on Sky Sports 1 this Sunday. For more details click here