Arsenal manager Arsene Wenger determined to carry on
Arsene Wenger says he has spent "not one second" considering his Arsenal future despite a nightmare week.
Last Updated: 22/02/13 7:01pm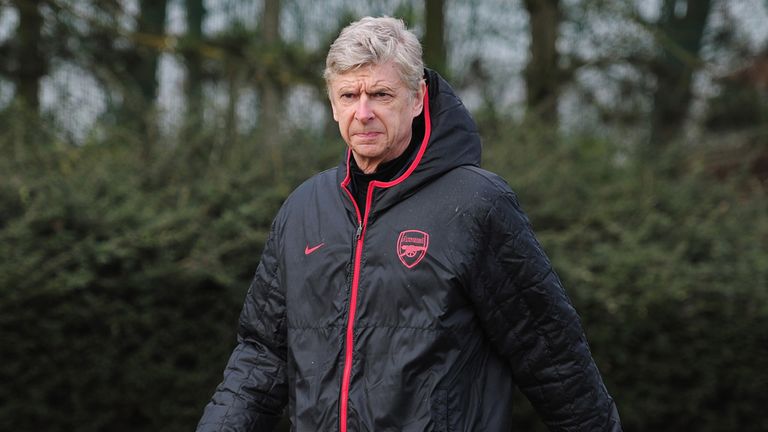 Saturday's FA Cup defeat by Blackburn - Wenger's first to lower-league opposition in the competition - was followed by a rare ruck with the press and a humbling home loss to Bayern Munich in the Champions League.
And Arsenal's longest-serving boss is under greater scrutiny from the club's supporters than at any other time during his 16-and-a-half years in England.
But asked directly whether he had considered stepping down Wenger, whose contract runs until 2014, said: "Never. Not one second.
"I don't think that spark has anything to do with the length of your life. It is just that's how you are and you're motivated by how much you want to win and how much you are a winner.
"If I go out now and play one against one with you, you will see I will beat you and at least if I don't manage to beat you, I will want to beat you. That will not change as long as I can move."
Wenger attended a board meeting in the wake of the Bayern defeat and was told he retains the full backing of major shareholder Stan Kroenke.
He said: "The meeting speaks about many things. Commercial, ticket prices, long-term plans. I make my report as well on the technical side, so it was the usual thing.
"Of course we had no euphoria because we have gone through a disappointment on Tuesday night but apart from that we are responsible people who know what it is to fight.
"We live in a world of emotion, of excess, and it is down to people who have responsibilities to put that into perspective and keep solid and keep guiding the club in the right way."
Arsenal are set to announce their latest interim financial results next week, which are expected to show another healthy cash reserve to be ploughed back into the squad in the summer, although at a reduced level should they fail to secure Champions League football again next season.
Wenger, though, remains confident Arsenal can come through this testing spell.
He said: "What we need is to be united and strong, and not to be destabilised by people who have strong opinions after one game.
"I believe what is important is that the club always goes with the guidelines we have and do not change direction every time we lose a big game, that would lead to a disaster.
"A bad period for a club is also a good opportunity to show how united and strong you are. We have a good history of that at Arsenal.
"I have a contract until the end of 2014 and at the moment we are on a short-term plan.
"This is for two reasons, because I am here for a long time and as well I have to consider what I want to do. That will be decided in 2014, not before."