Bossing it?
Michu's magnificence, Wenger's worries and Benitez's burdens - plus more. Kammy's back...
Last Updated: 03/12/12 1:33pm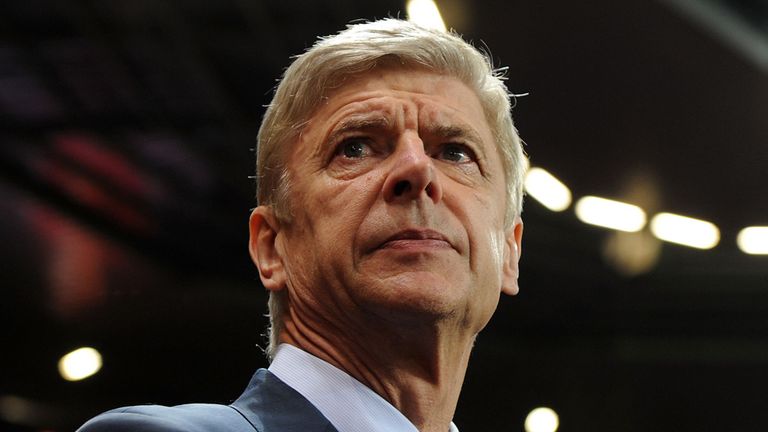 Every Saturday, Chris Kamara heads to stadiums up and down the country to deliver his unique match reports for Soccer Saturday.
On Sundays you can see him back in the Sky Sports studios as he brings you all of the highlights as well as in-depth analysis of all the action on Goals on Sunday.
And then on Mondays you can find Kammy right here on skysports.com as he brings you his views on the Premier League weekend.
Read below for his thoughts on Arsene Wenger's worries, Michu's magnificent impact and the Darren Bent situation at Villa...
Arsene Wenger's problems aren't all of his own making
Things don't look good at Arsenal at all right now - I've never known the fans turn on Arsene Wenger like they have done in the last few weeks. He's done so much for them and they've got great memories of what he's achieved there, but now they seem to have lost a bit of belief. That's understandable as this is the worst start they've had since he arrived but you can't keep losing the quality of players he's lost and then expect to bring in someone as good off the production line. You can try, but it's not quite happened.
On the face of it things do look diabolical but let's not forget that Arsenal have had problems. Jack Wilshere's time out injured was a big loss to the team, Olivier Giroud has not quite settled yet, Lukas Podolski is in his first season in the Premier League. Should Arsene go into the transfer window and buy or does he let the ones that he's already got settle? To be fair to them, they've got enough midfielders and attackers; maybe they just need another good defender.
Michu and Laudrup are taking Swansea to the next level
There's no doubt Michael Laudrup has improved Swansea. When you take over from a manager who has done well, you're normally on a hiding to nothing because if things don't go well everyone bemoans the fact that the previous manager left. But nobody down at Swansea now is disappointed that Brendan Rodgers left. That's not a reflection on Brendan, but testimony to how well Laudrup has done. He's improved them so much through the quality of the players that he's brought in, who have all settled into the Premier League like they've been playing here for years!
Michu has got to be one of the players of the season so far - and don't forget he cost £2m. You can't get a player out of the Championship for that! If you went and enquired about Charlie Austin at Burnley, they'll come back and ask for £5-7m for starters. That helps to put Michu's price tag into some sort of context. His second goal against Arsenal was top drawer. I know we had a bit of fun on Goals on Sunday at Tomas Rosicky's expense for not putting a challenge in, but the composure and class Michu showed to take his time and beat Wojciech Szczesny was brilliant to see.
I can understand why West Ham's equaliser was allowed to stand
To explain this one you've got to look at two incidents. West Ham had a goal ruled out earlier when in the build-up James Collins was ruled to have fouled Branislav Ivanovic by climbing all over him. In that incident Ivanovic has got his eyes on the ball and the only thing he's interested in is trying to win the header so the officials give a free-kick against Collins. But in the Carlton Cole goal, Ivanovic turned away from the ball and looked at goal, so then he's backing in towards the striker to prevent him from getting a header in. So that's probably the reason why they gave that one. On another day it could have been given as a foul but I'm giving the referee the benefit of the doubt; he probably saw that Ivanovic's eyes weren't on the ball so when Cole went right over the top of him - and has almost got him in a headlock - he's given him the benefit of the doubt.
None of which helps Rafa Benitez! This might just be a case of 'right club, wrong time'. The problem is that they sacked Roberto Di Matteo and there's barely any break before Rafa's walking through the door with a big smile on his face. Now don't get me wrong, Rafa's a good manager but you've got to give the club a cooling off period when you sack someone like Roberto - even if that's just two or three days. The situation was bound to be raw for the club and the fans. There's no doubt that Rafa will get results but I doubt the fans will change their tune about him.
Redknapp can work his magic - but Bent might do a disappearing act
I had a good chat with Harry Redknapp at QPR on Saturday and it's fair to say he's concerned - he's taken on a job that isn't going to be easy. It's more of a job for Harry Houdini - QPR are the equivalent of being in a bag with half-a-dozen locks on it at the bottom of the ocean, but somehow they've got to get out of trouble. I saw concern when I was chatting to him but I think he knows there's still a long way to go in the season and there's a 31-day window coming up when he can get reinforcements. He's turned things around before and I'm sure he's convinced he can do it again.
The Darren Bent situation at Villa is a strange one but they are not making loads and loads of chances. Having watched them on Saturday, I feel that Darren wouldn't have contributed much in that game because there would have been hardly any opportunities for him to pounce on. There were three strikes on goal in the first half and they had one more in the second half. Paul Lambert must be thinking 'we're not strong enough at the moment; we're not dominating football matches, so I can live without Darren Bent' and maybe he's thinking that if Darren does leave in the window, that will allow him to bring in who he wants to bring in. Let's not forget that Paul inherited Darren Bent, he didn't bring him into the club.
It's time to give Tony Pulis and Stoke the credit they deserve
When I was at Stoke, playing West Brom was the big derby game. I know they've got Port Vale nearby but after that West Brom and Wolves were the two big games for them. So that was a massive game for the fans at the weekend and let's be honest, away wins are hard to come by for them at the minute.
Tony Pulis does a great job there and no matter what people say about the style and everything else like that you have to compete against everything in the Premier League, and that's what makes it as exciting and as entertaining as it is. If every team was the same, people might even start turning away from the game. Stoke are not as bad as people like to make out or seem to think they are.The one man who does appreciate Tony 100 per cent is the chairman Peter Coates. He's not going to listen to any rubbish. Those two are joined at the hip and doing good things.