'The mob' minority
A missile-hurling disgrace, diving reputations and more Messi magic - plus more. Here comes Kammy...
Last Updated: 10/12/12 12:34pm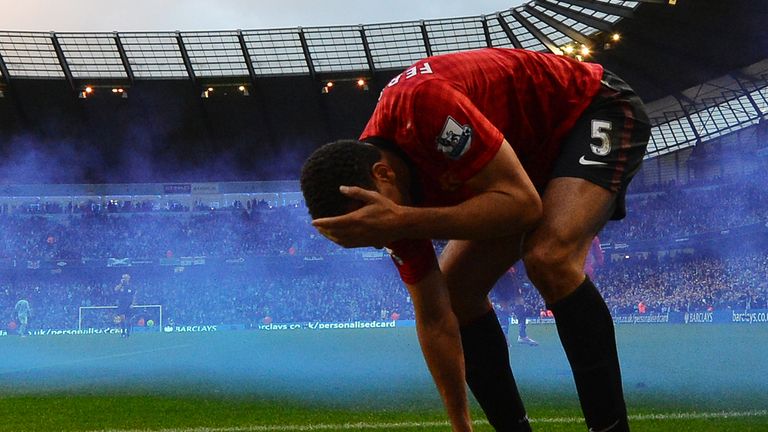 Every Saturday, Chris Kamara heads to stadiums up and down the country to deliver his unique match reports for Soccer Saturday.
On Sundays, you can see him back in the Sky Sports studios as he brings you all of the highlights along with in-depth analysis on Goals on Sunday.
And then on Mondays you can find Kammy right here on skysports.com when he brings you his views on the Premier League weekend.
This week, he's thrown his take on Lionel Messi's remarkable goalscoring feat along with analysis of a fiery Manchester derby and Santi Cazorla's alleged theatrics. Read on...
Fans throwing objects are influenced by the 'mob syndrome'
Let's hope the crowd incidents that we saw at the Etihad Stadium aren't repeated. The people who threw objects at the players can be picked out almost immediately with all the cameras, so I'm not sure that this talk of putting up nets is worthwhile. There are enough good fans out there who don't want these few people misbehaving and spoiling it for them.
People do it because of 'the mob syndrome' - they're just doing it because their mates are doing it. If you sat them all down separately and asked them why they got involved, they'd say it just felt like the right thing to do at the time and they'd admit it was wrong.
With regards to the criticism levelled at Samir Nasri for his deflection on Robin van Persie's winning free-kick, I wouldn't be too harsh on him. Everybody wants a fall guy - especially when City have battled back the way they did - and this time it's him.
Cazorla anticipated contact but should be presumed innocent
Santi Cazorla anticipated the contact from Steven Reid on Saturday. He went down and from the referee's position, it looked as though there was contact.
Steve Bruce, who was a guest on Goals on Sunday thought there was contact from the second angle that we showed. What is certain is that these decisions are getting harder for referees to make. They're booking people for diving when there's contact and giving penalties when they shouldn't - and some of the players aren't helping them.
We saw Liam Ridgewell the week before anticipate the contact from Adam Johnson in the West Brom v Sunderland and he went down and was given a penalty. We can't be too critical of Cazorla for doing it when we're not hammering other people for doing it.
Ignore those who say Messi must prove it at a World Cup
Lionel Messi eclipsed Gerd Muller's record for goals in a calendar year with both in Barca's 2-1 win at Betis on Sunday night. He is absolutely brilliant, top, top drawer. The superlatives are not enough when you talk about that little fellow. This record will never, ever be beaten and the thing is, he's not even finished yet! He'll rightly be there forever and a day... and poor old Radamel Falcao - Messi's goals have swept his five under the carpet! But the Colombian is certainly playing his way towards a Premier League move, there's no doubt about that.
As for those who say that Messi can't be considered the best ever because he's never led Argentina to a World Cup in the way Diego Maradona did, you have to take into account the fact that in those days, international football was the be-all and end-all. Club football was secondary. Players like Pele weren't playing in challenging, cosmopolitan leagues like they are nowadays.
I thought Maradona was the best player I've ever seen but these days, I always make sure I get to the Nou Camp at least once every year just to get to see Messi. He's such a brilliant player. It was possible that Messi could've had that incredible World Cup in South Africa, but Maradona stuck him out on the wing and didn't give him the role he wanted.
Benitez should be proud of reigniting Torres
Rafa Benitez seems to have kick-started Fernando Torres' Chelsea career. It's working. It was cited as one of the reasons that Benitez was given the Chelsea job - to restore Torres to his former glory.
When he scored his second goal in Saturday's 3-1 win at Sunderland, the instinctive finishing seemed to come back to the Spain striker. It might be a coincidence, but even if it is, Benitez should still take the credit for it.
Some will say that it was an easy fixture for the Blues as Sunderland have been in poor form of late, but the Black Cats put up a decent fight.
Wigan deserved a draw but equaliser was questionable
A draw was a fair result but the Wigan equaliser should never have been allowed because the goalkeeper's view has been obstructed by an offside player. It wasn't right. Situations like that should be taken down to the referees to just tell them they got it wrong. Even though the player didn't interfere with the actual shot, he did interfere with the goalkeeper's sight of the shot.
I think QPR can still escape under Harry Redknapp. What a difference a week makes - just look at Liverpool with a couple of wins and all of a sudden they're looking up towards the big boys all over again. Nothing's decided yet and all these teams have the chance to get themselves out of trouble.
People are starting to talk about James McCarthy, who netted both Wigan goals, and there's no denying that he's a quality player. He's adding goals to his armory too. He's a real good player and Roberto Martinez won't want to lose good players - he groomed Tom Cleverley for Sir Alex Ferguson and then had to watch him go, so he'll want to make sure that McCarthy stays.
The Reds have proved they are no one-man team
Brendan Rodgers will be over the moon after Liverpool's victory at West Ham. A lot of the talk before the match was how Liverpool would get on without the suspended Luiz Suarez - with some saying that Liverpool (Steven Gerrard aside) are a one-man team. But they scored three away from home and that will give them a lot of confidence.
Joe Cole popped up with a welcome goal on Sunday and slowly but surely his confidence seems to be coming back. He wants to get back to the level he used to be at, and he's slowly finding his way back to being his former self. It looks like the Reds will add Daniel Sturridge plus a few others in the January transfer window, so they shouldn't be short of options in the New Year.