Kompany check
Kammy says Vincent Kompany may need to adapt his tackling style after his red card at Arsenal.
Last Updated: 14/01/13 11:21am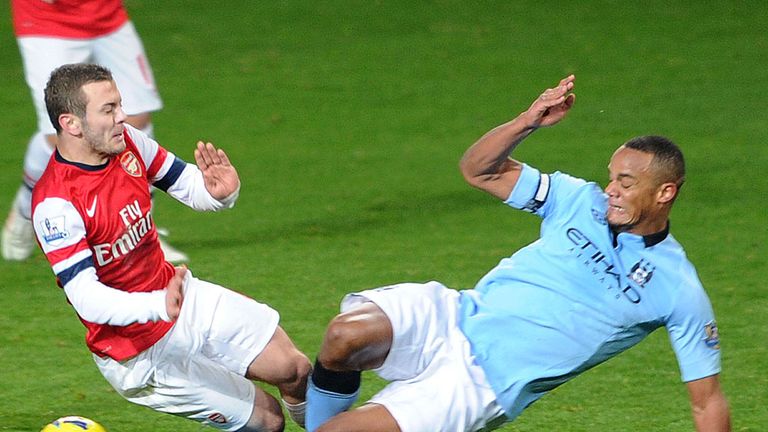 Every Saturday, Chris Kamara heads to stadiums up and down the country to deliver his unique match reports for Soccer Saturday.
On Sundays you can see him back in the Sky Sports studios as he brings you all of the highlights on Goals on Sunday.
And then on Mondays you can find Kammy right here on skysports.com as he brings you his views on the Premier League weekend.
Read below for his thoughts on the red card drama at the Emirates, the value of Robin van Persie and a huge result for Reading...
Vincent Kompany's approach leaves him at risk of being sent off
I felt Vincent Kompany should have been sent off against Norwich for a tackle on Bradley Johnson which was 10 times worse than the tackle on Jack Wilshere yesterday. He seems to have something in his locker which sees him leave the ground, but to be fair it wasn't dangerous against Arsenal - he was in control of what he was doing and he took the ball fairly. When you look at it from one angle it was a ridiculous decision, but when you look at it from another angle you can see why the referee sent him off. He runs that risk when he leaves the ground with two feet and he needs to get that aspect out of his game.
A lot of old players will say that the game has gone in the wrong direction when you see people getting sent off for what he did yesterday, but in fairness we've seen this a few times with Kompany. He should have been sent off against Norwich and in the end a goal - from Edin Dzeko - came from that incident. This was nowhere near as bad as that, but maybe it was in Mike Dean's mind. Mike Jones was the referee on that day and it might have been talked about and influenced what happened.
Maybe the rules need to change after the Laurent Koscielny red card?
By the letter of the law the referee was correct to send off Laurent Koscielny, but I do wonder about that rule. He has denied a goalscoring opportunity - but when it takes place in the area you are giving the goalscoring opportunity back with a penalty kick. Surely that needs to be sorted out? Maybe that law should only apply when the foul takes place outside the box because you don't receive a free shot at goal and therefore you don't get the goalscoring opportunity back. To me it's simple - if it's outside the box it should be a sending off, if it's inside the box you get the goalscoring opportunity back with a penalty so it's just a yellow card. It seems so obvious to me, but as usual it won't change anything!
Obviously the decision made it very hard for Arsenal. The Arsenal of old, against 10 men, wouldn't have worried too much, but you couldn't see a way back for this team and that's how it turned out.
Robin van Persie proved his value to Manchester United yet again
It was a tough game for Manchester United against Liverpool, but once again we saw that Sir Alex Ferguson is no mug. People questioned the amount of money he paid for Robin van Persie, especially given the age of the striker, but he's been worth his weight in gold for them this season. We had a debate on Goals on Sunday about whether he or Luis Suarez was the better striker; Gus Poyet couldn't split the two of them and Steve Staunton just went for RVP (even though he's a Liverpool fan). I stayed out of it because I was a presenter on the day, but my view would probably be to lean towards Van Persie - and he proved to be the matchwinner on Sunday.
People are saying he could be the difference in the title race and I think it's already the case. Manchester City had a great win to keep on their coat tails, but it's still going to be a hard task for them to claw the points back by the end of the season.
Brian McDermott is keeping things positive with Reading
West Brom should have been out of sight against Reading. They absolutely battered them and Romelu Lukaku was in a different league for much of the game. He looks like a real player on Saturday, it was probably the best game of his life so far, and he won't be able to believe that he ended up on the losing side!
But you have to give so much credit to Reading for scoring three goals in the last 10 minutes. Brian McDermott has said from the start of the season that he has a good bunch of lads that will keep going in any circumstances - and this victory will be an excellent confidence booster for them. I think Brian has learned a few things too. I remember when they were 4-1 up at half-time against Arsenal in the Capital One Cup and he slaughtered his players for conceding the one goal, rather than praising them for for the best 45 minutes of his time in charge. He openly admits he cost them that game by doing that and I'm sure he's become a bit more clever with his half-time team talks now. They were being battered by West Brom, but he kept the confidence of the players going. I'm sure he'd have settled for a draw at 2-2, but they kicked on and got the winner.
Players will do what they need to do to win matches
First of all, well done to Southampton; it was a great three points for them in their bid for survival. But when Paul Lambert looks back on it, the goal was one of those incidents that you can't do anything about. Jay Rodriguez went down in the box and it looked to the referee and his assistants that it was a penalty when clearly there was no contact. If that didn't happen then Aston Villa would have got a point, a clean sheet and stopped the rot. The Villa manager will be disappointed, but if he gets a sense of perspective on it all then it's not all negative. This week it went against them, maybe next week it will go for them?
Jay Rodriguez realised immediately what he'd done and got up saying that he didn't dive. I would ask what did he do then? His manager said he was anticipating the challenge - and that is a possibility - but the problem is that the challenge never came. But let's not castigate him because he's not the only player to do something like this; players will do what is needed to get a result for their team. Gus Poyet said on Goals on Sunday he would do that all the time when he played in Spain - and when he watches Spanish games now the players will do every possible conceivable thing to win the match. For me, that's taken a lot of the enjoyment out of the Spanish game. I love watching Real Madrid, Barcelona, Atletico Madrid and some of the others but you don't want to see players feigning injury all the time. I don't think our game is that bad yet and we need to keep a level head over this issue.
There is someencouragement for Jon Walters after his nightmare game
He scored two own goals and missed a penalty against Stoke, but don't be too hard on Jon Walters. We analysed the game on Goals on Sunday and he deserves some credit. For his first own goal, he was the only player who spotted the danger and it was unfortunate he ended up putting it into his own net. On the second goal he closed his eyes and was probably hoping the goalkeeper would come and get him out of trouble - he maybe could have done a lot better on that one. He then missed a penalty at the end of the game, but at least he had the guts to go up and take it. I'm sure he'll want to take another one if they get a penalty next week - although I'm not sure his team-mates will let him! He showed plenty of character, but it was one of those days for him.
Martin O'Neill showed why Sunderland were right to be patient with him
It was a great performance from Sunderland to beat West Ham 3-0. Martin O'Neill said a few weeks ago that he was the best man for the job. He felt the need to come out and defend himself after a few bad results, but he's proved since then that he was right. We mustn't be too defeatist in this game and it would be wrong to sack managers every time a team goes on bad run. People with the pedigree of Martin O'Neill deserve a bit of time to get things right - just like he did at the Stadium of Light on Saturday afternoon.