Fergie's flawed fury
Kammy says Sir Alex Ferguson should criticise Chris Foy, not his assistant, for the non-penalty at Spurs.
Last Updated: 21/01/13 12:25pm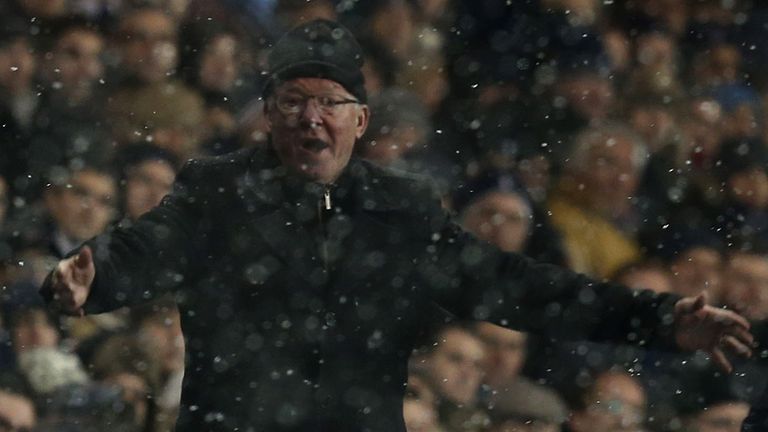 Every Saturday, Chris Kamara heads to stadiums up and down the country to deliver his unique match reports for Soccer Saturday.
On Sundays you can see him back in the Sky Sports studios as he brings you all of the highlights on Goals on Sunday.
And then on Mondays you can find Kammy right here on skysports.com as he brings you his views on the Premier League weekend.
Read below for his thoughts on the red card drama at the Emirates, the value of Robin van Persie and a huge result for Reading...
Sir Alex Ferguson should be annoyed with Chris Foy, not his assistant
I saw pictures of Sir Alex on the pitch at White Hart Lane hugging Chris Foy before the game, but I think his fury should have been aimed at the referee, rather than his assistant Simon Beck, after the match. It was a stonewall penalty when Wayne Rooney went down under Steven Caulker, but it was the referee who had the best view of it, not the assistant. Chris Foy never even looked over at his assistant and I can't explain why he didn't give it - he's the only one who can answer that and because they won't speak at the end of the game we just don't know. In that particular instance, Ferguson should be criticising the referee, not the assistant, but maybe he hadn't seen a replay and didn't see that it was the referee's error.
I hope Roy Hodgson has noted Aaron Lennon's form and maturity
It was great composure from Aaron Lennon after the goalkeeper gifted him the ball in injury time. He could have had a wild slice at goal, but he instead laid it back across for Clint Dempsey to equalise. That's the maturity that seems to be coming with experience from him and I think he's got to get a call from England. He's playing well in a Spurs team that is playing well so I don't think you can doubt that. We all know what football is like and a lot of the time you don't get what you deserve. However, Tottenham kept going, made it difficult for Manchester United and when you look at the game overall - and the chances created - you would have to say Spurs deserved a result from that game.
Chelsea's first goal should never have stood
Francis Coquelin was fouled by Ramires right in front of the referee and I don't understand why he didn't see the foot go into the ankle. Obviously there was a lot to do before the ball ended up in the back of the net and if Juan Mata had put it wide then none of us would be talking about it on Monday morning. But to make it worse, it came a couple of minutes after Olivier Giroud had missed a great chance for Arsenal. It was crucial for Arsenal's confidence and they didn't recover until half-time when Arsene Wenger changed it around and they gave it a good go in the second half.
But the officials got it right for the second
Wojciech Szczesny brought Ramires down and I just don't think the Chelsea player could stop his momentum. Once the goalkeeper's leg was there, you can't say he shouldn't fall over it. It was completely different to the Manchester United game when Clint Dempsey skipped through against Patrice Evra and had to stay on his feet instead of thinking of going down. In this case, Ramires dummied the goalkeeper with his ability and Szczesny was committed and fouled him. The outcome was correct. I also thought the yellow card was right. Yes, he denied a goalscoring opportunity, but that opportunity was given back through the penalty. I think a booking was fine, especially because it wasn't a deliberate foul from the goalkeeper.
Let's give Rafa Benitez a bit of credit for that win over Arsenal
Let's give the Chelsea manager some praise for a change. Everybody's been knocking him, but it was a huge win on Sunday. If they'd lost that game there would have been a lot of demonstrations at Stamford Bridge after all those disappointments in recent games, but he came through it. He's been hammered a lot since he arrived there, but even though this isn't the Arsenal of old, it's still a team that Chelsea have struggled against over the years so it was an important three points.
I can't see Alan Pardew losing his job at Newcastle
He's odds-on to be the next manager to go with some bookmakers, but when you've been backed with an eight-year contract like Pardew has, then you would expect him to see things through. I can't see Mike Ashley pulling the trigger any time soon. Of course, Newcastle would have expected to win at home to Reading on Saturday and they now find themselves in the mire. There is still a week-and-a-bit until the transfer deadline and they might need to freshen things up, but there's still a lot of very good players there. They've lost Demba Ba but that shouldn't have a completely destructive impact. They've still got good enough players to get out of it, but how many times have we seen the phrase "too good to go down?"
The future looks bright for Liverpool
We had Stevie Gerrard on the sofa on Goals on Sunday this week and he was saying that the signs are promising. He said they look a little bit short of competing for the top four at the moment, but if they keep the likes of Luis Suarez for a while, if he can build a partnership with Daniel Sturridge and if they can bring through a bit more quality then it's looking good for them. The 5-0 win over Norwich was obviously a big step in the right direction.
Swansea, Sunderland, Villa and QPR can all take heart from the weekend results
Swansea had a really good win against Stoke and that will give them good momentum going into the second leg of the Capital One Cup semi-final against Chelsea. West Brom showed their character to come from 2-0 down, but Aston Villa can go into their cup semi-final with confidence that they can peg back Bradford. Sunderland's Steven Fletcher is bang in form - and I'm sure Gordon Strachan will be very pleased about that. And I was at Upton Park where QPR dug in more than I've seen before. On another day they could have got beaten 5-1, but they held out for a point.