Give every last drop
Kammy reflects on vital wins for QPR, Newcastle and Aston Villa and looks at Liverpool's ambitions.
Last Updated: 11/03/13 11:59am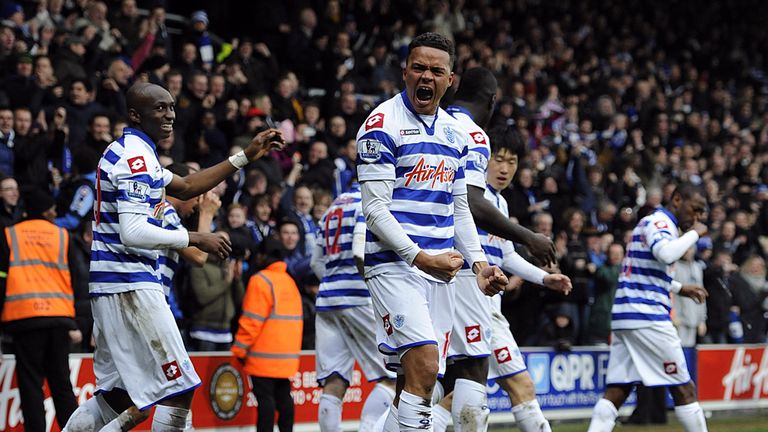 Every Saturday, Chris Kamara heads to stadiums up and down the country to deliver his unique match reports for Soccer Saturday.
On Sundays you can see him back in the Sky Sports studios as he brings you all of the highlights on Goals on Sunday.
And then on Mondays you can find Kammy right here on skysports.com as he brings you his views on the Premier League weekend.
Read below for his thoughts on an enthralling weekend in the battle to beat the drop and the continuing rivalry between Rafa Benitez and Sir Alex Ferguson...
QPR are starting to put real pressure on defences...
QPR have given themselves a chance and that's what Harry wanted. He's gone for all-out attack and changed the system and the shape of the team, which means there's no longer any room for Adel Taarabt. He's still a very good player but does he fit into this current system? The answer is probably 'no' because he's a bit of a maverick, a freestyler. Even so, it's a big decision for Harry to leave him out altogether but, judging by Saturday's result, it's working. QPR are putting real pressure on defences - something they didn't really do when they played with one up front and Taarabt behind the striker. That's fine when you're playing away from home and you've already got points in the bag. There's less emphasis on penning teams in. But when you are chasing results it's a different mind-set and your system almost becomes 4-2-4 never mind 4-4-2.
I saw Sunderland last week against Fulham and I thought they looked very good - I thought Stephane Sessegnon was excellent and I think they'll have more than enough to make sure they survive. But you just never know - it's so tight down the bottom of the table, it's amazing...
The survival spirit seems strong at Villa...
Gabriel Agbonlahor scored a brilliant goal to win the game for Villa - what a strike it was. The thing that tipped the scales in their favour, however, was the way they reacted to Nathan Baker's own goal. If that had happened at a club that was pulled apart and where people didn't care for each other, they wouldn't have responded in the way they did. Straight away the players went over to him and gave him a pat of the back and told him the game was still alive; they showed plenty of spirit by coming back in the way that they did. You tend to find that all of the bottom teams start winning when you get towards the end of the season and it is so tight down the bottom - you can almost throw the formbook away. It will be like cup football from now on. We all know that given the past 12 months we've had - the year of the underdog - that anything can happen.
Newcastle are now able to fight on more than one front...
Newcastle would have been dragged into the relegation battle if they had lost to Stoke so it was a must-win game - and that's exactly what they did, even though Stoke went in front. Alan Pardew had such a great season last year that it was always going to be tough to follow but what people haven't taken into account is the demands of European football and the size of Newcastle's squad. Pardew was only able to add to that squad in January having lost Demba Ba, as well. This season is a learning curve for him and his chairman - if you'd have asked him at the start of the season I'm sure he would have told you that he needed at least three or four more players. His chairman would have said - 'Why? You got by without using that many last season'. But now they've been able to see how much of a toll European football takes on a team and they have the opportunity to rest four or five players if they play two games in quick succession. That means they can still go for the European competition and still be competitive in the Premier League.
Gianfranco Zola was fuming after the defeat to Blackpool...
I was at Watford on Saturday where I saw an excellent game. Blackpool did really well to fight back and get the points - I wouldn't have predicted that result at half-time, that's for sure! It was the first time that I've seen Gianfranco Zola very angry with the referee after the match in the way that he was. I half-understood where the referee was coming from when he decided not to give Watford a blatant penalty because Lloyd Doyley got up and carried on whereas a lot of other players would have just laid down. Don't get me wrong - that shouldn't be an excuse because if you're fouled, you're fouled. That's the reason I think the referee didn't give a penalty that would have given them a possible equaliser late on in the game. Cardiff didn't play and everybody else around them lost - so it looks as though they are going to fill one of the top two places, which means it's all to play for, for everybody else.
Liverpool must show Luis Suarez how ambitious they are...
What a brilliant win it was for Liverpool. Beating the teams above them is the one thing they haven't been able to do all season but they've managed that now so there is a lot more optimism around the club. If Brendan Rodgers can strengthen ahead of next year, then what a chance they've got. I'm sure that Liverpool fans will be desperate for Luis Suarez to stay. I think Liverpool need to give Suarez some assurances that some top, experienced players will be brought in to help the club get to the position it wants to be in. There's a very good chance that they'll be right in the mix for Champions League football next season - you just have to look at the way that the nucleus of the squad is taking shape. They were a million miles away from it at the start of the season but they're not far away now. Spurs came up short at Anfield but that will happen because they're another team that is playing back-to-back football domestically and in Europe. Unlike Spurs, Liverpool didn't have a Europa game beforehand and that worked in their favour. Although Thursday is history you have to take that into consideration. That's not to take anything away from Liverpool but you can't expect players to perform to their maximum week-in, week-out because it really doesn't happen like that even though, as a manager, you wish it would!
Don't expect Rafa and Fergie to make amends any time soon...
It's good for the headline-writers, isn't it? At the moment the rivalry between Rafa and Fergie seems to be as strong as ever. Personally, I don't think they'll sit down and have a drink now until they both finish. We all love the drama and what we get every week in our league. This story is just another part of that. If Fergie said 'I'd like to congratulate Rafa and his team on a brilliant performance' you'd wonder what was wrong with him! The game showed what Chelsea are capable of at both ends of the spectrum and that's what must be so disappointing for their fans. They're not in a bad position, but they are certainly not where they should or could be.
It's time to give West Brom the credit they deserve...
West Brom have crept in under most people's radar and are up to eighth now. Nobody has really taken them seriously up to this point but it's onwards and upwards for them. Romelu Lukaku couldn't play against Chelsea and that was a factor in their 1-0 defeat because he's awesome at the moment. While it was a controversial victory over Swansea that shouldn't stop people saying that they deserved to win, as Steve Clarke pointed out. It's a great result for them and shows them exactly what they can achieve. Their rise isn't a flash in the pan. They started the season off well and after a mixed middle they are finishing off with a flourish. Beating Swansea is a wonderful result because they have gone from strength to strength. Certain things happen in a game that change things around. Our Goals on Sunday guest Neil Warnock wanted to clear the referee Lee Mason of blame for disallowing Swansea's goal but one of the angles that we didn't show on Sunday morning showed that Lee had a pretty decent view of it. He allowed his assistant to make the decision without going over to him; I thought these days the officials were meant to be in contact with each other on their head-sets so they can have a chat together about situations they are unsure of. This incident makes a mockery of that system.