Radio gaga
Kammy says Wigan's game with Newcastle shows officials don't communicate properly.
Last Updated: 18/03/13 12:25pm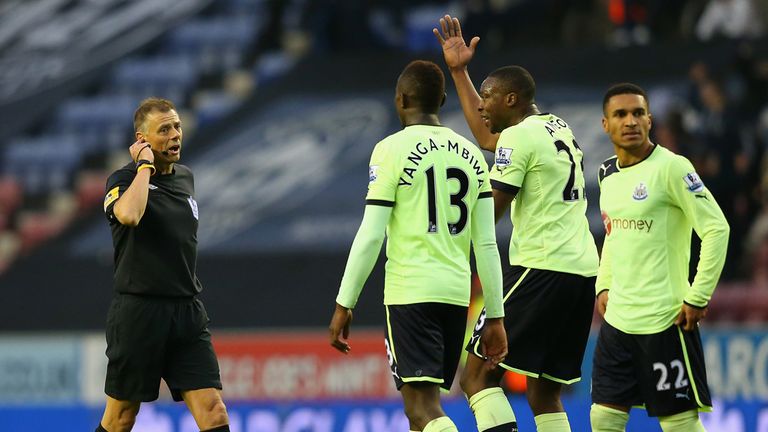 Every Saturday, Chris Kamara heads to stadiums up and down the country to deliver his unique match reports for Soccer Saturday.
On Sundays you can see him back in the Sky Sports studios as he brings you all of the highlights on Goals on Sunday.
And then on Mondays you can find Kammy right here on skysports.com as he brings you his views on the Premier League weekend.
The officials got it all wrong at Wigan
Callum McManaman's tackle on Massadio Haidara was an absolute shocker and if it was accidental, like he says it was, then you've got to be picking him up. Mark Halsey's view was slightly inhibited, but I thought the assistant should have seen it even though he was on the far side.
There was a clear handball before Wigan's winning goal and I can't believe the lack of communication between referees and their assistants. They've been given headsets so that they can chat and communicate, but it seems to have gone completely out of the window. It was the same with Marouane Fellaini's handball against Man City when they got the decision wrong again. There was no consultation and the assistants didn't get involved. That needs to be looked at and I don't understand why it's becoming as bad as it is. It seems to have been a waste of time giving them headsets and it's driving everybody mad because the game is moving forward at pace, but refereeing decisions are going backwards.
There were some harsh decisions in the Sunderland v Norwich game as well
I thought the penalty call for handball by Sebastien Bassong was harsh and I thought the sending off of Mark Bunn for handling outside the area was harsh as well. You could question whether the ball hit the underside of his arm, but I would say there was no intention there. His arms have to be in that position and it would not be natural for him to keep his arms down by his sides. At the end of the day, sometimes you get those decisions and sometimes you don't. I wouldn't say those decisions were as bad as the ones we saw in the Wigan v Newcastle game.
It was a devastating weekend for Reading and QPR
Not only did those sides lose this weekend, but the three teams directly above them all won and that makes their task so much harder. A mammoth effort is going to be needed for either of those two to climb out of the relegation places now. It was a big result for Aston Villa to beat a team in and around them in the table and the manner of Southampton's victory over Liverpool suggests they are going to be fine this season. Sunderland have a bit of breathing space, but need to get a win under their belts soon.
A lot of credit needs to go to David Moyes and Everton
After getting tonked in the way that they did against Wigan last week, to come back and perform so well against Manchester City was brilliant. People will say Manchester City were below par, but that's because Everton didn't allow them to play. People will also say they could have drawn the game if they'd been given a blatant penalty, as I mentioned earlier, but Everton had decisions going against them as well. There was a very harsh offside call and they should have had a penalty as well when Fellaini was fouled in the box, even though it wasn't as clear-cut as City's appeal. They're still in the mix for Champions League football, but there are obviously no guarantees.
It was a massive surprise to see Tottenham lose to Fulham
How often do we see an old boy return to a former club and either have a blinder or a stinker? Dimitar Berbatov went back to White Hart Lane on Sunday and scored the winner, which was amazing to see, but given Tottenham's home form you would have expected them to win. I don't think you should draw parallels with last season when they let a Champions League position slip out of their grasp because AVB wasn't there and this is a fresh challenge. He needs to find a way to maintain their form because funny results happen at this time of year - and will keep happening until the season ends in May. If they can find any sort of consistency and go on a run then they should definitely finish in the Champions League spots.
Well done to Arsenal for recovering from their Champions League exit
It was a hollow victory for Arsenal in Munich in midweek because even though they didn't win the game, they didn't go through. But after licking their wounds they could reflect on going to a place where nobody expected them to win and they gave themselves a chance right until the end. They deserve tremendous credit because Arsene Wenger was able to lift his players for the Swansea game and they came away with an important 2-0 win as they look to get back in the Champions League again next year. Santi Cazorla was outstanding on Saturday and they look to be finding some of their best form of the season.
Frank Lampard's treatment at Chelsea has been disgraceful
It's amazing for any player to score 200 goals for one club and it's a disgrace to see all the stories surrounding Frank Lampard saying he won't be given a new contract. Amid it all, he is the one man who has been able to block it all out and has let his football do the talking and he deserves so much more credit than the people who run that club. If he does leave this summer, you would have thought that other clubs would be queuing up to take him.