Rights and wrongs
Kammy says Benitez got his priorities right and wonders if Martinez keeps getting it wrong at Wigan...
Last Updated: 01/04/13 5:25pm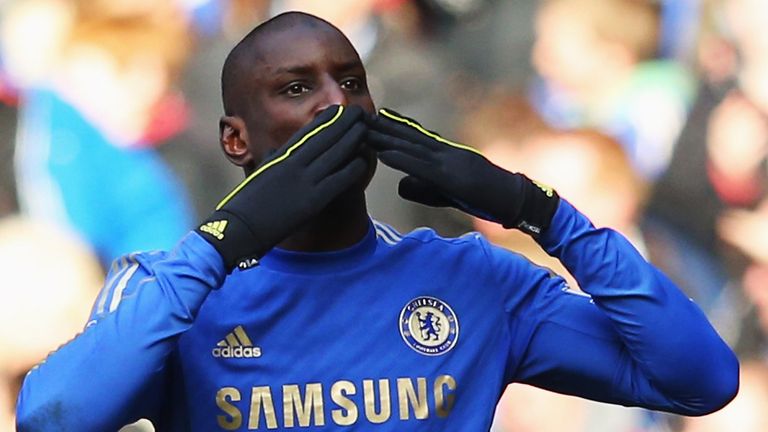 Every Saturday, Chris Kamara heads to stadiums up and down the country to deliver his unique match reports for Soccer Saturday.
On Sundays you can see him back in the Sky Sports studios as he brings you all of the highlights on Goals on Sunday.
And then on Mondays you can find Kammy right here on skysports.com as he brings you his views on the Premier League weekend.
Rafa Benitez was justified in prioritising the FA Cup over the Southampton game this weekend
If you asked Roman Abramovich which game was more important this weekend, he would probably have chosen the league game because he wants to be in the Champions League next season. But Rafa Benitez wants to add a trophy to his CV before he leaves Chelsea and he got it right because they beat Manchester United and are in the semi-final. He could say he put out two good teams, but you would have to say the team against Manchester United was the better team - and Demba Ba is the matchwinner for them now. Fernando Torres has been struggling and it was interesting to see Ba selected - and scoring a great goal - against United. He's the number one striker and was always going to be a very good signing for them.
We'll soon see how good Paolo Di Canio is as a manager... and it won't be dull!
You don't know what's going to happen with Sunderland, but I do know Paolo Di Canio is going to be great for us in the media because it's never a dull moment when he's around. He might just provide the spark that the players need. Everybody has to be impressed by what he did with Swindon, taking them up from League Two to League One and then standing by his principles when he felt he wasn't given what was promised to him. He's now going into a situation with Sunderland where he's got seven games to save them from going down - but with a two-year contract he'll be around next season even if the worst comes to the worst. We'll now see how good he really because after losing Lee Cattermole and Steven Fletcher to injury for the rest of the season he's got to work with what he's got. Can he keep them up? You look at the fixtures and it doesn't look good.
Football is cruel, but owners are entitled to do what they want to do.
A lot of people will look at it and say it was a crazy decision to replace Martin O'Neill at this moment in time, but at the end of the day there was a possibility they could have gone down - and there still is that possibility under Di Canio. But at least the owners can say they've had a go and they've tried to spark a change. O'Neill had a few quid to spend at Sunderland, even in January when he went in and got Danny Graham, and while I don't know the circumstances it's fair to say Danny hasn't been as prolific as he was at Swansea and that move hasn't really worked out. You feel devastated when people like Brian McDermott get sacked - he came on Goals on Sunday and said he's still devastated to have been released by them - and football is cruel. Owners have a right to sack managers and other managers have the right to take their jobs. That's the nature of the beast and it always will be.
Brian McDermott remains desperate for Reading to survive the drop
I sat with Brian on Goals on Sunday and he genuinely wants Reading to stay up. After being axed as the manager you wouldn't be surprised if he thought the exact opposite, but he would feel more than responsible if they go down. He feels he could have kept them up, but the chairman made the decision that he wasn't the right man. However, Brian hopes the players prove him right that they were good enough. He still believes they are his players and they've got what it takes to stay alive. That'll be hard to do, but they've got to give it a go, starting at Southampton next week.
Wigan were the big winners this weekend, but should they be in that position?
We all know Wigan turn it on at this time of year, but it was interesting to talk to Sam Allardyce about their situation on Saturday. Roberto Martinez could end up being in the FA Cup Final and could end up saving them from relegation once again, but he's been given a lot of time by Dave Whelan. He's been allowed to bring in who he wants and could never say that the chairman hasn't backed him. After four years and all that Whelan has given him, maybe you could argue that they shouldn't be in that position? As long as they survive, his argument might be that all that matters for a club like Wigan is to be in the Premier League season after season - but if you were to honestly and openly speak to Roberto he would probably say they shouldn't be down there. Bad starts have cost them, but if you're improving the team and accruing players each year, then why are they having bad starts? Why do they keep leaving it until the last few games to save themselves?
Paul Lambert needs results, not good performances, at this time of year
Aston Villa played well against Liverpool, but lost the game - and it's not the first time that has happened. There are times when results are more important than anything else and this is one of those times. Look at Wigan. Their win over Norwich wasn't pretty and we all know Martinez wants his teams to play football, but winning ugly is all that matters at this stage. They didn't play the fantastic football that people associate with them, but they took the three points - and that's all anybody will remember at the end of the season. Paul Lambert is going to have to start thinking in those terms. It's fine to get the players to believe their fortunes will change if they keep playing well, but they've got to get into a winning mentality rather than thinking they did okay in defeat.
You'd probably take Andy Carroll over Rickie Lambert for England
Southampton must wish the season had just started because they're the team in form. They were playing well under Nigel Adkins, but under Mauricio Pochettino they have excelled themselves. Nicola Cortese was responsible for a lot of signings, but Nigel's signings Jay Rodriguez and Rickie Lambert have blossomed under the new boss (even though they were flowering really well before). People say Lambert should get an England call-up and he's taken every step brilliantly so far from non-league to League Two to the Premier League - so there's nothing to suggest he couldn't make the next step up. But would you want Andy Carroll or Lambert in the England team? If you're looking for a big centre-forward do you go for the younger man or the older man? The fact Roy Hodgson was at West Ham on Saturday suggests a fit Carroll is the one he'd probably go for.