Imperfect 10
Kammy reckons Luis Suarez's ban was too harsh but rejoices at the refereeing of Bobby Madley.
Last Updated: 30/04/13 11:09am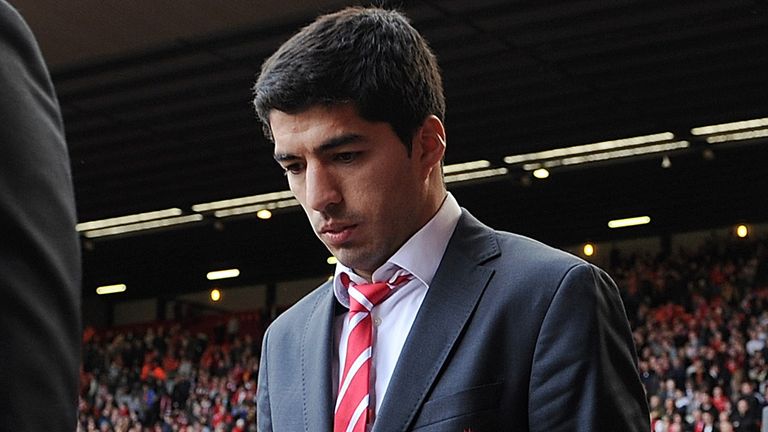 Every Saturday, Chris Kamara heads to stadiums up and down the country to deliver his unique match reports for Soccer Saturday.
On Sundays you can see Kammy back in the Sky Sports studios as he brings you all of the highlights on Goals on Sunday.
And then on Mondays you can find him right here on skysports.com as he brings you his views on the Premier League weekend.
Read below for Kammy's thoughts on this weekend's stories, as he looks at Luis Suarez's biting ban, PFA Player of the Year Gareth Bale, and some good refereeing...
Luis Suarez's 10-game ban for biting was too severe
I think Suarez should have been stopped from playing for the rest of the season for biting Branislav Ivanovic and then had a suspended sentence for next, as that would have shown that the FA - and the independent panel that decided the length of the ban - want to rehabilitate and educate the player and not just punish him. Suarez, in my opinion, has been punished for his previous indiscretions and not the offence he committed at Anfield and it smacks of people not knowing the game making the big calls. The FA are criticised for a lot of their procedures and while sometimes they receive unfair flak, they do have a habit of making decisions that baffle everybody.
Andre Villas-Boas helped Gareth Bale become PFA Player of the Year
Gareth has been outstanding this season and rightfully deserves the accolades handed to him on Sunday evening - he also won PFA Young Player of the Year - but Villas-Boas' decision to play him in a free role off the striker has really helped him flourish. I was at the first game of the season when, perhaps because of a lack of forwards, AVB moved Bale from his wide position and the switch has suited Gareth down to the ground and been the making of him. His pace and ability from a central position has terrorised defenders and while he is not up there with Lionel Messi and Cristiano Ronaldo yet, in another season or two he will be.
Newcastle are in bad form at a bad time
Liverpool are playing very well at the moment - they could have scored six against Reading a few weeks back if not for an outstanding performance from Royals keeper Alex McCarthy - and took Newcastle apart on Saturday at St James' Park. However, the Magpies will be very worried as this thrashing followed a heavy defeat at home to local rivals Sunderland, and having looked safe Alan Pardew's team are now right in the relegation scrap. Newcastle visit West Ham next week, ahead of matches with QPR and Arsenal, and they really have to get something from that game or it really will be, to use Sir Alex Ferguson's phrase, 'squeaky-bum time'.
Bobby Madley refereed Southampton's game with West Brom brilliantly
I know Bobby because he has played football with my sons at Wakefield-based club Ossett Sporting Boys and so I am delighted that he made headlines for the right reasons in his first Premier League game. He handed out three red cards - to Southampton's Gaston Ramirez and Danny Fox and to West Brom's Marc-Antoine Fortune - and got every one spot on; he didn't make a wrong decision and every decision that he did make he did without flinching. We need a new, young crop of referees who understand the game and referee it properly, and Bobby looks like he could be one of the best.
There was plenty of respect on show at The Emirates Stadium
I thought Arsenal giving new Premier League champions Man United a guard of honour ahead of their match on Super Sunday was a great touch and the Arsenal fans behaved impeccably during it and did not turn their backs, as had been mooted in some quarters. Robin van Persie was also respectful to the Arsenal supporters by remaining calm when he scored the equaliser. He said he would always be a Gooner when he collected the PFA Player of the Year award last season so to celebrate would not have been right, while he also owes the club a lot for nurturing him so well that Man United were prepared to pay over £20million for him last summer.
Reading and QPR won't find it easy to get promoted from the Championship
West Ham made an immediate return to the Premier League last season but the troubles that Blackburn and especially Wolves have had this year prove that having big-name players and guys with top-flight experience doesn't guarantee success in the division below. The good thing for that Reading and QPR - whose relegation was confirmed when they drew with each other on Super Sunday - is that they have managers in Harry Redknapp and Nigel Adkins who know how to get promoted, but at the moment they cannot think about next season and must focus on performing and hopefully picking up points in their final few Premier League games.
John Terry could still have a role to play for England
The Chelsea captain has suggested he would consider making a comeback to the England team and I think he could be selected because we saw how desperate England were for a centre-half when Roy Hodgson went cap in hand to Rio Ferdinand ahead of the San Marino and Montenegro games recently. Whether John is called up or not I think it is great that he has made himself available because you should always be ready to play for your country; look at David Beckham, he doesn't seriously think he will play for England again but he won't rule himself out just in case an opportunity arises.