Respect for Rafa
Kammy applauds Rafa Benitez's work at Chelsea and says goal-line technology is a must...
Last Updated: 07/05/13 1:11pm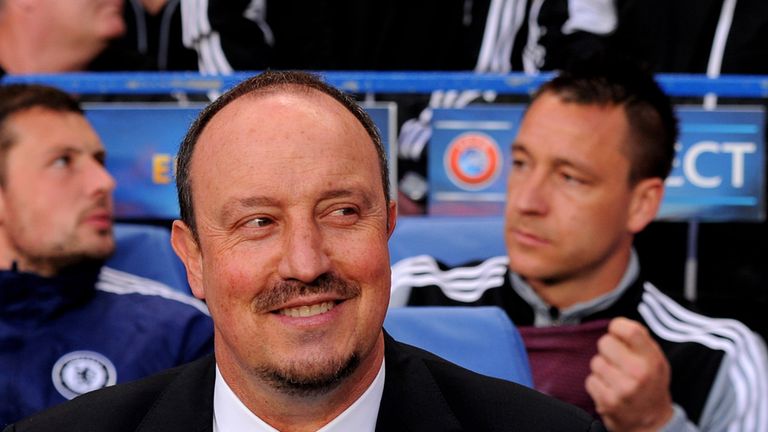 Every Saturday, Chris Kamara heads to stadiums up and down the country to deliver his unique match reports for Soccer Saturday.
On Sundays you can see Kammy back in the Sky Sports studios as he brings you all of the highlights on Goals on Sunday.
And then you can find him right here on skysports.com as he brings you his views on the Premier League weekend.
Read below for Kammy's thoughts on this weekend's stories, as he looks at Chelsea's win at Manchester United, goal-line technology and the too-close-to-call relegation battle...
Rafa Benitez deserves some respect for Chelsea's win at Old Trafford
Chelsea beat Manchester United at Old Trafford to move to within four points of Manchester City, yet nobody is praising Rafa Benitez. He's come into a situation that was very difficult in the first place - although I don't think he handled it very well in the beginning - but now he deserves a lot of credit. Since he's said he's not going to be there next season and they went out of the FA Cup, he's been able to focus on finishing as high as possible in the league and they've qualified for European final. He's also done a great job keeping them fresh; Chelsea have played more games than any other team in the Premier League and to shuffle the pack, but still get results, the way he has, is great. People need to start changing their opinion about him.
David Luiz was giggling because his mate kicked him - but it was no laughing matter for Rafael
David Luiz elbowed Rafael and that made the Manchester United defender angry and kick out. However, Luiz's actions after the foul have annoyed lots of people, who say they led to Rafael's red card. I felt when Luiz fell to the floor he was giggling because his Brazil team-mate and buddy had given him a good kicking. But after he had gone down initially and laughed he should have got up. He stayed down and that annoyed everybody. It was no laughing matter for Rafael because he was angry - and will now face a suspension.
Chelsea's winner should have been credited to Juan Mata, not a Phil Jones own goal
How they can give Mata's goal as an own goal and say the shot was going off target baffles me. With the ability of these players and the way the ball moves now Mata's shot could have been bending into the far corner, without the deflection. This 'own goal syndrome', where virtually any deflected shot is given as an own goal, is ridiculous. The benefit of the doubt should fall on the side of the striker like it always used to in the old days.
Wayne Rooney was fouled in the build-up to the Chelsea goal but it wasn't the reason United conceded
There was a foul on Wayne Rooney in the build-up to the Chelsea goal by Ramires. Some pundits suggested the Chelsea man got the ball, but we showed on Soccer Extra he didn't. The England striker chased after ref Howard Webb, angry that a free-kick hadn't been given - but the fact is there was still a lot of work for Chelsea to do after that. It didn't lead directly to the goal. Manchester United even cleared it at one stage. That was just an earlier part of the move. The ref got it wrong but it wasn't a big issue.
Goal line technology can't come soon enough
I have been banging on the drum for a long, long time about goal-line technology. It's the only thing I want to see football bring in, in terms of technology. I don't want football to get involved in anything else; stopping and starting the game all the time to check every decision would be nonsense but for the big decision - 'is it over the line?' - we need it. If that ball was over the line then that's two points for Newcastle which could keep them in the Premier League next season, but the ref and the linesman weren't sure. It can't come in soon enough; it's so, so important.
Wigan have stuck to their football philosophy and it paid off against West Brom
Wigan's 3-2 win at West Brom was a wonderful result for the Latics. When they lost to West Ham a couple of weeks ago, Roberto Martinez came into Big Sam's office after the game and I expected him to be down in the dumps, looking at the league table and panicking about who he's going to play next, and what other teams were doing. But there was none of that. He still had confidence in abundance that they weren't going down. He said Wigan would prove people wrong, they would play good football and play now as they did at the start of the season. True to his word, they're doing just that. And it helps Shaun Maloney is in awesome form. I'll be honest: I didn't know he's as good as what he's shown recently. He looks sensational.
It's too hard to predict which side will be the third side relegated from the Premier League this season
There's still all to play for at the bottom of the league and you can't name the third team to go down with QPR and Reading at this moment in time. They'll be worried right up to Fulham in 12th. We had Sam Allardyce on Soccer Extra on Monday and he said when he was doing his calculations at the start of the year he thought 38 points would be enough. But not anymore. It could even be 42, which is just incredible.
Everton have enjoyed another great season but need funds to kick on to the the next level
It's been a great year for David Moyes and his players but it could have been a lot sweeter if that goal from Sylvain Distin wasn't disallowed against Liverpool on Sunday. It should have stood; it looked like the ref had made his mind up when he'd had a word with Victor Anichebe and Jose Enrique to give a foul before the kick was taken. But that's the way it goes. It's not over just yet for Liverpool - they can still finish above Everton - but once again, given their financial resources, Moyes has worked a miracle to get the Toffees where they are in the league. He just needs a bit more money to push them to that next step, which would be the Champions League qualifying spots.