End of an era
Kammy blogs on Fergie's send-off and says Moyes' Man Utd move offers hope for British bosses.
Last Updated: 13/05/13 8:36pm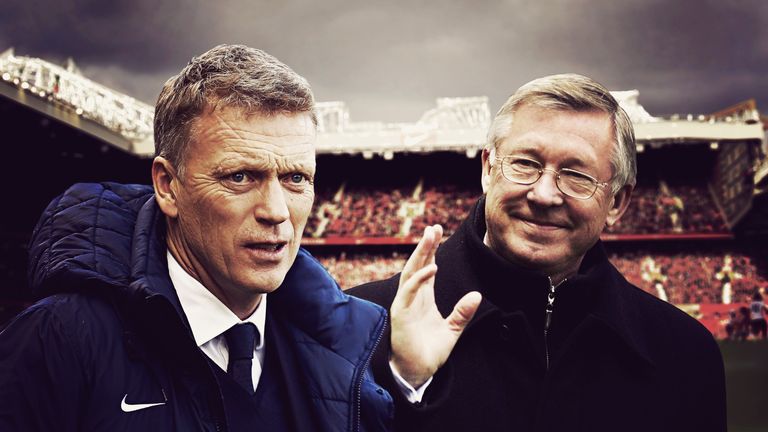 Every Saturday, Chris Kamara heads to stadiums up and down the country to deliver his unique match reports for Soccer Saturday.
On Sundays you can see Kammy back in the Sky Sports studios as he brings you all of the highlights on Goals on Sunday.
And then you can find him right here on skysports.com as he brings you his views on the weekend action.
Read below for Kammy's thoughts on this weekend's stories, as he looks at Sir Alex Ferguson's send-off, Wayne Rooney's future and Wigan's FA Cup win...
Sir Alex Ferguson got a fantastic farewell
Sir Alex Ferguson got a tremendous send-off. And what a legend he is - he's the greatest manager in my lifetime. I don't think there's anything more to be said; there has been tribute after tribute pouring in since the news was announced. Normally people only get these plaudits when they've died so I just feel it's brilliant he gets to see this response now and can realise just how much he's contributed to football and the world.
David Moyes must seize his opportunity for the good of all British managers
David Moyes got a great round of applause at Goodison Park on Sunday. Everything has ended amicably there; the Everton fans don't begrudge Moyes going to United, they appreciate the financial constraints he was under and what an opportunity this is for him.
It was nice to see Moyes, a British manager, get offered the United job instead of a foreign manager coming in. It gives our managers in this country hope. A lot of them are working hard, in the same way as young players trying to get into the game, but feel they are blocked because of the number of foreign players and coaches in the game. Now we've got a British manager given a big opportunity and you hope he's successful and more British managers can be given a chance in the top jobs.
Wayne Rooney seems to be on his way out of Old Trafford - but where do you go from Manchester United?
Wayne Rooney and his former Everton boss David Moyes were involved in a legal dispute after the England striker released his autobiography a few years ago. Can they get over that? They should be able to. I don't see Moyes as someone who holds grudges. But Rooney doesn't seem to be happy at United. Sir Alex has done a lot for him and for Rooney to say he didn't want to play in the final game would have been a kick in the teeth for the manager.
Rooney made his point and it looks like he'll be on his way. But, as Gary Neville said on Sky Sports over the weekend, where do you go from United?
You have to go to a club such as Juventus, Real Madrid, Barcelona or Bayern Munich. I'm not saying those clubs are bigger than Manchester United but they are big clubs in their own right. If you go to PSG they don't have the history of those clubs.
Then again, Rooney might think it's a challenge to help them make that history, like when Diego Maradona went to Napoli. However, I'm not sure those impacts can happen anymore. If you put Lionel Messi, the best player in the world, in a struggling Premier League team they wouldn't suddenly be able to win the title.
Wigan won the FA Cup and memories which will stay with them forever on Saturday
Wigan fully deserved to beat Man City in the FA Cup final on Saturday. They weren't getting battered, they were opening City up. We had Joleon Lescott on Goals on Sunday and he said when City played Wigan at the Etihad a couple of weeks ago they really struggled and had to grind out a win. They thought it would be the same on Saturday and with Wigan having a few chances and not taking them it looked that way. But then sub Ben Watson came on and made the difference.
Would Wigan swap that FA Cup win for three points against Arsenal? You'd probably say no. To go to a major cup final and win...Wigan fans may never see the like of that again. They had an experience they could never have imagined and you can't take it away from them.
If they play that well against Arsenal on Tuesday night they could get a win at the Emirates - but, with Spurs beating Stoke, that will make Arsenal even more determined. It should be a great game.
It's crazy Chelsea aren't offering record-breaking Frank Lampard a new deal
Frank Lampard broke Bobby Tambling's scoring record for Chelsea with his brace against Aston Villa on Saturday. Unlike Tambling, every one of Lampard's strikes for the Blues have come in the top flight, which makes his an even bigger achievement. He's a legend and I can't see anyone beating his tally of 203.
But what on earth are Chelsea thinking by not offering him a new deal? Even when it is plain they have no intention of giving him a new contract he's carried on performing at a high level like the true professional he is. He's top draw in my book.
If I was in charge of any of the clubs in the Premier League I'd make him an offer now; he's a great person to have around. Even now, at the back end of the season, when Chelsea have played more games than anyone else, he was looking fresh as a daisy on Saturday. Young Fabian Delph couldn't live with him.
Their season's virtually done and dusted but there's plenty for Liverpool fans to look forward to
I was at Fulham-Liverpool on Sunday and witnessed Daniel Sturridge's hat-trick and I have to say he was brilliant. He could have scored six but Mark Schwarzer made some great saves in the Fulham goal. Liverpool looked very good. I know Fulham have been toiling over the last few weeks and winning at home has become difficult for them but take nothing away from Liverpool. They were in really good form.
Liverpool have got a lot to look forward to and the fans are starting to believe that now. Coutinho, in particular, was outstanding; Sturridge scored a hat-trick but Coutinho was man of the match. His pass for the third goal was fantastic.
There was one turning point in the game, though: the handball shout just before Sturridge scored his second goal. If Fulham had been awarded a penalty then the course of the game could have changed completely. But once it wasn't, and Sturridge doubled the Reds' advantage, it was game over.