A fantastic finale
Kammy blogs on the final day drama, retiring legends and why Gareth Bale should stay at Spurs.
Last Updated: 20/05/13 2:08pm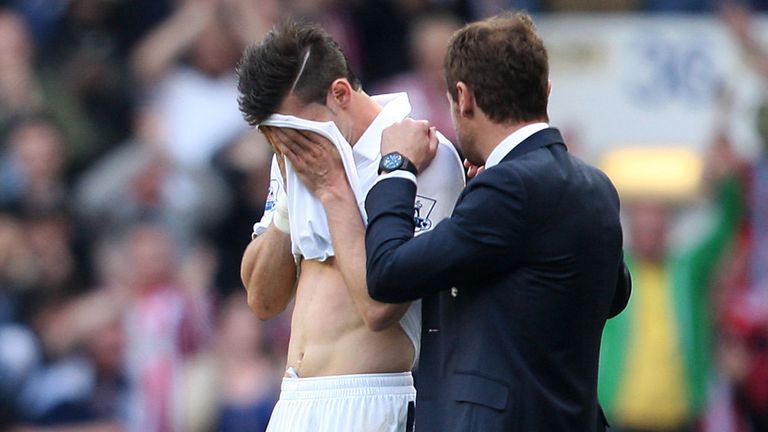 Every Saturday, Chris Kamara heads to stadiums up and down the country to deliver his unique match reports for Soccer Saturday.
On Sundays you can see Kammy back in the Sky Sports studios as he brings you all of the highlights on Goals on Sunday.
And then you can find him right here on skysports.com as he brings you his views on the weekend action.
Read below for Kammy's thoughts on this weekend's stories, as he looks at the final day drama, discusses Gareth Bale's future and salutes retiring legends...
Arsenal held their nerve to avoid the 'disaster' of not qualifying for the Champions League
We had Ian Wright on Goals on Sunday and he said it would be a disaster if his former side didn't finish in the top four. Well, Arsene Wenger's side avoided that with a 1-0 win at Newcastle to finish a point ahead of their North London rivals Tottenham.
The Gunners didn't get off to the best of starts this season and the Arsenal fans were unhappy with them going out of the cups; they thought the Champions League could be their salvation but they came up against a very good Bayern Munich side who did all the damage in the first leg at the Emirates. Then they feared not qualifying for the Champions League. But they've done it again - as they have done every year Wenger has been at the club. They've finished really well and have kept a lot of clean sheets since January. All with a defence some people have labelled the worst in their history. Credit where it's due.
Gareth Bale owes Tottenham another season of his services
At the start of the season, if you'd said to Tottenham 'this is the pecking order and you'll finish fifth' they'd probably have said 'that's what everyone expects but we hope to do better'. But they've finished in a position they were probably predicted to and, despite everything Gareth Bale has done it has not been enough to elevate them into the top four.
It will be important for them to keep him in the summer to build on what they have done this year and I think he owes the club a lot. He also owes Andre Villas-Boas a lot for being the first person to put him in the hole where he can express himself and become one of world's best. There's no reason why, after one brilliant season, he should run out on them.
Benitez bows out after bolstering his CV with Chelsea
Fernando Torres scored the winner in Chelsea's 2-1 win over Everton, which was Rafa Benitez's final game in charge of the London club. That was fitting because part of the reason Benitez got the job at Stamford Bridge was to revive Torres' fortunes, and you have to say he's done that to a certain extent; Torres this season is better than Torres last season, that's for sure.
Benitez did as good a job as he could with Chelsea. He went in there under severe pressure and the supporters didn't want him but he ended up winning the Europa League trophy, finishing third and you have to say he's enhanced his CV and will walk into another big job with his head held high.
The incredible game at the Hawthorns will live long in the memory of all involved, especially the retiring Sir Alex Ferguson
What an incredible game Manchester United's 5-5 draw with West Brom was! It was amazing to see the home side score those late goals and Romelu Lukaku, who scored a hat-trick, well, what a player he is going to be. We still don't know if he's going to be welcomed back at Chelsea next season or whether he'll get into their team, but on loan at West Brom this year he's been fantastic.
Meanwhile, Sir Alex Ferguson must have thought he was cruising to victory in his final game in charge, but, despite West Brom's comeback, he ended the match with a big smile on his face. He was happy, the United fans at the game gave him a great send off and the West Brom fans enjoyed a 10-goal thriller - it was a good day for everyone there.
Manchester City are in turmoil but credit to Norwich for their impressive win at the Etihad
Man City are a club without a rudder at the moment, following the sacking of Roberto Mancini. Since he left his post the team's performance level has gone down, which is to be expected - but that shouldn't take anything away from Norwich's wonderful achievement.
They are only the second team to go to the Etihad and win in the league this season and we have to remember players such as Anthony Pilkington, Grant Holt and Jonny Howson were all playing in the lower divisions not so long ago. It was also a great end to the season for Norwich boss Chris Hughton, who had one or two people beginning to question his ability. City, meanwhile, are in turmoil and need to resolve their managerial vacancy as soon as possible, which I'm sure they will.
Legends step aside on a fantastic final day
All in all it was a great final day to the Premier League season with plenty of fantastic matches - it was just a shame there wasn't more riding on the results, apart from the games at White Hart Lane and St James' Park.
Sunday also saw some real stars play for the final time: Michael Owen, Jamie Carragher and Paul Scholes. The trio all got a run out before retiring from the game and, in my book, they're all legends. Ian Wright said on the show yesterday Owen may regret not playing more towards the end of his career, but apart from that you have to say they've all been fantastic for English football. Well done to them.
I'd also like to say well done to Big Sam Allardyce. He told his board West Ham would finish in the top 10 and has delivered on that promise, with help from Kevin Nolan who scored a hat-trick against Reading on Sunday.
They were tipped by many people to be relegated at the start of the year but now they can look forward to another season in the Premier League and, after a wonderful end to a great season, so can we.