Paolo Di Canio must freshen up management technique, says Kammy
Paolo Di Canio must stop 'dictating' to his players if he wants another Premier League job, says Kammy.
Last Updated: 23/09/13 2:16pm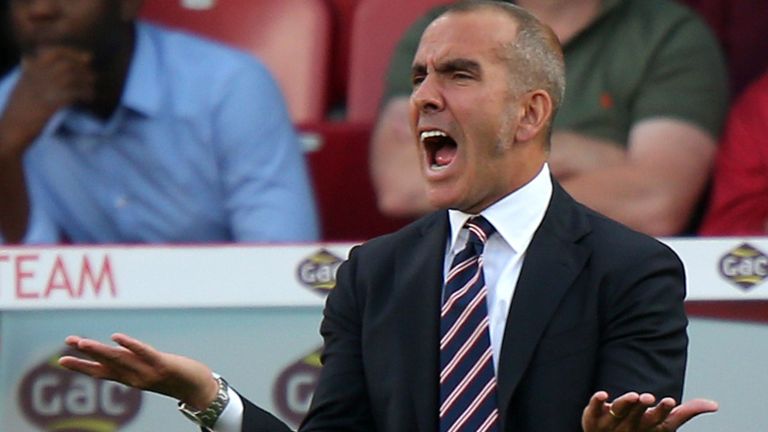 Paolo Di Canio's management style is a thing of the past...
KAMMY SAYS: Sunderland have seemingly pressed the panic button with Di Canio after letting him make 14 new signings over the summer, but it is perhaps not a massive surprise because there have been leaks that the chemistry between players and manager was not would you would like. Paolo supposedly enforced things like no tea and no music but not only is that something Paolo would have hated to hear as a player, but also something that doesn't work these days. Di Canio has turned the clock back to the 1960s when you were "told this is what you can do and this is what you can't", but you can't dictate like that any more; the modern footballer doesn't want to hear things like that, he just wants to be told what to do on the pitch and have the sports psychologists sort his head out. However, Sunderland knew they were going to get fireworks and volatility with Paolo; his history as a player and a manager, including when he had a fight with Swindon's Leon Clarke at the edge of the tunnel, tells you that. It's not as if Sunderland were getting a quiet, unassuming, Steve Clarke-type manager, so they can't be surprised that things made headlines.
But he deserves another shot in the Premier League
KAMMY SAYS: I hope Paolo manages at the top level again because he made a huge impact to keep Sunderland up last year and is very brave, as he proved by fronting up to the fans after Saturday's loss to West Brom; he might have milked it a bit but all the managers I know would have slinked down the tunnel after such an embarrassing defeat. Plus, Paolo is great to have around because he is such a showman; he has been great for the fans and media ever since he slid up and down the touchline against Newcastle and has had everybody engrossed. He will have to change, of course, and understand that some of the things he did was perhaps not the way to go and assess what he needs to do instead, a process I went through after leaving Stoke - but time is a great healer and you hope that people remember the positives he can bring to a club.
Manchester City must be that good every week
KAMMY SAYS: The thing to look out for now is if Manuel Pellegrini can motivate his players for games against Cardiff, Crystal Palace and at places where you have to roll your sleeves up and not just the glamour games against the likes of Man United. Pellegrini has to realise that while in Spain the games, Barcelona and Real Madrid aside, are virtually the same every week, in this country they are not and you have to compete against different styles and win the battle before you can play your stuff. City have a wonderful squad and were fantastic against United, but there are still some question marks and you do feel that without Vincent Kompany they can be a bit rudderless.
David Moyes has a problem
KAMMY SAYS: Moyes has inherited a well-oiled machine and a team that has just won the Premier League, but, at the moment, some of his personnel are not playing to the standard of a Man United player; he will know who they are and they will know who they are. However, the issue for David is that some of his players are bigger than he is and for him to turn things around quickly he is going to have to make some big decisions, decisions that he made at Preston and Everton but decisions that won't please some people at United. The only way he has discovered that, though, is by playing games so despite a disappointing defeat to the local rivals, he will be wiser for it.
England are blessed to have two talented left-backs
KAMMY SAYS: Baines is a very good player, he scores wonderful free-kicks, and is better at getting forward and creating chances, but Cole is a better defender, even though there's not a million miles in it. Ashley has never let England, Arsenal, Chelsea, or Crystal Palace down; he is never a 4/10 performer, he is always as steady as they come and hardly ever gets caught out. Baines is unfortunate that Ashley has somewhat blocked his path to the England left-back spot but that happens sometimes so the challenge for Leighton now is to carry on his scintillating club form and try to emerge from Cole's shadow. However, if you asked Baines to say hand on heart who was the better player out of him and Ashley, knowing Leighton as I do, he would probably say Ashley.
Everton are playing with more flair under Roberto Martinez
KAMMY SAYS: Moyes liked to be solid and that was the foundation for a successful decade at Goodison Park, but under Martinez, Everton are a bit more exciting, mainly because Ross Barkley has come into to the side and is allowed to roam and do what he wants. The Toffees kept their unbeaten run going by winning at West Ham, but, let's not kid ourselves, the game could have gone either way and the sending off of Mark Noble was the match's turning point, so it is far too early to say whether Everton are better under Martinez than they were under Moyes.
That's Kammy's view but what did YOU make of the Premier League weekend? Let us know using the feedback form below...