Kammy says Arsenal's Olivier Giroud is playing like Mark Hughes
Kammy compares Olivier Giroud to Mark Hughes and reflects on the red cards at Hull versus Sunderland.
Last Updated: 05/11/13 12:59pm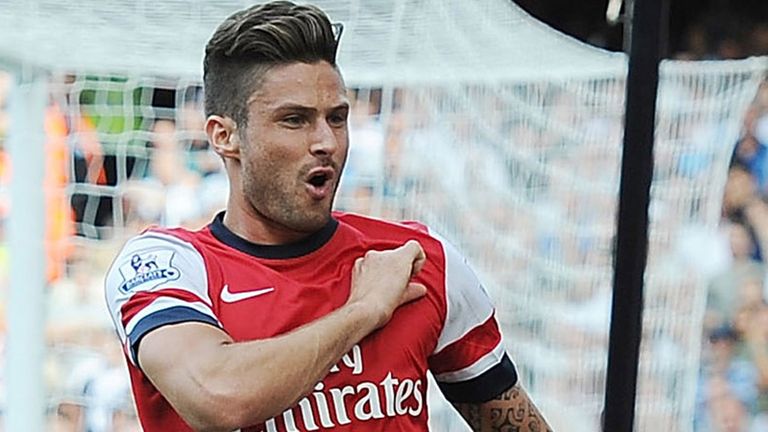 Olivier Giroud is playing fantastically well
KAMMY SAYS: Giroud was a figure of fun with the Arsenal fans last season but he has turned that around completely and reminds me of Mark Hughes with that strength and power that he's got. He is playing at the top of his game but you also can't fail to be impressed with Mesut Ozil, who has come in and looked like he has been at Arsenal for ages, and the Gunners also have so much competition for places in and around midfield and attack. Let's not forget Arsene Wenger still has Lukas Podolski, Theo Walcott and Alex Oxlade-Chamberlain to come back but I think that in January he might just think about bringing in another centre-half to ensure they don't concede too many at the back.
Both red cards for Sunderland were understandable
KAMMY SAYS: The criteria for red cards last season was if your feet leave the ground you are off and Cattermole's feet didn't leave the ground, but there was force in the challenge, Ahmed Elmohamady went up in the air and the referee, Andre Marriner, was right in front of it. You'd probably say the tackle was a 6-out-of-10 but if you are reckless like that you risk getting a red, although on other days you might only get a yellow. As for the Andre Dossena red card for the shocking tackle on David Meyler, I think you need to ask the lad what he was trying to do, even though he might not even know why he did it and what it was about. Thankfully, Meyler, who has had injury problems in the past, got up, carried one and was fine.
We need a consistent line on what is right and wrong when it comes to tackling
KAMMY SAYS: I always watch the referees, like Dermot Gallagher, analyse the big incidents on Sky Sports News and sometimes they say people should have been sent off and sometimes they say they shouldn't - but what we need is a clear directive. Hull are a great football club and I'm not trying to get people sent off or be vindictive but when Robbie Brady had two feet off the ground when he tackled Sunderland's Adam Johnson he didn't get red carded, yet Cattermole did when his feet weren't off the ground. We need to know whether it's now okay to have two feet off the ground and whether, as long as you don't hurt someone, that's fine.
I am old school when it comes to playing though injuries
KAMMY SAYS: I cracked a cheekbone when I was playing for Stoke and carried on playing in that game and in the next one even though I was advised by doctors not to play, while I did my ribs when I was at Brentford and didn't got for an X-Ray until after the following game when I found it hard to breathe. So it didn't surprise me when Hugo Lloris said he was okay to continue after being knocked out against Everton because as a sportsman if someone asks you whether you are okay and whether you can carry on you say yes.
We see it with boxers all the time who take some almighty punishment but don't give in, and we saw it with footballers like Bryan Robson who played through massive pain barriers. However, if something had happened to Lloris everyone would have been jumping up and down and screaming and in this current climate you have to be careful, so I understand the furore after Tottenham didn't take their 'keeper off but I don't think they should be punished.
Getting dropped was probably the best thing for Joe Hart
KAMMY SAYS: If Manchester City were winning games week in, week out and Joe was making a few mistakes nothing would be said, but because they haven't been winning all the time and he has cost a few goals, his form has been highlighted. So maybe Hart just needs a little break to let things settle down and then come back bigger, better and stronger, which we know he is going to do. Joe won't allow this to damage him as a goalkeeper because his character and belief is bigger than that; he is going through a bad patch, but I don't know a player who hasn't been dropped at some stage because they haven't been playing well and Joe is confident enough to deal with it.
Moustaches and Mourinho
KAMMY SAYS: Gilette and Movember contacted me at the end of September and said as someone who has worn a moustache for a long time, would I be interested in helping the campaign, and as Gilette have put a lot of money into the cause, I decided to join in with it and shaved my tache off.
Jose Mourinho, meanwhile, said he made 11 mistakes for Chelsea's game against Newcastle and really took the responsibility for the defeat. The players will know in no uncertain terms that the performance wasn't good enough for a Chelsea team but the morale won't be dented because Jose didn't single out individuals, so everyone will now move on to the next game.
A message to Leyton Orient fans
KAMMY SAYS: Someone, and I don't know why, is causing trouble for me with Leyton Orient fans, so I want to say I have nothing but admiration for that club because of the fact the Hearns are in charge. Barry Hearn (pictured) has given every manager who has been at that club an opportunity, never been trigger-happy, and always he lets his managers manage.
We haven't done League One and League Two on Goals on Sunday for about 10 years and I haven't commented on Orient for a while so I want to assure the club's fans that no bad things have come from me and also wish them lots of luck for the rest of the season because they are up at the top of League One and doing very well.
That's Kammy's view but what did YOU make of the Premier League weekend? Let us know using the feedback form below...