Kammy on controversial card decisions: Bolasie's right red, Brown's bad red and Rooney's no red
Kammy gives his view on the red card debates around Rooney, Bolasie, and Brown - plus Boruc's blunder.
Last Updated: 26/11/13 10:11am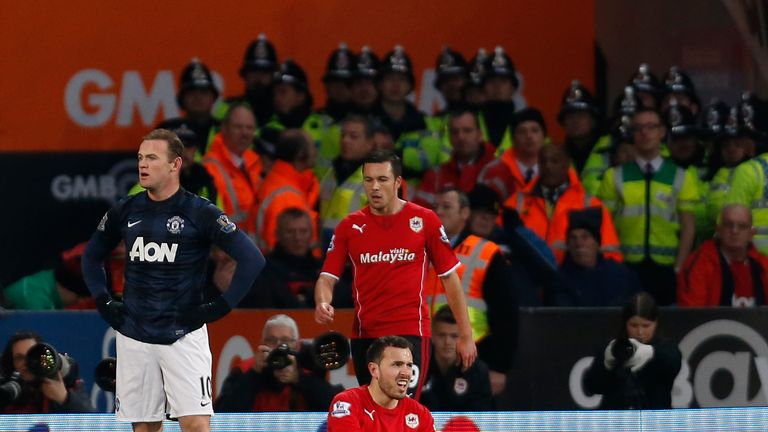 Rooney should have seen red in Cardiff
KAMMY SAYS:The referee clearly saw the Rooney foul because he gave him a yellow card. We all know players immediately get sent off in situations like that.
We know he didn't really catch him but you can't do it; you just know Neil Swarbrick the referee is going to be involved in another game along the way and the same thing will happen. Someone is going to do the same and get sent off and all the cries are going to go up that he was scared to send off a Manchester United player because he won't get to take charge of the big games, and to be fair they'll have a point.
The other talking point of this game was the argy-bargy between Fellaini and Medel in the penalty box. Once again, it's another one of those situations where the referee has seen the incident and I think they'll be trouble for the players but the assistants can't be expected to see everything and they definitely didn't see that one.
Resilient Palace show Pulis what he's got
KAMMY SAYS: It was a tremendous performance from Palace in front of their new manager Tony Pulis. It was also nice for caretaker manager Keith Millen to get a win. I know Keith really well from donkeys years ago and he made his Brentford debut after I got knocked out in a match against York; he replaced me because I was on my way to hospital. I really hope Keith can be part of the new set-up.
In the game, Palace lost Bolasie for a clumsy, rather than malicious challenge and we've seen plenty of people sent off for similar incidents before, but even though they had a player sent off Palace won't want to change anything now.
I don't think Pulis would have taken the job if he didn't think he had a chance of keeping them up. He's thought long and hard about the job because he was linked with it as soon as Ian Holloway held the press conference saying he was leaving. Tony will want to set the club up the way he sets all his clubs up and hope that they can maintain that winning focus and move on from there.
AVB needs to work out his best team
KAMMY SAYS: This result was unexpected. Spurs have defended pretty resiliently this season, they haven't been scoring a lot of goals but they've never looked as if anyone was really going to give them a good hiding.
This is a big wake-up call for Andre Villas-Boas. To concede that many goals in a game and score that few in the season - he's clearly not got the right blend. This is the lowest time he's had since he's been manager there and he's going to have to do a lot to pick it up and decide what his best team is over the next few weeks.
The pressure is always on managers in the Premier League but the last thing you want is Manchester United coming to town with their record at White Hart Lane. But we're only talking about one massive defeat. We shouldn't be putting AVB's job on the line.
A poor decision that Poyet really didn't need
KAMMY SAYS:Wes Brown's red card was a poor decision and everyone knows it. We've tried to help referee Kevin Friend's case on how he came to that decision but it was wrong with no ifs or buts about it. You can't afford that when you're Gus Poyet and you're in the place you're in with eleven men, let alone ten men.
For as long as I've been doing Goals on Sunday, every season referees make these mistakes and we've been making calls for the Referees' Chief Mike Riley to do something about it. I think the best thing would be, especially after Steve Clarke has come out and said Mike Riley rung him up and apologised, for referees to explain their decisions; if Kevin Friend came out and said something - it might not be the right decision - but it might be an interpretation 'it was a forceful challenge and I thought it endangered the opponent', then it's done with.
It doesn't make any difference to Gus now because he can't change the result but at least the referee would have come out and said 'yes, I made a mistake' rather than Mike Riley having to ring up clubs and apologise because like Jose Mourinho said, you can't keep doing that all the time. The managers have to answer three questions before kick-off, why can't the referees answer three afterwards?
Boruc blunder won't happen again
KAMMY SAYS: Artur Boruc will never do that again that's for sure. I don't think anyone really knows why he was doing those Cruyff turns and step-overs! The club has been going really well; I mean, we don't know if Arsenal would have still gone on to win the game, but we know that was a decisive factor in the game. There are games where Mauricio Pochettino will say Boruc has saved us but from now on no backflips, no nothing, just deal with that ball when it comes to you
Sometimes players have to dive
KAMMY SAYS: If Sam Allardyce had got anything against Chelsea he'd have been delighted. The early penalty they conceded was stone wall. We tried to explain on Goals on Sunday that not every dive should be classed as cheating; if Oscar hadn't of dived to get out of the way of Jaaskelainen then he could have received a serious injury. It was one of those situations where the player has got to get himself out the way to avoid injury. Overall Chelsea were more than efficient, they've got such quality and Oscar was brilliant. For West Ham it has become a bit sour and everything that probably could have gone wrong from Sam's point of view, has.
A game of two halves
KAMMY SAYS: Newcastle scored the early goal and settled straight away but in the second half they just clung on, they didn't do anything to enhance their lead. They just settled on it. I spoke to Alan Pardew after the game about one or two moans around the ground and we discussed that things would have been different if you flip the game upside down; if you have a poor first-half and finish well in the second-half, everyone goes home happy. The fact is, Newcastle won the game and when it comes to calculating the points at the end of the season nobody will remember that second-half performance against Norwich.
Mirallas must consider himself lucky
KAMMY SAYS: The Mirallas challenge was a bad one and another one where on any other weekend the player would have definitely been sent off if Phil Dowd had seen it. The game was a great spectacle. We've had some fantastic Merseyside derbies over the years and this was just as exciting.