Kammy: Liverpool loss forced Daniel Levy to sack Andre Villas-Boas
Losing 5-0 at home was too much for Daniel Levy to take, says Kammy, following AVB's Spurs sacking.
Last Updated: 16/12/13 12:00pm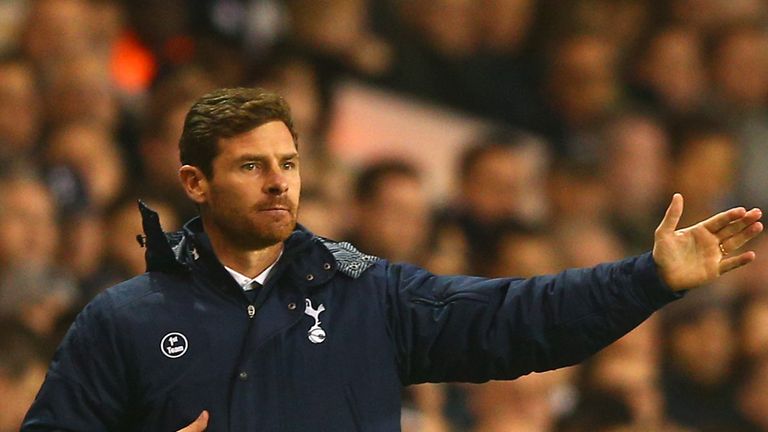 I thought Spurs may give AVB one last chance - but losing 5-0 at home is devastating
KAMMY SAYS:I have to say, I was surprised to hear Tottenham had sacked Andre Villas-Boas because I thought they may give him one last chance, despite losing 5-0 to Liverpool. When Tottenham lost 6-0 away to Manchester City a few weeks ago it was a bad result but we all know what City are like, the talent they've got and how they can destroy any team on their day. But when you lose like that at home it's devastating for the football club. I thought the defeat to Liverpool may be his final warning but it seems Daniel Levy had seen enough and has opted to make the change now.
Perhaps it is a little bit harsh because they responded well to the City defeat and they came up against an on-fire Luis Suarez on Sunday. Not many teams have been able to cope with him this season. Villas-Boas hadn't lost the dressing room, either, but, because of the money they spent in the summer, Spurs fans are expecting more from their team this year.
Attentions will now turn to who will replace Villas-Boas and it will be interesting to see who Spurs go for. They've got an important decision to make but whoever comes in certainly has enough talent to work with in that squad to ensure the team bounce back from this setback.
Steve Clarke's sacking was harsh - but he'll be back
KAMMY SAYS: I thought it was a harsh decision by West Brom to sack Steve Clarke after their 1-0 defeat at Cardiff. They're only two points above the relegation zone but I didn't think of them as being in the mire. We all remember what happened at Chelsea a few weeks back, where they could have got all three points but for a dodgy decision - and perhaps with those two points on the board Steve might never have got the sack. But the supporters have mixed feelings and some will say over the past 12 months results haven't been great. He did so well up to Christmas last year but 2013 hasn't been the best for them. To be honest, though, I look at the improvement they've made since Steve took over and player-wise they're so much better off than they were. Obviously losing last season's loanee Romelu Lukaku was a blow and trying to find someone of his ilk is hard to get. But Steve Clarke will come again. To do what he's done in his first Premier League job, he's shown people he can do it at this level.
There are plenty of top four contenders but Liverpool have a chance with super Suarez in form
KAMMY SAYS: We've seen a lot of special players in the Premier League including Eric Cantona, Cristiano Ronaldo and Ryan Giggs. They are all special players and so is Luis Suarez. He looks like he loves playing football. We know occasionally he gets carried away but is ability to finish is incredible. I can't believe people questioned his finishing two seasons back. Nobody is questioning it now! His two goals at Tottenham have moved him on to 17 goals from 11 Premier League games and he really is the world's third best player at this moment in time. Liverpool will be hoping he can keep this up because they really laid down a marker on Sunday in terms of their Champions League qualifying ambitions. However, it's going to be tough to get into the top four because the competition so strong this year; the likes of Everton are up their challenging, while Manchester United are coming back into it, too - as well as the other usual contenders.
Arsenal may have been tired but City looked so strong in their 6-3 win
KAMMY SAYS: We can't write Arsenal off because the recovery time between their Champions League game with Napoli and trip to the Etihad wasn't perfect. Getting back at 4am on Thursday morning and then playing on Saturday lunchtime is far from ideal and has to be taken into account when we look at the 6-3 scoreline. There are lots of times when you bounce back from a long journey and feel great but other times, when you don't get into bed until 5am, you find it tough. I agree with Arsene Wenger, another 24 hours would have made a big difference to Arsenal. But make no mistake, City were awesome. Because of the players they've got, City could still have done that to Arsenal if the Gunners had been fully rested.
I don't see too many weaknesses in the City team at the moment. It was disappointing Joe Hart didn't keep his place but they seem to get stronger the more Manuel Pellegrini gets used to the Premier League. He's not getting carried away, either. The first point he made after the game was that he was disappointed to concede three goals. So he's keeping his feet firmly on the ground.
Man United's 3-0 win at Villa Park was just what David Moyes needed
KAMMY SAYS: That win was just what the doctor ordered as far as David Moyes was concerned. People have been saying he wasn't the right man for the job but whoever was going to replace Sir Alex Ferguson was going to have a real job on their hands. They talk about Real Madrid, Barcelona and Bayern Munich and how they would have gone for the top CV, but none of those clubs had a manager for 25 years. Ferguson was Manchester United and anybody coming in was going to need a settling in period. David Moyes is still finding out about a lot of his players. Some, like Danny Welbeck and Tom Cleverly, hadn't done themselves justice but they did this weekend and now it seems Moyes has an abundance of riches to choose from. He made some important decisions to leave people out of the squad this week and it worked for him - other weeks he's done that and its worked against him and he's taken stick for that. So he deserves credit this week.
Darren Fletcher's return to the pitch was great to see
KAMMY SAYS: It was also brilliant to see Darren Fletcher back for United. The midfielder made his first appearance for the club since Boxing Day last year and it was wonderful to see him back. He's still a young man, a fit young man and he's overcome the problem which has kept him out of action for so long. I'm sure all the United fans and everyone at the club will be delighted he's returned and will be hoping he can get back to his best.
That's Kammy's view but what did YOU make of the Premier League weekend? Let us know using the feedback form below...