Kammy's Weekend Review: Diego Costa is powerful and rugged - and must be embraced
Liverpool star Jordan Henderson has changed people's opinions
Last Updated: 01/09/14 11:40am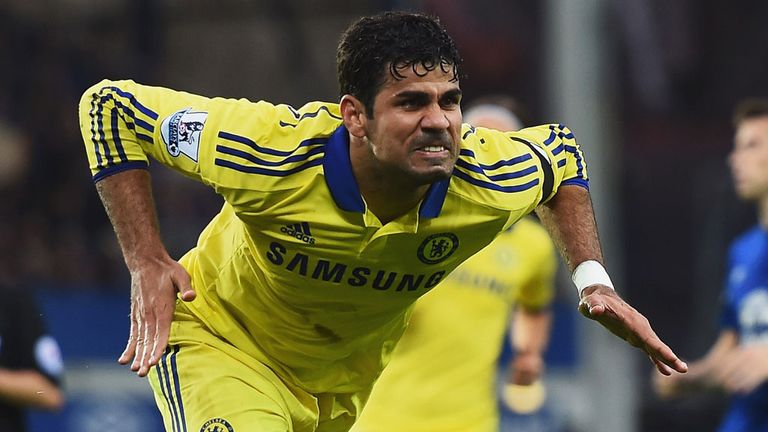 Chelsea have released the shackles and a 'throwback' is thriving
KAMMY SAYS: When Chelsea went 1-0 up in the past Jose Mourinho would park the bus, so the fact his team kept on going forward at Everton shows he is a lot more confident in the attacking players he has got. I don't think he will have enjoyed conceding three goals but he now knows the guys he's got out on the pitch are capable of scoring and doesn't want to restrict them too much. In Diego Costa, meanwhile, he has got a throwback. It's like Alan Shearer has returned as not only will Costa score goals but he won't give defenders a moment's rest. He has so much presence up top and is showing exactly why we were all so convinced he was tailor-made for the Premier League. People were worried about football becoming a non-contact sport but that's certainly not the case with Costa, who hustles, bustles and loves the physical battle. You don't necessarily want to see him squaring up to Seamus Coleman after he has scored an unfortunate own goal but we don't want to take the character out of Costa because this is a lad we should be excited about watching – and defenders should hate playing against – for a long time in the Premier League.
Liverpool are genuine title contenders
KAMMY SAYS: Brendan Rodgers' team look stronger than they did last year; their first team and bench are full of good players and, let's not forget, for 40 minutes against Manchester City last Monday they were the better team. I was talking to a few people on Saturday night and they were saying the title is a two-horse race between Chelsea and City but Liverpool showed against Tottenham that that isn't going to be the case. Mario Balotelli could have scored twice and fully justified Brendan's decision to start him, while Jordan Henderson was also impressive. Jordan's move to Liverpool – and the £16million price tag – was too big for him initially, as he lost his confidence and didn't produce the exceptional performances I saw from him at Sunderland in his first season at Anfield. However, he came on leaps and bounds last year and this term he has pushed on again. His work-rate is as good as ever but his passing and impact on his team has been something else and it is great to see because I love it when players change people's opinions. Whereas Liverpool fans may have been thinking: 'That's a lot of money for this lad', they're now thinking: 'What a snip'.
Stoke were brilliant defensively at Manchester City
KAMMY SAYS: It's hard for the top teams to break other sides down when they turn up at their ground and put men behind the ball. Barcelona and Real Madrid have found that out in in virtually every home game for years and Man City found that out against Stoke – but take nothing away from Mark Hughes' men. It might not have been the most attractive game-plan Stoke used but if they take Manchester City on then they will probably lose because man-for-man City are better than Stoke, but if they get it tactically spot on, then they have a chance. That's what happened and Mark must be delighted that the methods he went through with Mark Bowen and Eddie Niedzwiecki were carried out to perfection by his players. Mark knows his job and is doing a great one at Stoke. Things didn't go great for him at QPR but that happens; you're not a success everywhere you go and often those situations make you better as a man and a manager because you are forced to sit back and reassess. Slowly but surely Hughes is changing Stoke's style of play but I wouldn't say he has totally transformed it because the performance at City was in the Tony Pulis mould.
Media are treated differently in Holland than they are in England
KAMMY SAYS: I had my first chat with Ronald Koeman on Saturday as I covered the West Ham-Southampton match for Soccer Saturday. Southampton's goalkeeping coach, Dave Watson, introduced me to him and it was a real eye-opening and refreshing conversation. Ronald explained to me that every single training session at Ajax was open to the public and the media, with players and managers doing interviews all the time, while at Southampton it was quiet because the press weren't allowed in. Anyone who wanted to know the Ajax team ahead of the weekend would probably only need to pop along and watch them train, but in this country if someone finds out the team the night before it's viewed as a disaster. I just wish everyone would see that the media is there to help them and is in no way against them. That said, I know that lots and lots of managers already know the score and buy into it – David Moyes, Harry Redknapp, Sam Allardyce, to name but three. I had a great chat with Ronald, though, and I thought his Southampton side were exceptional in their 3-1 win at Upton Park.
Mark Noble would love to be given a chance with England
KAMMY SAYS: We had Mark Noble on Goals on Sunday this week and he was hugely disappointed not to be included in England's squad for the games with Norway and Switzerland after seeing Jack Colback and Fabian Delph get the nod. He didn't mean that with any disrespect to those lads but he has been performing consistently for West Ham for however many years and captained our Under-21s. Mark could play for the Republic of Ireland because of his bloodline and the only thing stopping him at the moment is his dream of pulling on that England shirt, so it's a shame he has not yet had an opportunity. It's a very changed squad that Roy has picked and you look at it initially and think: 'Crikey, where is the damage going to come from?' but we now have to let these young guys grow together and see what happens, as that idea worked pretty well for Germany!