Luis Enrique and Lionel Messi at Barcelona: Guillem Balague and Graham Hunter debate on Revista
Last Updated: 23/03/17 3:04pm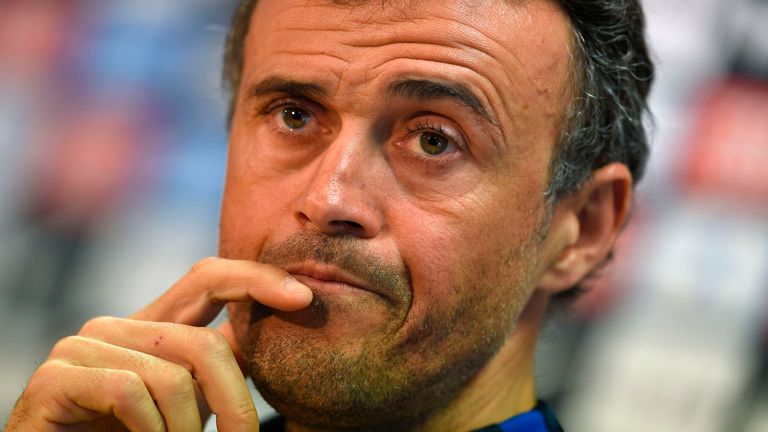 What legacy will Luis Enrique leave at Barcelona? Has he been unfairly criticised? Or is he "not a good coach"?
We asked you for your opinions and they were debated on the latest edition of Revista De La Liga by Spanish football experts Guillem Balague and Graham Hunter.
Among the points argued by Guillem were that:
The 3-4-3 used by Luis Enrique in recent games is an experiment which came off against Paris St-Germain, but it is not a consequence of a process.
Luis Enrique has not given enough to the side in terms of collective answers.
Barcelona need to return to a system with strong midfielders and a clear idea of the positional game, their essence, so they need a coach that believes in that. Otherwise everything depends on the front three having a good day.
Here's what Guillem and Graham had to say on Revista in response to your comments…
Do you keep Lionel Messi and restructure the team and build from midfield or build around the chaos of Neymar as he is younger; entertaining the idea of letting Messi leave? (Luke Ingham)
Graham: It's a really good debate. We are about to enter April, by which time Messi's new contract will not be sealed, and by January 1 next year he could theoretically sign for free for any club.
In my opinion Messi's level, his wish to be at the club, and the importance of what he does for other players at the club, means it would be absolute lunacy not to seal his future and keep him at the club.
Isn't it too simplistic to level Barca's current fortunes solely at the hands of Luis Enrique and forgetting his achievements in the three seasons he has been in the job? (Andrew Rolland)
Graham: Where I would come back is that one of the things you need to take into account when retrospectively assessing Luis Enrique's work is that glorious final season of Xavi, when too many people around the club felt he had nothing to add, and he actually did, with that treble season owing an enormous amount to his intelligence and ball control in his brilliant swansong.
Then he leaves and, even though he was beyond his peak, Barca lost his control of the ball, the possession, the intelligent use of the ball, the ability to choke a game, and Luis Enrique had no antidote other than conjuring up a new 27-year-old Xavi, which is impossible.
I have sympathy with Luis Enrique when you look back, because who was going to cope with Andres Iniesta getting older, Xavi leaving and the idea of there being three beasts up front that needed feeding with possession.
Guillem: We have to say Luis Enrique has done a lot of positive things, not just winning. After six months he realised he could not be as interventionist as he would have liked, as Neymar and Messi put the brakes on and said 'not that way.' He said 'OK, not that way' and handed over the team to the main stars. But that affected everything else, including the midfield.
I think it's all in the midfield and it has been unfortunate for him that all his midfielders have been disappointing this season, no creativity, losing possession cheaply, so that has left him with no option than to rely on the front three heavily. (Mfundo Mthomebeni)
Graham: I disagree with that. I think it's the other way around. Luis Enrique's idea, particularly from halfway through year one onwards, was to get the ball quickly to the front three because they needed less intricate work, and really it's like a muscle that has withered.
Just as Pep Guardiola wanted to reboot the team in his final season and had he stayed there was a great deal more renewing of tactics and strategy needed to confuse opponents,
To me Luis Enrique is not a good coach. He is the worst coach I've ever seen. He doesn't know football at all. He doesn't have any sense of analysing at all. I don't understand why he still is the coach of Barca? (Moj Taba)
Graham: I would say that we have seen intelligence and what we are debating is fine points. If there had been no Pep Guardiola and his era didn't exist and you came to what Luis Enrique has done...the last six months of his first year were as dynamic and exciting as I have ever seen.
The brilliance of the fightback in last season's cup final with 10 men to tie up Sevilla in the heat was raw sporting determination. These things argue against Luis Enrique not having a clue.
We are arguing fine points. Has winning the trophies been worth the clear changes in playing system which have left Barcelona looking, in certain circumstances, vulnerable and weak?