Barca's Real problem
Guillem Balague says Barca may be in the unfamiliar role of underdogs in Saturday's El Clasico.
Last Updated: 09/12/11 8:24am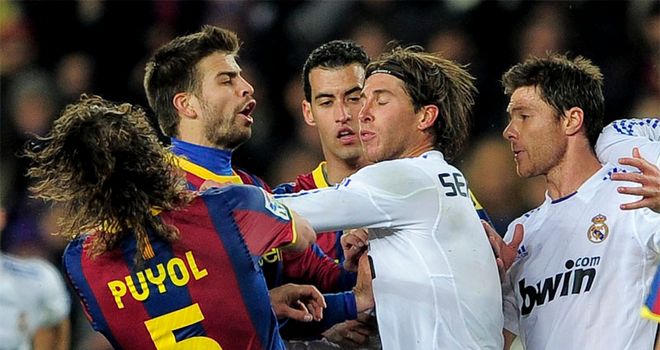 It's the most watched club game in world football and this Saturday regular La Liga watchers on Sky Sports will be joined by millions tuning in for the first Real Madrid v FC Barcelona clash of the season.
So, what do we need to know to get the most out of the game? Here's Guillem Balague's indispensable five-point guide to the biggest game of the season so far...
Once you've digested this, make sure you check out Guillem's 'Legends Lunch', as he, John Toshack, Albert Ferrer and Michael Laudrup take an extended look at El Clasico!
Form
Real have a three-point lead over Barca with a game in hand. At home, the hosts are the only side with a 100% home record in La Liga and after winning their fourteenth consecutive game at the weekend with a 3-0 victory over Sporting Gijon, go into the game on the verge of a record breaking run of victories.
At the Bernabeu, Mourinho's side have scored an astonishing 28 goals in six games and they possess the best offensive stats in La Liga this season; in contrast, the visitors have the best defensive record in La Liga (two clichés about Mourinho's negative approach and Barcelona's inability to defend dismantled in one fell swoop!).
At home, Barcelona appear invincible - nine games played, 39 goals scored and none conceded - but away from home, it's a very different story. Outside the Camp Nou, Barcelona were defeated by Getafe in their last away game and they've managed just two wins out of six (both 1-0s over strugglers Granada and Gijon). Without their home fans behind them, Guardiola's side have scored just eight and conceded seven - and Messi has scored only once on the road in contrast with the 16 he's scored at the Camp Nou. Barcelona dropped just 14 points last season before clinching the title; this time they've already dropped 11.
Performance
Barca bounced back from that defeat at Getafe with a 4-0 win over Rayo and a 5-0 win over Levante last weekend; both at home. Against Levante, the presence of Cesc Fabregas, Alexis Sanchez and the latest talent to emerge from La Masia, Isaac Cuenca, all provided depth and penetration to a Barcelona side that has lacked some of that spark, that intensity, pace and aggression that is key to making their possession based style and high pressure successful.
Keep an eye on Cuenca in particular; he's an old fashioned style winger who broke into the side in the absence of Pedro. The 20-year-old is excellent at taking on opponents in one-on-one situations, a great dribbler and crosser of the ball - but his inexperience may make him too much of a gamble for a Clasico at the Bernabeu.
That lack of intensity has been a problem for Barca this season and they've lacked that edge that has made them arguably the best side this generation will ever see; but a trip to the Bernabeu, against the old enemy, could be the spark that re-ignites the flame.
Madrid, in contrast, are at their highest level since Mourinho took charge and playing better than on any of the seven occasions they have faced Barcelona under the Portuguese.
Their 3-0 win over Sporting at the weekend was a hard fought, physical battle that saw Madrid individual qualities separates the two sides. But make no mistake, Madrid are not a team of individuals - they are a team in every sense of the word and much less reliant upon Cristiano to get them out of trouble. Di Maria, Khedira, Ozil and Carvalho are all blossoming and taking on greater responsibility in their second seasons at the club - while the rest of the squad now reflect what Mourinho wants in his second season in Madrid.
Tactics
Madrid possess a variety that will make them a force in Europe this season: capable of dominating teams at home with also a high pressing game, or counter-attacking with devastating pace against stronger sides that enjoy possession (like Barcelona) or away from home.
In the victory over Sporting at the weekend we saw Sergio Ramos playing as a centre back and the team playing a higher defensive line. Importantly, making fewer mistakes: something that is crucial against Barcelona who are capable of punishing you dearly for every error.
Xabi Alonso is pivotal in the centre of midfield, and when Madrid win possession, his forward passes from deep lying midfield areas to the forwards provide the springboard for most of Madrid's counter attacks. Certain teams might be advised to put a man on Alonso, to try and disconnect the supply to Madrid's attacking players; but it's unlikely that Barcelona will man mark the former Liverpool midfielder, despite the fact that it might be to their advantage. Changing their style to stifle an opponent is simply not in Barça's DNA or in Guardiola's philosophy.
Guardiola loves to pull a surprise or two for the Clasicos; and this time around the big question is 'will he play with three or four at the back?' Several factors could push Barcelona toward playing a three-man defence: statistically they have been more effective playing with three this season and with Alves on the pitch, he can always drop back and defend in a four dependent upon how the game progresses.
Guardiola also believes in getting your best players out on the pitch in key games and since signing Fabregas, that means playing with an extra midfielder at the expense of a defender. Plus, the need to stamp their authority on Madrid and dominate the midfield could force Guardiola's hand into going for extra personnel in the middle.
The problem for Guardiola is that he has sought variety and alternatives to the playing system that has become so familiar in recent seasons, and that has led him to experiment with a different line-up and formation in every game (24 line ups in 24 games). Their success in recent season was founded upon their essential identity and the dominance in possession created by Xavi and Iniesta. The addition of Cesc Fabregas, for example, has been beneficial in terms of offering a directness and penetration from midfield previously absent (with nine goals he has scored as many as Villa, as Pep says, you shake him and goals come out of him); but at the expense of a level of control in game. Against Madrid, the loss of possession high up the pitch will play into Madrid's counter attacking capabilities.
Messi v Ronaldo
Predictable; but how could we ignore the two star attractions, especially when their roles have been subtly reversed this season. They're level in terms of goals scored this campaign (17 each), but their relationship with their team's dynamic has shifted.
Ronaldo used to try and win every game on his own, and when Madrid were playing badly, Ronaldo played well and often made the difference. Now, it's less about Ronaldo and more about the team; yet instead of marginalising the Portuguese winger, he's flourishing as a team player and contributing more all round.
In contrast, Barcelona are overly-reliant upon Messi; and it's affecting their overall play as they try to get the ball to him as often as possible. It's making the team more direct - as is the inclusion of Fabregas - and it's affecting the team's identity and even internal harmony (marginalising David Villa, for example). If they are reliant upon Messi at the Bernabeu, his solitary goal away from home this season is a worry.
Managers
Mourinho, in contrast with previous clashes, has kept silent in the build up: preferring to let his players do the talking this time around. That silence speaks volumes about he now see his sides chances against Barcelona. In his second season, this is now his team, his club, playing his way - and it shows.
Guardiola, on the other hand, has a few domestic issues to contend with: a drop in performance, an unhappy striker, a dependence upon individuals and concerns over the focus of others (Pique). It's the first time that Guardiola's Barcelona has taken on Mourinho's Madrid as slight underdogs - at least in terms of league position.
The visitors to the Bernabeu know that defeat could leave them with a nine point deficit in the New Year. For once, it's Barcelona feeling the heat; but this is a side full of World Cup winners that thrives under pressure, and a high stakes game may be exactly what they need to make them up their game to its astonishingly high level of recent times.
Are Barcelona deserving of an underdog tag in this game? No. Probably not. That defeat at Getafe was their first in 27 games after all: hardly a crisis. Guardiola's side remain an exceptional football team capable of stepping up a gear. This game really is too close to call.
Don't miss Guillem Balague's 'Legends Lunch', as he, John Toshack, Albert Ferrer and Michael Laudrup take an extended look at El Clasico!