Clasico conundrums
How will Real and Barca line-up? Is this Jose's defining moment? Guillem answers YOUR questions...
Last Updated: 19/04/12 4:58pm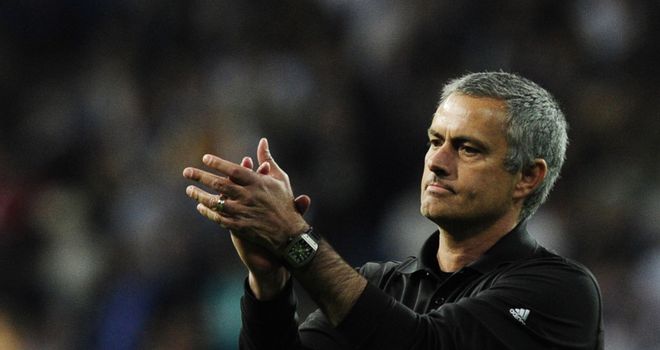 The biggest game in Spanish club football takes place this weekend when Barcelona and Real Madrid lock horns at the Camp Nou.
With Real only four points ahead of their great rivals at the top of the La Liga standings, the match could significantly alter the balance of the title race.
And ahead of the mouth-watering contest, Revista pundit Guillem Balague has answered YOUR questions on all things El Clasico.
Read below for his take on Jose Mourinho, Cesc Fabregas, why Sergio Busquest could play a key role, how he expects the sides to set up tactically, and more.
And whether or not you agree with Guillem, make sure you join the debate by filling in the feedback form at the bottom of the page.
TAINTED TRIUMPH?
Hi Guillem, I was wondering how will Real Madrid's fans see it if they lose another El Clasico, possibly heavily, but still go on to win the league? Will they care that they still can't beat Barca one-on-one or not care as they've been better than them over the whole season? Thanks. Michael Telford
GUILLEM SAYS: Beating Barcelona is Real's ultimate and beating them in the league is certainly a sign of quality and prestige, but having not won the league for three years now if Real Madrid do win it, it will be celebrated as a massive achievement. The fact that they might not have beaten Barcelona is not irrelevant but you get rewarded in a league for your consistency and Real Madrid have had that. Also, if you took away the points from last season's Clasico, Real would have won the league so it's two years under Jose Mourinho when they have been consistent.
CESC APPEAL
Hi Guillem. What, in your opinion, has been Cesc's impact on Barcelona? Positive or negative? In my opinion it's been negative. Cesc's nine goals in the league is poor as he has at times almost played as a centre forward and because Pep has had to shoehorn him into the side the whole team has been imbalanced by his presence. When viewed in light of Barcelona's struggle for central defenders, the money for Cesc could have been used for a Thiago Silva. I think Cesc's role should be coming off the bench and making an impact, like he does for Spain. What do you think? Sizwe Sindane
GUILLEM SAYS: I think Cesc started extremely well in a free role for the club, better than Barcelona expected, but after Christmas I think he hit a physical wall and has paid the price for not having a full pre-season. He knows how to play the free role because he played there for Arsenal but when he is asked to play in Xavi or Andres Iniesta's position he is still learning and he will admit that freely. He has given Barcelona something different, which is positive in my eyes, but he is still adapting and trying to become a new Xavi.
PLUS ONE?
Dear Guillem, I have a fantasy question for you: if you could pick a player from any team in the world that you believe would give either Real or Barcelona the advantage in El Clasico who would it be and why? For example would a Nemanja Vidic be ideally suited to tighten up the Barcelona defence and give them a bit more height at the back or would a Jordi Alba be an answer to Real's left back quandary? Would love to hear your thoughts! Gracias, Darren Mckay
GUILLEM SAYS: To be a centre back at Barcelona you have to be very fast, which is why Javier Mascherano has been a Barcelona centre back for a while, so I would not add anything to Barcelona at the back. I would get Xavi or Iniesta to play for Real, while for Barcelona I would get a player that can run in behind the full-backs, let's say Franck Ribery.
STICK OR TWIST?
Hi Guillem, I always enjoy reading your views and opinions of the game. Will either of the managers decide to rest players like David Moyes did in a recent Merseyside derby, to concentrate on the Champions League? Mourinho may see beating Bayern as more important than beating Barca in the hunt for a trophy - what do you think? Mike Heyes
GUILLEM SAYS: This is an interesting one because both have to turn around first-leg defeats in the Champions League semi-finals. I would expect less rotation from Real and more from Barca but my question mark over Real Madrid is whether Angel Di Maria will play because he has just come back from injury. They may one day try a different thing against Barcelona with Gonzalo Higuain instead of Di Maria because they are going to play on the counter attack. For Barcelona, I think Gerard Pique will play, and Pedro will replace Cesc. When you play these games they are like an NBA series final, you have to think of the second game when you pick your team for the first one, so there may be some rotation. I also agree with you that winning the Champions League would be a bigger achievement for Mourinho which is why he picked his first XI against Bayern.
TACTICS TALK
Hi Guillem, How do you think Mourinho will approach the game tactically? Do you think it will be a similar approach to that of the Inter Milan team he once managed when they beat Barca in the Champions League semi-final? Scott G
GUILLEM SAYS: In the clubs' last match, in the Copa del Rey, Barcelona went 2-0 up and Real Madrid got it back to 2-2 in the last 20 minutes. That is the way people said Real should approach playing Barcelona but that came off the back of Barcelona relaxing, Iniesta getting injured and the knowledge they had qualified. Real don't need to win so I don't think they will play like Inter or like Chelsea did on Wednesday. I think they will play two lines of four with Cristiano Ronaldo and Karim Benzema up front, defend deep and counter attack.
IMPORTANT DUELS
Hi Guillem, I know there will be battles all over the pitch but if you could pick out three key one-on-one battles what would they be? Messi vs. Pepe is always interesting, as is Ronaldo vs. Puyol! Cheers, Richard Law
GUILLEM SAYS: Messi v Pepe is certainly one. Messi likes to play in the position where Pepe has to make a choice as to whether to go or wait for him. Sergio Busquets v Benzema will also be interesting. Busquets is a key player in Barcelona's build-up, he is very clever and moves around. People do look to target him; Manchester United have done it before, getting Wayne Rooney to stick close to him, and I think Benzema will do the same for Real. Dani Alves v Marcelo or Fábio Coentrão is a third key battle. Coentrao had a poor game against Bayern Munich, while Marcelo has also been to blame for Barcelona goals in the past but Alves is a link to Messi and if you stop that you won't get stranded two-on-one down Barcelona's right.
BLOCK UP TOP?
Guillem, It seems in recent seasons that Madrid just simply cannot beat this Barcelona side, do you think it is more the mentality of the players going into this game? As Madrid, on paper, are just as world class as Barca. Cheers, James Harris
GUILLEM SAYS: I think there is a mental block that the players had and you could see that in Ronaldo who was trying too hard and trying to be the best player on the pitch. He has scored three goals in four games, though, so that has changed a little bit. What is important when you play Barcelona is that you know you won't have much of the ball. Real, I think, are starting to get to grips with that but must show it on Saturday.
PRESSURE POINT
If Barcelona are victorious this Saturday, what impact do you believe this will have on Real Madrid? The 10-point margin will have been reduced to one in La Liga and there is still the possibility of an El Clasico Champions League final. Psychologically, surely Barcelona will have a huge advantage heading into these final weeks! Jon Sym
GUILLEM SAYS:
Mourinho will have to work hard on his psychological tools but Real will still be one point ahead. Even if they lose against Barcelona, the momentum will be with them as long as they beat Bayern. There will also be only one game in La Liga - against Athletic Bilbao at San Mames - where I think they could drop points, even though the game the following week against Sevilla could be difficult because it will be played at 12pm, and when Real have played that early before, their level of intensity, for periods in both halves, has dropped.
MISSING IN ACTION
Hi Guillem, Just wanted to ask for your opinion on the losses of David Villa and Eric Abidal and how you think Barcelona have been affected by their absences. Personally, I think both are missed incredibly. Adriano is a good back-up player, but not in Abidal's class, whilst Villa - Spain's all-time top scorer of course - is badly missed in my opinion. I'm not a fan of Cesc or Iniesta wide left, whilst Pedro's form has dropped. Sam C
GUILLEM SAYS: Abidal was not just a left-back, he was a centre back in the three and was strong at both attacking and defending set pieces, but I think they miss Villa more. Even though he didn't intervene in the game as much as others, he could score from anywhere. That was something they needed against Chelsea.
TOP OF THE STOPS?
Hi Guillem. When you look at Victor Valdes and Iker Casillas in recent seasons, it is pretty clear to me that Valdes has outperformed Casillas. Do you think that Valdes gets the credit he deserves for his performances in recent seasons and do you think that he could ever take the Spanish number one shirt? Valdes would surely suit and understand the style of play just as well as Casillas, if not better. Thank you and keep up the good work! Stephen
GUILLEM SAYS: Casillas will be number one for Spain for a while. I know what you're saying about Valdes in that he plays the ball more with his feet than some rival midfielders, but I think Valdes let himself down with the goal against Chelsea, and you rarely see Casillas make huge mistakes.
MASSIVE MOMENT
Hi Guillem, Is this game seen as THE defining moment in Mourinho's Real Madrid career? Should Madrid lose, it becomes conceivable that Barca, being 10 points behind at one stage, will pull off a great comeback and win the Liga. Should this be the case, what would the future of Mourinho and his current crop of players hold at Madrid? Thanks, Femi Ade-Davis
GUILLEM SAYS: If Mourinho wins La Liga and the Champions League it will be great for him but if he loses La Liga the feeling of disappointment will be much bigger. Real were 13 points ahead at one stage and if they fail, and that is accompanied by not winning the Champions League, the model of running the club will have failed. Mourinho needs to succeed and it is a key moment his career.
See Barcelona tackle Real Madrid from 6.30pm, Saturday, Sky Sports 1 HD, or for an even more eye-popping evening, watch the match on Sky 3D.