Guillem Balague blogs on Barca's lack of leadership and the Copa del Rey Clasico
Barcelona - and Leo Messi - are struggling without a leader in their ranks, says Guillem Balague.
Last Updated: 25/02/13 2:30pm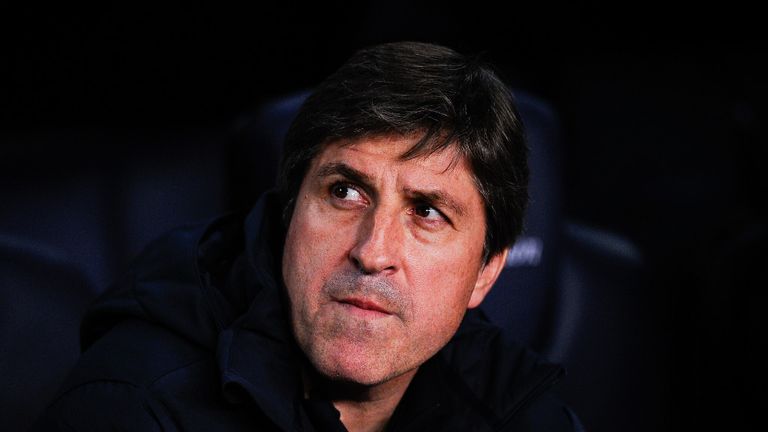 People said he couldn't do it in big games a few years ago, but he is now having a huge influence in big games - and now the question marks are against Lionel Messi.
The Argentine wasn't great against AC Milan in the Champions League, but I think that's because at the moment there is a lack of leadership at Barcelona.
Tito Vilanova is in contact during games and evaluates training sessions but you need someone with authority to make strong decisions in the meantime - and the people with the strongest personalities are the players.
There is self-management going on and therefore the players with greatest influence play; they are often the best players but the team sometimes needs a bit of a shake-up and Jordi Roura, who was only a scout last season, doesn't have the personality to do that.
Notable developments from the win over Sevilla were that when Alexis Sanchez went off injured, Dani Alves became a right-winger, Christian Tello added depth to the team playing as a left-winger and David Villa played as a number nine with Messi behind him.
The Madrid press have mentioned that Messi only gave one ball to Villa throughout the whole game, suggesting that things are not as good as they should be between the two players, but afterwards even Messi realised that Villa could be important against AC Milan and Real Madrid.
You need to populate your midfield when you play Real Madrid so maybe Villa will be on the bench for the second leg of the Copa del Rey semi-final on Tuesday, but he could come on either as a number nine, or as a wide player who is given freedom to go in and out of the box.
Intensity
Meanwhile, we saw two Real Madrids against Deportivo - they were going through the motions and had no intensity in the first period, but they then had a big telling off from Jose Mourinho at half-time and things changed - but that is typical of their season.
However, I think Real could make it to the final of the Copa del Rey, because I think Barcelona, who have conceded in their last 11 matches, will let a goal in, while prior to January's 1-1 first leg draw, Real had scored at least two goals in the last five Clasicos.
They know how to play Barcelona now and since they lost 5-0 in Jose Mourinho's first Clasico, they have got closer to their rivals and every game now is decided on little details.
Kaka is becoming an important part of the Real team, but he is too similar to Mesut Ozil, so I still see Angel Di Maria, despite being in poor form, starting against Barcelona.
Barcelona have turned around five games after conceding first this season but they are having to work hard to do that and are becoming a touch tired as they tend to be at this stage of the season.
There is a lot of evidence to suggest Real will go through, but we will see...
Iniesta v Zidane
In my column last week I argued that Andres Iniesta was better than Zidane; it elicited a huge response from readers with loads of you getting in touch to agree or disagree with me. Here are a few of your comments...
JAMES MABAUDI: I disagree on the basis that Zidane proved himself in three different countries and the Galactico era of Zidane's time was a team full of egos and not as united as the great Barcelona team of today. The Brazil squad that France beat in 1998 was stronger than both the Holland and Italy squads that Spain faced in the finals at the World Cup and Euros respectively. There is no denying Iniesta is one of the best midfielders to ever play the game, but I would have to say Zidane edges it for me. At club level Iniesta has the benefit of playing with not only the world's best player in Lionel Messi but playing in the world's best club squad ever to be assembled. At international the competition is not quite what it used to be and Spain are a class above the rest. Zidane at club level for Madrid was the standout player in a team of talented individuals that never truly achieved the success expected of them, while at international level Zidane had more competition from rival nations, like the Brazilians, Italians and Dutch.
CRAIG MURDOCH: Zidane is the best midfielder of all time; he controlled games on his own with his unique graceful style. I don't think Iniesta controls games the way ZZ does as Barca/Spain control every game they play with ridiculous possession stats, whereas Zidane had a much harder task. There is no doubt Iniesta is a phenomenal player but I just feel Zidane was a one-off. I would also like to give a mention to Zidane's goal at Hampden Park, possibly the best goal ever? An example of Zidane's ability to just step up and claim games as his own, which I don't think Andres does as much.
ARIEF JUGA: I love watching how Iniesta dictates Barca's tempo; if Xavi places too deep in defence or too high in offence, Iniesta comes to cover him with perfect timing. Club and personal achievement suggest Iniesta is a better player, but what Zidane did on the field was more intriguing to me. Zidane made assists or just a simple pass to somewhere that spectators could not believe. He could make someone run to the place he wanted, he dictated not just the play but also the movement of people who were with him or against him. The best thing about Zidane was his trademark gesture; there is nobody in the football world that could move like him. His run with the ball, his roulette, his simple pass, his vision, nobody can surpass it. I think Zidane is the greatest footballer. He is the hard proof that football can be art.
FRAZ BARI: I'm going to be controversial perhaps but, for me it's Iniesta. They are/were both are capable of scoring wonder goals in finals, while they also perform many under-rated aspects of football beautifully, which lead to outstanding moments that are easier to notice. ZZ is a bit like Cristiano Ronaldo, and goes for complicated tricks like the roulette, whereas Iniesta, similar to Messi, takes simple but effective touches to get through defenders. Such equal things only allow statistics to decide the better player which is Iniesta.
MARTIN CHATFIELD: Iniesta is part of potentially the most dominant and skilful team ever, while I feel Zidane's temperament makes him a somewhat of a flawed genius; he scored some incredible goals that Iniesta would not even attempt, but we sometimes takes Iniesta's vision and touch for granted because it is so good. Iniesta doesn't do bad games, he doesn't get sent off for stupid head-butts and his goals in important finals show what a big-game player he is. Iniesta is a better player for me and would make any all-time XI.
JOSHUA KAASIK: Iniesta is at the heart of chemistry and teamwork in a way Zidane wasn't. As a Barcelona fan, I love watching Messi play, but I would sell him before Iniesta. Iniesta is everything that's great about the sport: endless skill, technique, mental strength, and class. I will say Iniesta is a better passer by miles, but Zizou is a better goal-scorer (for now.) It is nearly impossible to remember Zidane accurately, because nostalgia makes us over-appreciate him, but I think Iniesta will be remembered as the better player.
I thought the fact that Zidane had retired was going to make it difficult for anyone to back Iniesta but now is a good time to judge the Barca man because he is playing well.
It's not only that I think he is consistent to a point where Zidane wasn't but he has also got a higher work-rate defensively so was crucial when Barcelona were defending high and pressuring high, a philosophy that changed football.
He has a great influence on the side and still has time to improve and, for me, he is better than Zidane - although when I got in touch with Iniesta to tell him that I was doing this comparison and he said: 'Are you crazy?', because he is so modest.