Guillem Balague on how Vilanova and Mourinho lead Barca and Real
Guillem Balague looks at the team dynamics at Barca and Real, and Pedro's future at the Camp Nou.
Last Updated: 08/04/13 6:05pm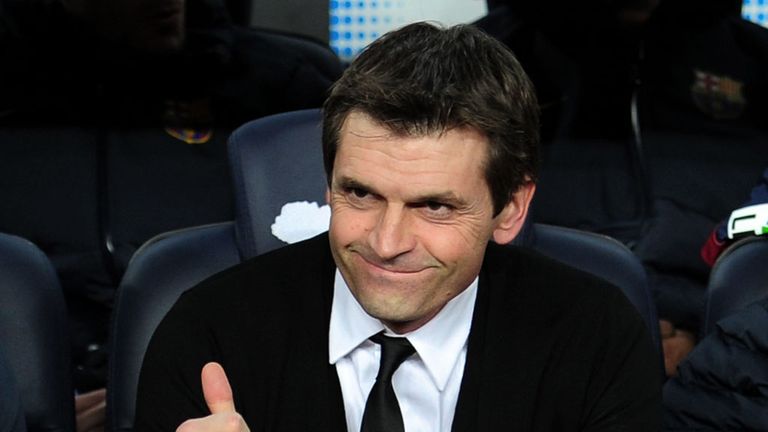 The return to Barcelona of Eric Abidal after 402 days is amazing, as for someone to have a transplant like he has had and return to play at the top level is medically unheard of.
So we will see whether he can play well consistently, but doctors will monitor his situation to see what science can learn from it.
Abidal explained he was very nervous when he was warming up during Barca's 5-0 win over Mallorca and jokingly said he didn't want to get injured on the touchline, but he also spoke of how even if you only have a one per cent chance of surviving something you should still fight.
Barcelona have worked hard to show they are protecting Abidal and are trying to portray that they are a club that cares and are, in fact, more than just a football club.
Tito Vilanova, meanwhile, comes to work on every day that he feels strong enough and generally that has been every day, but he is not doing the press conferences at the moment.
Having conducted some interviews recently for my Lionel Messi book in the Barcelona Sporting City, it is clear that Vilanova, who was following training of the B team as well as taking charge of the first team, might not be strong enough to lead Barcelona from the forefront, but will make it look like he can as he thinks that is what the team needs.
The day after the Mallorca game players were joking around with Abidal and Tito came in and said: 'Enough, we have to concentrate and I'm not going to allow you to relax'.
That is the leadership Barcelona have been lacking in the last couple of months.
Options
At Real, meanwhile, there have been rumours in the paper that Jose Mourinho will stay at the club if Iker Casillas and Sergio Ramos are sold, but he just wants to leave his options, which also include Paris Saint-Germain and Chelsea, open.
Mourinho's bad relationship with Casillas is down to him not thinking the goalkeeper raised his level and was stuck in a rut, and now he is using Casillas in a psychological game to show that no player is untouchable.
As for Malaga, their manager Manuel Pellegrini found out that his father had died the morning before the match with Real Sociedad but didn't announce anything until afterwards so as not to alter the dynamic of the team.
He will now head to Chile, though, and miss the Champions League game with Borussia Dortmund so he can be close to his family.
So, everybody in their own way has shown us that football is played well beyond the pitch.
Guillem answers your questions...
Got a question for Guillem? Then send it toskysportsclub@bskyb.com or use the feedback form below, and then look out for his answer next week.
THE CAP DIDN'T FIT
Hi Guillem, I have just finished reading a book on Fabio Capello by Gabriele Marcotti and from reading the book I feel Real Madrid made a bad choice in sacking Capello in 2007. How do you view Capello's time at Real Madrid? Thanks, David Fullam
GUILLEM SAYS: Capello is the sort of manager that has a short lifespan at Real Madrid as he does not aspire to play great football when the team are already winning and playing well. Mourinho is the same, which makes what he is doing historical, but the philosophy of going for results wasn't understood and backed under Capello.
CENTRES OF EXCELLENCE
Hi Guillem, I just wanted to know more about the centre-back situation at Barcelona as Mats Hummels, Inigo Martinez and Marquinhos have all been linked with a move. Are there any other names on Barca's radar? Who do you think is the best fit? Thanks, Dale Anders
GUILLEM SAYS: There are rumours that Sergio Ramos could be on Barcelona's centre-back list but those rumours are false. Inigo Martinez, Mats Hummels, Marquinhos, and Daniel Agger are good options but Barcelona need a Puyol type - Marc Barta, from the youth team, is a bit like that but is a little slow in the first 10 metres and not as aggressive as Puyol.
ENGLISHMEN ABROAD?
How highly do the Spanish regard Jack Wilshere and Gareth Bale and do Barca and Real have any interest in them? Adam Martins
GUILLEM SAYS: Real want Kun Aguero or Gareth Bale to lead the project next season and they are going to try and get one of the two - though it doesn't mean that they will. Wilshere, though, needs to be more consistent to be considered a world star but he has potential.
PEDRO OUT OF PUFF?
Hey Guillem! Why do you reckon Pedro will leave Barcelona? Any thoughts where he'll end up? Masd Karlsson
GUILLEM SAYS: Pedro will not leave Barcelona but I don't think his performances will be at the level they were two or three years ago; his role is so demanding and has taken a lot out of him - but he does still perform in some big games.