Guillem Balague: Luis Suarez wrong but needs our help
Luis Suarez made a mistake, says Guillem Balague, but now he needs our help.
Last Updated: 22/04/13 3:26pm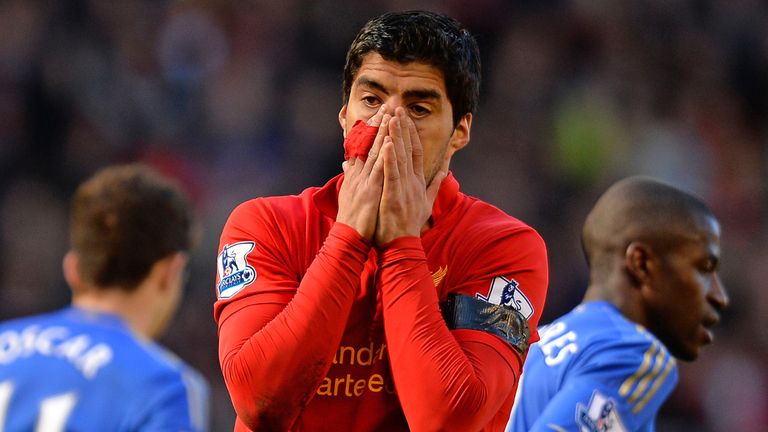 "On Suarez: he got it wrong. Again. He apologized. He'll be punished. Again. Today he starts his redemption. We should help. A footballer, still human".
I am of the belief that a man who has made one, two, three mistakes, still deserves to be helped if he shows remorse. An apology is close to remorse.
Only 24 hours before the game he was talking about his wife telling him off for certain things he does on a football pitch. He knows what he is doing, but he has a deeply ingrained cultural behaviour that is difficult to get rid of when you are full of adrenaline.
I am not trying to justify his actions (wrong actions, as I described them before). But if you are interested in finding out where it all comes from I will add this: he comes from a culture, the Latin one, where I belong too and where far too often certain behaviours are (wrongly) justified.
They are based on the "as long as you can get away from it" -if you dive but the referee hasn't realised, you are a hero. Wrong, very wrong, and he is taking that kind of acting to the extreme, to a point in fact where sports psychology would probably help.
England, with its insistence on fair play and good behaviour, will make Suarez a better player and human being as long as the witch-hunt doesn't become nationalistic.
I repeat that, yes, Suarez made a mistake - again. But instead of constantly point out at it, we should help him improve as human being, give him a chance to change or keep changing... if we have in us to do that. Yes, after yet another mistake.
Let me know your thoughts on Suarez by filling out the feedback form on the bottom of this article...
Test
The Champions League continues this week with Bayern Munich against Barcelona on Tuesday and Borussia Dortmund against Real Madrid on Wednesday, live on Sky Sports.
Bayern are a very strong team but if they have a weakness it is their physicality; it will be interesting to see how the likes of Bastian Schweinsteiger and Javi Martinez deal with the moving and passing of Xavi and Iniesta.
There's no doubt that Barcelona will have to be at their best to win; they'll have to rediscover what they had against Milan in the second leg and, of course, what they had in the first three years of Pep Guardiola's reign and play pressure football.
I think Bayern's centre-backs are slow; they are big guys who may struggle against that style.
Lionel Messi didn't play at the weekend because he was 90 per cent fit after that muscle injury but should be 100 per cent for Tuesday. Unbelievably, he was 50 per cent fit against PSG, which shows just what a dangerous player he is!
That said, I still make Bayern Munich favourites to progress. Barcelona will almost certainly have to play Marc Bartra next to Pique - and that will be a test for the youngster, who at the beginning of the season felt that he wasn't getting the time that he deserved in the team.
Clever
In Borussia Dortmund, Real Madrid are facing the only team left in the competition who are playing without any expectation whatsoever because everything now is a bonus for them.
The pressure they put on their opposition to recover the ball is key to how they play and I expect they will make life very difficult for Real Madrid and may force them to play too direct.
Real will also have to avoid getting caught two against one in wide areas because everything that is put by the likes of Mario Gotze or Marco Reus - whoever plays behind the striker - will be integral to the play of Robert Lewandowski.
For me he is one of the top strikers in the world because he's not just a finisher but he's clever with his football. He can control the ball and assist others.
Everything tends to go through Ilkay Gundogan, so the forwards are going to have to put in plenty of work to stop him.
Mesut Ozil - who is playing the best football of his career - will have to work hard with or without the ball.
Let me know your thoughts on Suarez by filling out the feedback form on the bottom of this article...