La Liga 2013/14: Guillem Balague looks at positives and negatives
Guillem Balague looks at the La Liga positives and negatives in his in-depth season preview.
Last Updated: 15/08/13 10:37am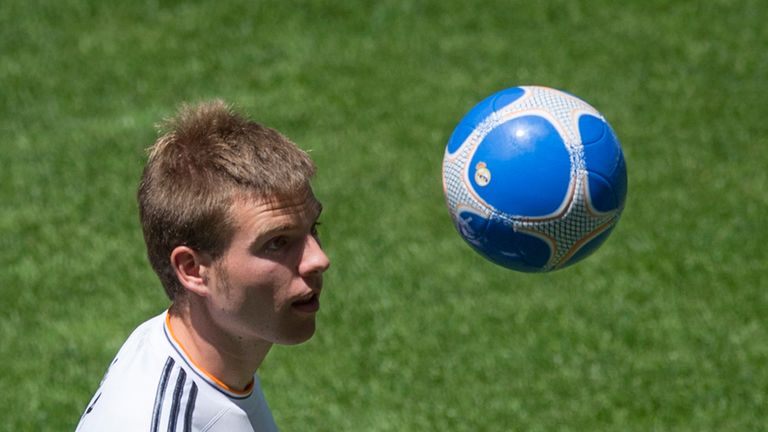 The Spanish League. We have what we deserve. First the negatives - two teams well above the rest, the top Spanish strikers leaving us, and the exiles including not only members of the middle class of La Liga, but also some potential quality players who have not developed yet.
Not much will change while the distribution of television money stays the same (almost 160million euros to Real Madrid and the same for Barcelona, 18m for the most modest teams) and for as long as a painful crisis lasts, castrating Spanish businessmen and possible investors.
We lack the organisational quality of the Premier League or the Bundesliga so no foreign investment is attracted to our football clubs - and the possible candidates that historically have upset the big two have lost their best or most influential players.
Falcao (Atletico), Illarramendi (Real Sociedad), Isco (Malaga), Negredo and Navas (Sevilla), Soldado (Valencia), Baptistao (Rayo), Beñat (Betis), Llorente (Athletic) are gone, mostly abroad.
Real Madrid are considering paying 100-120m euros for Gareth Bale and the rest of the league minus Barcelona have spent 101m so far. Barcelona 60m so far, but are thinking of paying around 40m for a centre back.
To top it up all, the Anti-corruption Committee, linked to the government, is investigating nine games, four from the first division and five from the second, for possible match-fixing after the League passed on what they consider enough evidence linked to big betting spreads and private information they got before and after the games.
Now take a breath. Let me find some positives.
Talent
The continued success of the lower teams of Spain points to the goodness of the football production line - seven European or World Cup victories in different categories in the last five years, including the European Under-21 Championships with players like Isco, De Gea and Thiago.
Spanish football is a reference all over the world and that explains the departure of so much talent. That, mixed with the poor economy of most clubs, creates a situation that is healthy for young players and coaches - they are given opportunities much earlier.
There is enough talent around to be optimistic. David Villa seems to have recovered his touch at Atlético Madrid and could help them push for a good European season, while Real Sociedad have let Illarra go (the closest player to Xavi I can think of) but they still have Rubén Pardo, a new Xabi Alonso.
Without Soldado, Valencia will need the goals of Helder Postiga. Malaga (who have let Joaquin, Isco, Toulalan, Saviola and Demichelis go), Sevilla and Betis have invested in unknown quantities but they have reinforced the trust in the Academy.
And Ernesto Valverde will continue where Bielsa have left off in Bilbao but with a new atmosphere to improve on the tension that neutered the side last season.
The lack of investment gives a chance to anybody below the top two and that is a league on its own. Rayo, Levante and Espanyol are using imagination and sharpness to fight for a European place - they are looking for talent in the second division like Lanzarote, Fuentes, Abraham, Oriol Riera or Charles, in Austria, in Slovenia, in France. Guys coming to Spain hoping to impress and take big steps in their careers.
Almería (with the youngest coach in the competition, Francisco Javier Rodríguez, 35-years-old, who asked for Suso of Liverpool to be his star), Villarreal (a reinvented club with much less money and many more local boys, plus Giovani) and Elche (24 years after being relegated and with lots of players on loan) have got a big chance of staying up - in the last decade, two thirds of the teams promoted have stayed in the first division in their first season back.
Healthier
How about the big two?
Real Madrid: The quality of the squad is unparalleled at the Bernabeu. Carvajal will fight with Arbeloa for the right-back spot, a midfield of Isco, Ozil and Di María, with Ronaldo and Benzema up front is a guarantee of pace and goals, and Madrid might spend on a striker even if Bale signs.
The club has got a healthier face after the tense last months of the Mourinho era with an Ancelotti that is not too bothered if Bale comes or not, but whom admits he has never coached a better squad. Real have got a more Spanish heart, even though we might have to wait for Illarra, affected by the pressure, to make his impact.
They are, in my eyes, favourite to win the league. But, how would Bale and Ronaldo work? Would Ronaldo renew his contract (he is NOT leaving Madrid this summer)? Will Benzema offer his best and most regular version now that he is the guaranteed number nine?
Barcelona: Luis Enrique (despite having signed by Celta) thought he had the job but then the pressure from some players made the club change their original idea in favour of the Argentinean 'Tata' Martino.
In any case, it has been clear for a while that the team needs direction, to return to the essence but to still try and discover new ways to surprise the opposition, and take big decisions.
The first two can arrive with Martino, but I am afraid he plans to keep the status quo. No shake up 'a la Guardiola' then. And how about Messi-Neymar? Who will replace Xavi now Thiago is gone? Why did Cesc let Manchester United flirt with him?
Those and more questions will be resolved in the next few weeks. Send your suggestions and opinions and let's base this article on them over the next two weeks. What worries you? What interests you? Let me know...
Got a question for Guillem? Then send it toskysportsclub@bskyb.com or use the feedback form below, and then look out for his answer next week.