Guillem Balague on outbursts from the Rayo and Valencia coaches
Guillem Balague reflects on the dressing-room ructions at Rayo and Valencia, and answers YOUR questions.
Last Updated: 26/08/13 4:35pm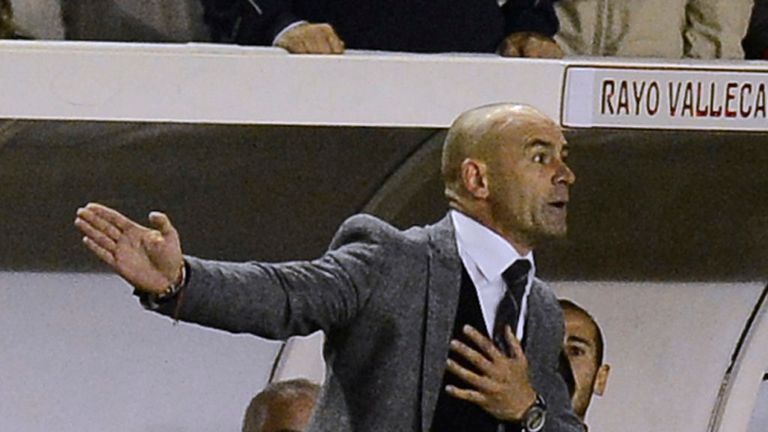 They have both come out with very strong words against their teams.
Jemez said, 'we are the smallest team in the division, the [worst] one and the sooner we realise that the better and we can start competing'.
He added that they are going to spend the next few days embarrassed and look to the game against Levante to get back to demonstrating that they are a competitive team and their attitude cannot jeopardise anything.
Djukic, on the other hand, had two strong press conferences where he said things like, 'we made fools of ourselves and we are ashamed, at least I am and I hope this does not happen again' (talking about the Espanyol game). He added, 'we didn't deserve more, we didn't play as a team and our rivals have overcome us with a better attitude'.
Prior to their defeat to Espanyol, Djukic also had a go at a bunch of players, without referring to them directly. He said that he feels they are divas and they are not working as hard for the team as they should be.
It was a reference to Jeremy Mathieu, who has complained and said that he wants to leave, and Vicente Guaita, who would like Valencia to accept the offer from Arsenal or at least make sure he plays regularly.
Djukic went on to say that Valencia needs lions which are willing to fight with a winning mentality and those that think pessimistically don't have a place in his Valencia team.
There have been accusations from around the team that some players are not 100 per cent committed and it is for Djukic to sort out, but I want to see him offering football solutions to the team as well.
I want to see him making the best of what he has - but I have my doubts about whether he can do that.
Weak
With Rayo, Jemez came out with the same sort of lines when they lost 5-0 to Levante last season. They are a team with just a 12m euros budget.
Levante, who everyone praises because they are clever in the transfer market, have 24m euros budget so with 12m euros Rayo have to pay everything, including the wages and the transfers, and it really was a miracle what they did last season.
But they only achieved that with a great attitude, which obviously they didn't show at the weekend against Atletico Madrid. They were far too weak defensively, there was no aggression and they did not believe in the possibility of beating Atletico Madrid - which is interesting because now teams go to Atletico with the idea that it is so hard to beat them.
Atletico Madrid have taken off from where they left last season with a great attitude.
Arda Turan was fantastic and Diego Costa is the star of the team now, which is why Atletico Madrid doubled his salary in a new contract after he had rejected Liverpool.
David Villa has lost some pace and is not at his sharpest but he can complement Costa fantastically.
Guillem answers your questions...
Got a question for Guillem? Then send it in using the feedback form below, and then look out for his answer next week...
OZIL OPTION
Hi Guillem. Do you know if the stories linking Man Utd with Mezut Ozil are true? Do Man Utd want him and will Madrid sell - and would Ozil be prepared to join Man Utd because of Bale's expected arrival? Thanks, much appreciated.Jason Hill
GUILLEM SAYS: It is going to be an interesting last week of the transfer window and let's see what happens with the Bale deal - we will deal with that on Revista. But, of course, Spurs are now not in a rush to sell the player. They are upset about the behaviour of Real Madrid, despite the fact that last Wednesday the leaks from Madrid was that everything was hours away. So that means, of course, that if Real Madrid sell either Ozil or Angel Di Maria, they will have recovered in the summer the money that Bale would cost them. We will have to keep an eye on that because also they have not given up on Luis Suarez yet. So there are permutations.
NEYMAR NOW
Guillem, Was Neymar's appearance late in the game against Levante a portent of his role in the team? Is he more of a capable goal scoring replacement for Lionel Messi later in the season, rather than a player to have alongside Messi and draw away the focus of defenders? Rob Campbell
GUILLEM SAYS: For me Neymar will become one of the top three players in the world so he needs to play consistently. I don't believe he is not ready for it - mentally he certainly is. I understand that Barcelona think that physically he is not. But I see that he offers something completely different from what Barcelona have. It was a shame that those great movements from Cesc Fabregas in that free role in the attack against Malaga were not followed up by the appearance of Neymar. If he had played from the beginning you would have seen a different game. Little by little, Tata Martino is suggesting Neymar is ready. I think he is and I think he should start against Atletico Madrid in the Super Cup.
MADRID POLITICS
Hi Guillem, a fellow countryman here. On the Iker Casillas issue, I'm still surprised. I cannot see Diego Lopez performing better than Casillas in any aspect, can you? I thought it was just one more childish attitude from last manager (I prefer not to mention him), but this is making me very, very confused. Thanks. Chema Lopez
GUILLEM SAYS: I think Joe Mourinho took a football decision on Casillas. He thought he needed more competition and he thought that Diego Lopez was training better. But he also made it a political decision, because it is with the influence of Casillas in the team and in the eyes of the fans. If Carlo Ancelotti does the same - remember Fabio Capello at one point would have preferred Diego Lopez - as a football decision, I think people will have to reassess the Casillas situation and think of it as a football one and not a political one anymore. What he have seen is that Diego Lopez does not do much wrong when he comes in. He has his weaknesses but his strengths as well - the same as Casillas. At the moment, they are very equal.