Guillem Balague: Everton ideal for Gerard Deulofeu; Spain face tough World Cup test
Guillem Balague answers YOUR questions on Gerard Deulofeu's Barca chances and Spain's World Cup bid.
Last Updated: 09/12/13 4:22pm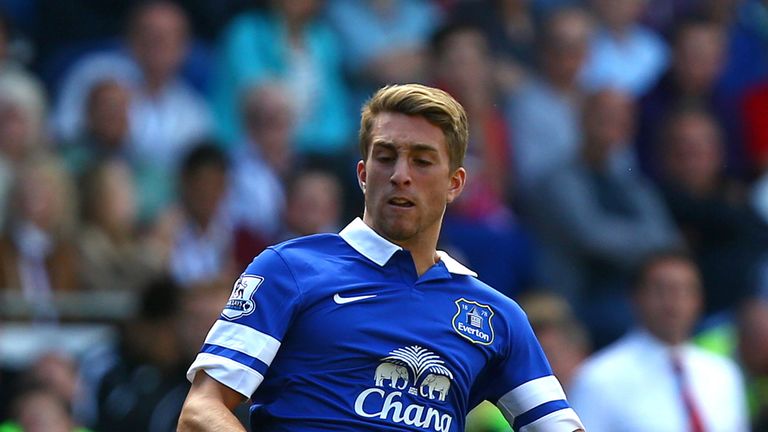 Barcelona managed to fight back to win 4-1 against third-tier Cartagena but several of Spain's big guns failed against lower-league opposition in the first leg ties.
Real Madrid were held to a 0-0 draw by Olimpic Xativa from Segunda Division B, while Valencia endured a goalless stalemate against Gimnastic and Jaen came from behind to finish 2-2 with Espanyol.
With the second legs to come, there is still an opportunity for the heavyweights to come out on top - but don't be surprised to see a few more surprises when those sides meet again.
However, attentions return to La Liga action this weekend and there's a jam-packed schedule of live games on Sky Sports HD.
On Saturday tune in to Sky Sports 4 HD to catch Osasuna v Real Madrid (5.15pm), Barcelona v Villarreal (6.55pm) and Malaga v Getafe (9pm), while if you head to the same channel on Sunday you can see Sevilla v Athletic Bilbao (6pm) and Atletico Madrid v Valencia (8pm).
Then, via Sky Sports Xtra on skysports.com, you can see Real Valladolid v Celta Vigo at 9pm.
Revista de La Liga returns on Tuesday December 17, as does Guillem Balague's regular column on Spain's top flight.
Remember, every week you can send in your questions for our Spanish football expert using the feedback form below.
Here's his answers to the latest selection of readers' responses - including his thoughts on Gerard Deulofeu, Pepe Reina and Spain's World Cup chances...
Guillem answers your questions
BACK TO BARCA?
Hi Guillem. How highly rated is Gerard Deulofeu at Barcelona and do you think Everton will be able to get him on loan for a second season? Thanks, Andy
GUILLEM SAYS: Barcelona haven't taken a decision about Deulofeu. I think he will benefit from another year at Everton. At a time when Neymar and Lionel Messi seem to have two of the places up front, Deulofeu is too free a soul to be guaranteed a place in the line-up of Barcelona with them playing. Only Messi can be free; Neymar has less tactical obligations but the third one up front needs to work hard defending and that's not Deulofeu's game - in fact, that's what he has to work on. He will do that at Everton with another season there - but no decision has been taken about that.
DRAWING CONCLUSIONS
Guillem. What was the reaction in Spain to your country's World Cup draw? A potential final with Brazil would be incredible but Spain surely can't be looking forward to a meeting with Holland in the group stages? Cheers, Steven Hughes
GUILLEM SAYS: Spain are quite clearly in a tough group - one of the toughest in the group stage. I admire Chile and what they're doing and also they have a goal-scorer in Alexis Sanchez. Everyone knows about Holland, and that's the first game, but the biggest enemy of Spain is Spain. We don't start competitions well - we all remember the defeat against Switzerland in the last World Cup - and I just feel that the team needs a push in terms of attitude and hunger.
That can be given by Diego Costa, who I think will be starting with Spain if he continues his form. He certainly gives an edge to Spain, which can be contagious and everybody can go down that line. But I will go further and include Koke and even David Villa, although he's perhaps not at his best, because the three of them are playing for Atletico Madrid and they can now play direct football or more possession football. Add to that the likes of Cesc, Andres Iniesta, Sergio Busquets, Xabi Alonso and you've got your team there. The fear Vincente Del Bosque has is the team don't respond psychologically to the challenge, having won everything. That's everybody's fear. I think the World Cup final will be Argentina-Brazil, though!
KEEPER CALL?
Hi Guillem. I see Jose Reina has said he'd like to go to Barcelona in the summer - do you think they'll go for him or will they look to a younger keeper when Victor Valdes leaves? Keep up the good work, David Marshall
GUILLEM SAYS: I get the impression Barcelona have got set two goalkeepers for next season. One is Pepe Reina and the other is Marc-André ter Stegen. I think they have an agreement with both players but in both cases they will have to pay the respective club. They're willing to pay Liverpool about 5m euros for Reina and 10m euros to Borussia Monchengladbach for Ter Stegen, but quite clearly it's something to be negotiated and isn't a done deal.