'Atletico Madrid believe in Diego Simeone's ideals but made mistakes at Athletic Bilbao'
Atletico look nervous, Barca need Neymar to fire and Real's fans are on their back, says Guillem Balague.
Last Updated: 31/03/14 2:02pm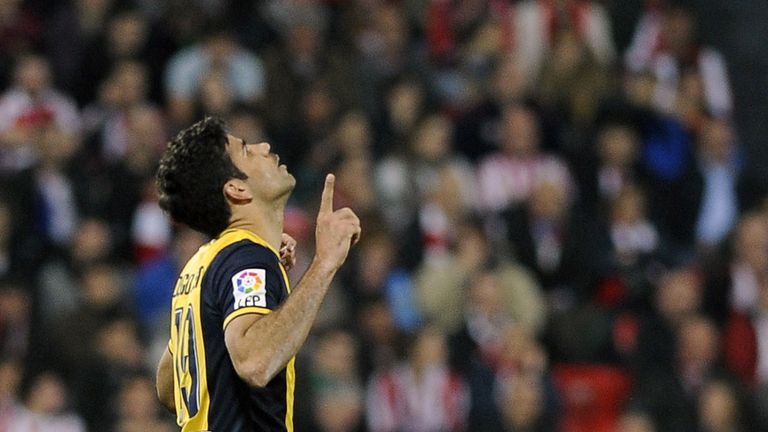 Barcelona don't structure their team around possession but that's what they're getting a lot of so for them it's all about waiting for an individual moment of brilliance and right now it is Iniesta and Messi - who has scored 17 goals in the last 12 games - raising their level.
Neymar does something special every now and again but when he does it tends to be with the ball; without the ball he creates more problems than he solves because he tends to be out of position or doesn't pressure enough.
But that said, Barcelona are fighting for the league, they're in the Champions League quarter-finals and the Copa del Rey final and they've won the Spanish Super Cup.
Ideals
Atletico Madrid now have a clear leader in Diego Costa.
It's not just the 30 goals that he's scored but he also sets the standards for the team's performance; he's always working, always trying to recover the ball. In the 2-1 away win over Athletic Bilbao, Atletico recovered 87 balls in comparison to the home side's 72.
Coach Diego Simeone said it was one of the best games of the season but in actual fact his team made a lot of mistakes and were very nervous, so I think it was just his way of saying 'relax, you've still got enough in yourselves' and trying to give his players confidence.
Atletico have kept 16 clean sheets this season and have only conceded one goal in their last five games, of which they have drawn one and won four. The team certainly knows what it is doing, they know what they want and they believe in Simeone's ideals.
Whistled
Meanwhile, Real Madrid were whistled by some of their own fans during the 5-0 win over Rayo Vallecano for a number of different reasons.
For an hour Rayo Vallecano had a lot of the possession and Real Madrid defended deep and counter-attacked, which shouldn't happen against Rayo, especially at home and especially after Carlo Ancelotti had been defending a different way of playing with more possession.
But I think the team has been affected by the two defeats to Barcelona and Sevilla and the fans were punishing the players for that.
Gareth Bale was whistled after making a mistake. The impression is that he didn't appear enough in El Clasico and he shot too often - and at the wrong times - against Sevilla.
But Bale wasn't alone; Benzema and Ancelotti were both whistled, and even Cristiano Ronaldo got some of the same treatment, which was very strange.
When those big names are whistled, the fans are also having a go at the presidency and the philosophy of the club - not to mention the continuing complaints about referees.
But the idea that Barcelona holds authority over referees falls apart when Atletico top the table. So fans are getting impatient.
Guillem answers your questions...
Got a question for Guillem? Then send it in using the feedback form below, and then look out for his answer next week...
FIRST CLASS
Question for Guillem: what do you make of Carles Planas? I saw him playing for the Barça B team last year and thought he was outstanding. A star in the making? Phil
GUILLEM SAYS: Planas is a very good left-back who plays regularly for the B team; he's also a Spanish U21 international as well. He can also play centre-back so Barcelona want to keep him and he's got a buyout clause of around 12m Euros but that can be increased to 30m Euros depending on the number of games he plays. I do believe that he will end up in the first team.
HANDY PERFORMER
Hi Guillem!! Will Victor Valdes' injury Open the door for David De Gea to make the World Cup or not? if you made the team what would his chances be of actually starting? Thank you. Loran Williams
GUILLEM SAYS: There's no doubt De Gea should be the third goalkeeper but Iker Casillas will start - there's no debate about that.
OPEN KLOPP
Great work as always Guillem, is it possible that Barca could try and appoint Jurgen Klopp as manager? It seems to me that Messi, Neymar, Pedro etc are flexible enough to play a more counter attacking style, replace Xavi with Fabregas and there is a good counter attacking team in the making. Currently there seems to be an uncomfortable compromise between counter attacking and tiki taka, is a more definitive style of play either way necessary for progression? Hoolio Borneo
GUILLEM SAYS: Let's see what happens with Gerardo Martino, first! We talked about how Martino is not committing himself on last week's Revista. He keeps saying that he will respect his contract but the contract has got a clause which means that at the end of this summer he can leave but he would have to pay something in the region of 4.5m Euros to Barcelona, although they could wave that if he really wants to go. If he decides to leave it will be because the Argentine coach Alejandro Sabella would like to try his hand in European football - something he hasn't done - which means he hasn't earned as much money in the game as he might have. Martino has been offered the national job so we'll see what happens in the summer. It's not guaranteed one way or the other yet.