Copa del Rey: Barcelona not making the most of Lionel Messi but Real Madrid could miss Cristiano Ronaldo
in final that won't feature the best team in Spain, says Guillem Balague
Last Updated: 16/04/14 11:53am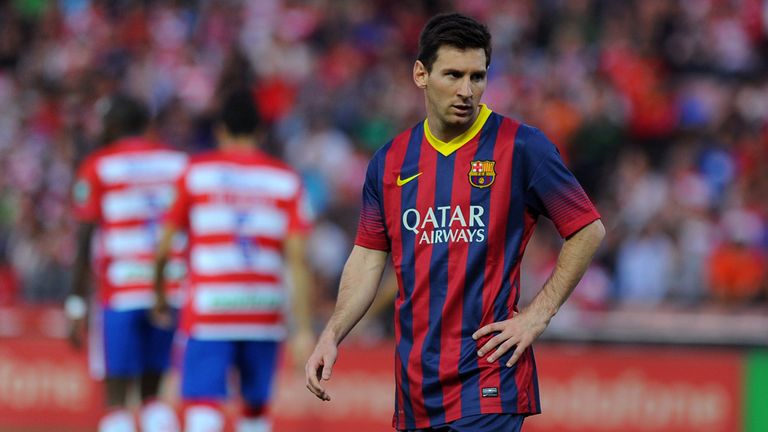 If Atletico Madrid win all of their league games they will be La Liga champions, while Real Madrid have to play Bayern Munich in the Champions League. All of a sudden the Cup has become even more important; lose to Bayern and it could save their season.
Both Real and Barcelona have different problems at this stage of the season, not least with injuries.
Gerard Pique is a doubt for Barcelona while Madrid will be missing Marcelo and Sergio Ramos is a doubt. Cristiano Ronaldo's mystery injury means he is unlikely to feature but he is trying to get back for that Champions League semi-final.
Pressure
On top of those injuries, the mental state of both teams is completely different. In the media and their camp, Barcelona are starting to surgically analyse their situation and everyone is clear that changes need to be made of the biggest order, including the manager.
We've spoken about this a lot on Revista de la Liga; Tata Martino has been made an offer from the Argentinian federation but it goes beyond that. Barcelona need a manager that will use the squad in the way it was in the past under Tito Vilonova and Pep Guardiola.
If FIFA stands by the imposed season-long transfer ban, they also need somebody that knows the club well, because the recycling of players may just need to wait. They need a coach that understands the way Barcelona play and someone who can exploit the talent they have in the A and B teams. If you want to change the way they play you're going to need to change the squad and they may not be able to do that.
There's also pressure on the directors to announce election dates a year early. Many have the impression that the board are not making the right decisions and taking away the essence of Barcelona.
Messi
Of course they've still got Lionel Messi. But he's not getting enough balls from his team-mates and they're not exploiting his talents.
According to my information he is passing as well as usual (85.1 per cent completion rate four years ago and now 83.1 per cent), he has the same number of shots (3.47 to 3.67) and does more or less the same number of explosive runs into the area as usual (about five per game). His effectiveness, in terms of goals per shots on goal, is almost equal to Ronaldo, so he is still extraordinary.
It's just that these days he is running less than he used to, two kilometres per game in fact.
The psychological blow of his last injury, his age (26) and a more personalised approach to his training regime are linked to this statistic. But there is something much more important that is being forgotten.
Messi is running less than before because he is being relied on less than he used to be; he is touching the ball less than he did during the Pep Guardiola era (68.4 passes per game during the 2010-11 season compared to 53.5 this time around) and is receiving fewer passes from his team-mates during 90 minutes of a game (66.3 then compared to 51.1).
The team is playing more down the wings, away from the influential area of Messi. The full-backs are joining up with the wingers because they are not making the diagonal runs they used to in the past to create the space in the middle, which Messi would utilise to make use of his skilful one-twos and wall passes. Xavi is playing too deeply, away from the box, so the connection with Messi is breaking down or forces Leo to drop too deep to receive the ball, where he is less dangerous.
In the past, he had better players to do that than, say, Alexis. This way, Messi, without receiving the ball, finds himself out of the game, and his mind switches off out of frustration. Barcelona are keeping the ball away from their major star.
Add in the fact that Neymar, who appears to be the only one that wants the balls, has been disappointing in his effectiveness, their slow distribution and lack of movement off the ball and it all sounds like the end of an era with the club at crisis point.
Gap
For Real Madrid the first XI hasn't been disappointing but once they have to use the likes of Isco, Asier Illarramendi and Alvaro Morata (who do their job but not at the highest level - just look at the second leg against Borussia Dortmund) you see the big gap between them and the first team.
The absence of Alvaro Arbeloa, Marcelo and Jese, who are perhaps the three players that could close the gap, doesn't help. Then of course with Ronaldo missing, Gareth Bale is going to be needed more than ever, as is Karim Benzema and Angel Di Maria will probably partner them up front. Then it's just the matter of Xabi Alonso, Luka Modric and either Illarramendi or Isco in midfield.
This is a game where Barcelona will try and keep possession and overrun Real Madrid's midfield. It could be similar to the recent league game where all the goals come at the wrong time and against the run of play.
It's impossible to predict but I feel at this stage of the season the weaknesses of both teams are there to be seen and will probably determine who wins. The one who makes more mistakes will be the one who loses.
Everyone will raise their games, including Messi, but it does feel like a final where the best team in Spain are not present with Barcelona and Real Madrid in it and that's quite an achievement by Atletico Madrid.