La Liga title race: Barcelona have not trained enough, while Atletico Madrid are fearful
B teams will increase competiveness and boost English football
Last Updated: 16/05/14 5:28pm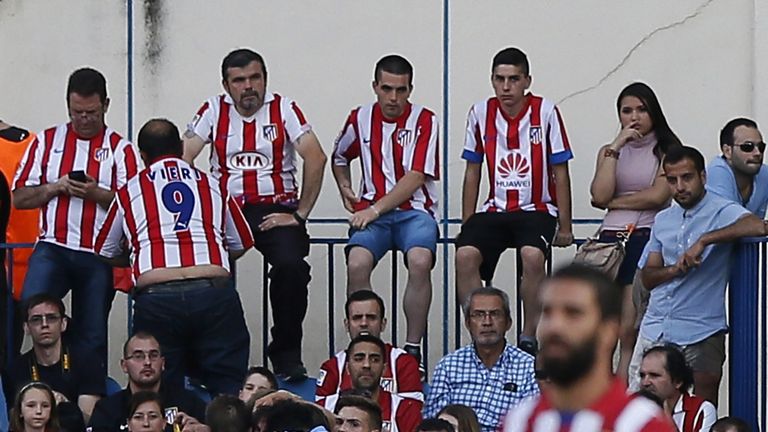 Real Madrid's title chances are over after they lost to Celta Vigo but the two sides still in the running for the crown - Atletico Madrid and Barcelona - were unable to win either.
Atletico were held by Malaga, while Barca could only record a goalless stalemate with Elche, meaning the equation is simple ahead of a mouth-watering final game of the season at the Camp Nou.
If Atletico win or draw, they will become champions for the first time since 1996 but if Barcelona take all three points they will retain the title they won by 15 points in the 2012-13 campaign.
But why did Atleti, Barca and Real stutter in their most recent games? Guillem Balague answers that question and also gives his take on the controversial B team idea proposed by FA Chairman Greg Dyke...
Guillem answers your questions...
Got a question for Guillem? Then send it in using the feedback form below, and then look out for his answer next week...
FITNESS AND FEAR
Guillem, Why have the top three dropped so many points in the closing weeks of the season? It's the opposite of what usually happens. Do you think the pressure has got to all three teams? Mark
GUILLEM SAYS: I don't think Barcelona treated the Elche game as importantly as they should have and the feeling that Tata Martino has is that the team is physically and mentally exhausted. He thought it was more interesting to give them the Friday off and have two nights out with the squad and have an 'asado' - a barbecue - almost to say goodbye in midweek.
There was a lack of training and we saw in the game that the team lacked sharpness, as they have done in recent weeks. Therefore, you cannot trust them against Atletico Madrid. Even though Atletico seem to be fearful and have players unwilling to take risk, they look physically stronger as they showed by making chances against Malaga.
After the Valencia draw, Real Madrid thought La Liga was gone and concentrated all their efforts on the Champions League but if they had beaten Celta Vigo this weekend they could have won the title because their final opponents Espanyol are safe and have nothing to play for.
The other thing to say is that the Barcelona-Atletico match will be played at 5pm on Saturday - the same time as the FA Cup Final - and I find it amazing that the Spanish league, now that they are so worried about selling La Liga abroad, have not realised they are clashing with a game that is followed around the world - but it, once again, shows a lack of organisation in our league.
THUMBS UP FOR B TEAMS
I am a massive La Liga fan and get a lot of stick from friends who believe there are only two teams and that the PL is much better but I honestly think that the PL is going downhill. If you look at the top three teams in Spain and England, it is clear who has the top players and top teams. More importantly if you look down to the top eight and then look to the Europa League, again it starts to paint a picture. Although I support Barca and we haven't had a great season, I would still say that it has been the best season in La Liga for years.
Can I also ask your thoughts on clubs in the PL to have a B team? Perhaps they play the same system as the first team as there is a massive jump from the reserves or youth teams to the first team. It seems to work in Spain as you only have to look at the young talent constantly coming through the ranks. What are your thoughts? Would a B team or perhaps new rules help the England team? Benjarno
GUILLEM SAYS: If Atletico win the League, that will mean three teams have won it since 2004 - the same as the Premier League with Manchester United, Man City and Chelsea - but the Europa League has shown the strength throughout the sides in Spain, with teams like Sevilla, Atletico and Espanyol appearing in the final. While we are struggling financially, we are getting better and people are tightening up their belts and paying their debts. There is quality coming through and the teams are still very competitive.
With regards to B teams, I am amazed by the negative response from the media and football world. There is a fear about losing the pyramid of English football but there are pyramids everywhere where B teams are included. I hear lots of worries about players going out on loan and then disappearing but that is because they do not play in a way that they would in the first team, so having a competitive B team will help.
Another problem with English football is that players at big clubs from 16-18 hardly compete because the reserve league is very poor and that's when they drop their interest and sometimes their level. B teams will help that as they will increase competitiveness and make everybody better - and you should never be afraid of being better. People seem reluctant to change but I think this will be good for English football.
YOUR TOP 3?
Dear Guillem. If Barcelona win La Liga, Real Madrid win the Champions League and Atletico come second in both competitions which of the teams would you say has had the best season? Adam Burns
GUILLEM SAYS: Whatever happens with Barcelona, it will be seen as a bad season - but for Real Madrid, winning the Champions League will be the best success in a decade. As for Atletico, coming second will now be a failure having come so close.