Alfredo Di Stefano: Guillem Balague pays tribute to Real Madrid hero
Forward transformed the game - and Real's fortune
Last Updated: 08/07/14 3:48pm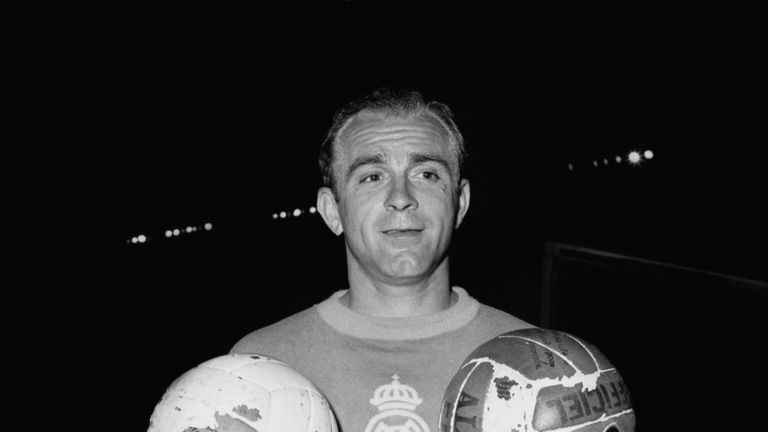 Di Stefano is the most important player in the 111-year history of Real Madrid.
Before he came to Real Madrid they'd only won two leagues and yet in the 11 years he was there they won eight, as well as five European Cups.
But his influence goes beyond what he did on the pitch.
On the pitch he was a total footballer; everybody comments on how he would start the build-up from the back, then in the same move become a midfielder and he could finish it off as a striker, too. Nobody had seen anything like that before; at the time everybody had very determined roles.
Eusebio said Di Stefano is the most important player ever, and if you talk to Sir Alex Ferguson he says the same.
Guillem Balague
He was very intelligent, as well, influencing decisions by coaches, opening up the minds of the players he played with and also influencing the signings.
He was a goalscorer - he scored 418 in 510 games for Real Madrid - and he used to say scoring was like making love: "Everybody thinks they know how to do it but nobody does it like me".
Transfer controversy
Interestingly, Di Stefano was signed by both Barcelona and Real Madrid in a story that would be too long to explain here.
Basically Barcelona dealt with River Plate and Real Madrid dealt with Millonarios. At the time he had been with River Plate but there was a players' strike and he'd moved to Millonarios. FIFA finally decided the rights belonged to Millonarios but there was an agreement whereby he could play for both Barcelona and Real Madrid at different times.
Barcelona gave up on that possibility and it's funny how he changed the history of Real Madrid. Meanwhile, he was used a lot by a victimist Barcelona during the years they didn't win a lot. It was not until Cruyff arrived that mentality changed.
The story is a lot more complex than that and I know a lot of people think it was done with Franco helping Real Madrid, but that was not the case. If you want to know more there is a wonderful book in Spanish by Alfredo Relano and Enrique Ortego that explains everything.
My team Espanyol can claim a little bit of his fame, too, because he finished his career there. What's extraordinary is he arrived at Real Madrid as a 27-year-old man and he was there for 11 years, so as a 38-year-old he signed for Espanyol and was there for two years before he retired.
Then he became a coach and won league titles with River Plate and Valencia. He applied the same common sense to his managerial decisions that he used during his playing career.
Di Stefano's sayings
He also had a wonderful way of putting things and a lot of his sayings have gone into football folklore.
For instance, he remembers being at a club and one player came to him and said 'I want to play, I need to play' and he kept that to himself then he got the whole squad together and said 'right, this guy wants to play'. He then turned to the player and said 'whose place do you want to take?'. That exposed the player and how difficult it is for a manager to take decisions.
Then, when he was at Espanyol, the team used to play long ball before he arrived. One day in training he stopped a session and said 'guys, what is the ball made of?' Someone answered 'cow'. And he said 'what does the cow eat?' and someone answered 'grass'. And he said 'well, you have to bring the ball down to the grass and play it low'. That was his philosophy.
He always had the attitude that the ball doesn't think on its own and that what you do with your head is as important as what you do with your feet.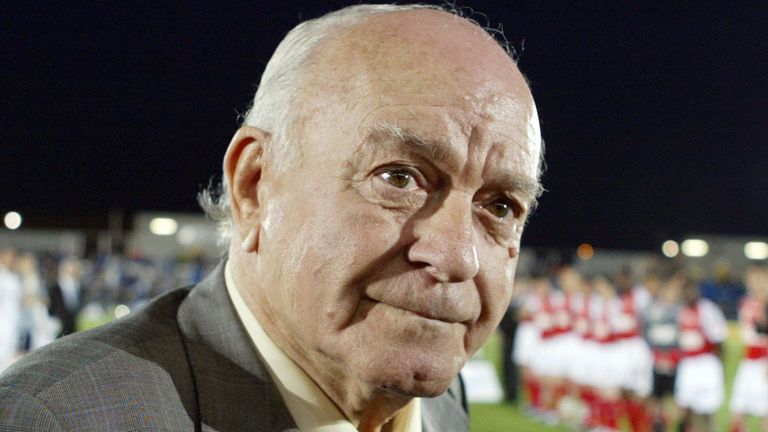 In 2000 he became the honourary president of Real Madrid, appointed by Florentino Perez, who always used him as an adviser. He taught Perez, who was a businessman, a lot about football.
One of the greatest
Many people may debate if he belongs to the Olympus of Pele, Maradona and players like them - and, for me, he does.
I've seen every clip that is out there of him. They should play the 1960 European Cup final between Real Madrid and Eintracht Frankfurt every Christmas on TV. Real won 7-3, Di Stefano scored a hat-trick and it was such a wonderful game, which opened up the minds of many viewers to this Real side. That would be a fitting homage to him.
What confuses people about Di Stefano is he never played in a World Cup. Spain didn't qualify for Sweden in 1958 and he was injured for Chile 1962 – although he had also recently been kidnapped in Venezuela.
Di Stefano played for Argentina, Spain and Colombia during his career but by not making an impact in the World Cup, some people think he wasn't as important.
Eusebio, though, said for him he's the most important player ever, and if you talk to Sir Alex Ferguson he says the same.