Leading by example
Barcelona may trail Chelsea in the tie but their younger squad has the brighter future, says Jeff Stelling.
Last Updated: 19/04/12 1:08pm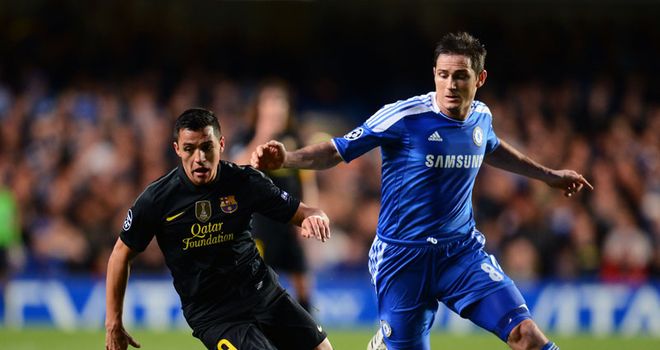 There's plenty to admire in the desire, grit and determination shown by Chelsea in their first leg victory over Barcelona.
There's no question that the spirit within the team is so much better now than it was under Andre Villas-Boas and that's what's got them to within 90 minutes of the Champions League final.
The tenacity of John Terry, Gary Cahill, Ashley Cole and Ramires stood out in particular while the goal - from Lampard's intervention and pass, to Ramires' cross and Didier Drogba's eye for the net - was a great example of counter-attacking play.
Expectations
Barcelona is one of my favourite cities in the world and I'm really looking forward to flying there on Monday to cover the second leg. However, I can't help wondering if Chelsea fans will be quite as enamoured with the place on the plane home.
Some of my friends used to call me 'the brake' because I do have a tendency to slow down people's expectations and I'm afraid, Chelsea fans, this is another one of those occasions!
On another night Pep Guardiola's side could have won at Stamford Bridge by five or six and this would have been an inquest rather than a eulogy.
Moreover, Chelsea have yet to win in Barcelona in five attempts, drawing three and losing two.
Gulf
To my mind there's no escaping the fact that there is a greater gulf between the two teams now than there was when they met in 2009.
That's not to denigrate Chelsea's performance in any way, shape or form (they had to play the way they did because for large parts of the game they didn't have possession) but the simple truth is that very soon the Blues will need wholesale surgery.
I'm sure many fans believe the club should give Drogba the new contract he wants but it is an inescapable fact that he, Terry, Lampard, Cole and Malouda are all over 30 while Essien and Bosingwa both turn 30 this year.
Compare that with Barcelona: of the 16 outfield players who were either involved at the Bridge or were on the bench, nine were under 25. There were three 21-year-olds amongst the subs. So how do Chelsea plan to close the gap on Barca if the young talent isn't coming through?
Changes
What Di Matteo has achieved so far is wonderful in the sense that he is getting the best out of players who were on the brink of being discarded, but at some stage the club will have to go back to what Villas-Boas was trying to do and make drastic changes; Drogba's departure will be one of those.
For now the intention to create a younger, fresher side is on hold as Chelsea pursue an FA Cup and Champions League double.
But the more they pursue that success, the less likely it is that we will see change at the club and that is damaging for the longer term. It must be addressed post-season.
Daniel Sturridge is without doubt one of the shining stars of Chelsea's season - there's even been talk about what he can do at the European Championships - and yet he's struggling to get the a game.
Drastic
Personally, I don't think Chelsea should look any further for a manager if Di Matteo goes on to win either the Champions League or the FA Cup.
But whoever is in charge will have to do some pretty drastic pruning during the course of the summer.
When you look at the ages of the players on the pitch and on the bench last night, those changes are on a scary scale.
Only one thing is for sure - if Chelsea do end up winning the Champions League, they are going to find it one hell of a lot easier to attract players to Stamford Bridge.
Join Jeff and the gang for Soccer Saturday, from 12pm on Sky Sports News HD.