Open season
Sublime skill and free-flowing play: the Champions League is a great spectacle, says Jeff Stelling.
Last Updated: 20/09/12 2:08pm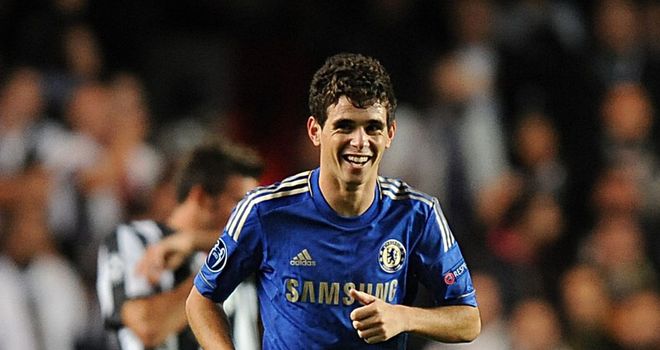 While watching Juventus last night, Ruud Gullit commented 'how times have changed...'
In days gone by, you'd expect Italian sides to close up shop away from home but Juventus had no intention of doing that at Stamford Bridge and played some fantastic free-flowing football, just as Napoli did in the Champions League last season.
Looking back on the opening games in the competition, many of them featured terrific, open play and that can only be great for the game. Right from the word 'go' caution appears to have been thrown to the wind and we've a great spectacle as a result.
There was no doubting the quality of Oscar's second goal for Chelsea - but it did spark a debate in the studio about whether he meant that turn before the strike. WATCH OSCAR'S GOAL HERE.
The debate - rather than the strike itself - is similar to the one that arose when Dennis Bergkamp scored that goal for Arsenal against Newcastle in 2002. Did Dennis mean that amazing little movement that he made before slotting the ball home?
Only Dennis will know and likewise only Oscar will know if he meant his flick or not - but regardless of the answer, it was a sublime finish. It wasn't the only decent goal around by any means - Younes Belhanda's penalty for Montpellier against Arsenal being one example.
But there were also plenty of brilliant pieces of skill that didn't quite result in a goal too - Remy Cabella's superb chip against the crossbar in the same game springs to mind, as does Fabio Quagliarella's excellent effort that also hit the woodwork against Chelsea. Quagliarella's goal wasn't too bad either!
It was fantastic to watch, although I'm sure Roberto di Matteo would have been happier with a bit less flair and all three points.
Chelsea find themselves in what is effectively a three-team group because Shakhtar Donetsk, Juventus and Chelsea should all beat the Danish Champions FC Nordsjaelland and consequently they can afford fewer mistakes against their main group rivals.
As good a game as it was against a fantastic Juventus team (who, lest we forget, were unbeaten all last season in Serie A and who have won all four of their games this season) - a draw does give them some cause for concern now that they've got two tricky away trips to come.
Concern
There are slight areas of concern for Manchester United and Arsenal to ponder this week too, despite their respective wins.
United let in so many goals in the Champions League last year that Sir Alex called them 'careless'. After the victory over Galatasary he called his side 'frivolous' and was right to do so because Galatasary should have had a penalty and they created a number of other chances too, clipping the crossbar and the post.
There were certainly vague undertones of what happened last season when they didn't get out of the group stage. Somehow, they've got to make it as tough for teams to score against them at Old Trafford (and I know Galatasary didn't score - but they did everything but).
As for Arsenal, it was great that they went to Montpellier and won, but less encouraging was the fact that they were forced back throughout the second half and had to resort to some pretty last-ditch defending to get the points.
The great news for Wenger is that Lukas Podolski looks like the clinical finisher that they hoped he would be. He took what was a beautifully-worked goal fantastically.
But Tony Adams made the point - and it's a good one - that everybody is singing the praises of Steve Bould and everything he has achieved so far. There's certainly no need for people to jump on the bandwagon and criticise Bould after that display, even if it appears he still has some work to do.
They'll face a much tougher test this weekend when they go to Manchester City, who have massive defensive concerns after conceding sack-loads of goals this season. But for Joe Hart, Real Madrid would have been out of sight by half-time such was the Spanish side's dominance.
To be honest, I'm not sure what the problem is. They've made a lot of changes and are playing a different system; they were so wonderful defensively last season that it makes me think of that classic phrase 'if it aint broke, don't fix it'.
City aren't quite yet the Ferrari that Roberto Mancini was talking about; they do have real quality and they are on the right road but they aren't quite able to catch up with the very best.
Jeff's Gem of the Week
There's one standout candidate for me this week: Newcastle goalkeeper Steve Harper. He showed great sportsmanship after Everton's Victor Anchiebe accidentally piled into him on Monday night. Anchiebe is built like a dumper truck but after the incident Harper immediately raced to the referee to prevent Anchiebe being booked. I thought that was a fantastic example to set on live TV to any kids who were watching.
Jeff's Gripe of the Week
The sacking season is upon us and I see that Owen Coyle, Paul Jewell and goodness knows who else are supposed to be in the firing line. But what on earth are the people at AFC Wimbledon thinking?
Terry Brown has guided the club to three promotions in five seasons. He got them into the Football League and they survived last season, yet after a handful of games into this one he's gone. The club isn't in the relegation places so how can they sack a manager who has been one of their saviours? For the life of me I cannot understand it. Some things are just beyond belief. For me it's up there with the sacking of Peter Reid from Plymouth last season.