Celtic win over Barcelona compels Jeff Stelling to tackle a challenging problem
Are there any truly great defenders in the Premier League? A concerned Jeff Stelling has his doubts...
Last Updated: 08/11/12 3:03pm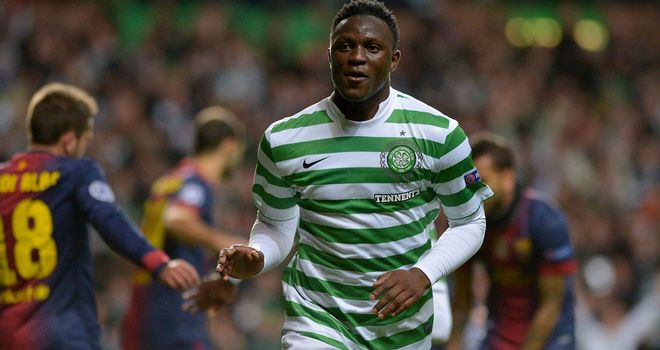 Their performance was built upon some fantastic defending right throughout the team, with Victor Wanyama standing out in particular.
Jamie Redknapp described him as 'putting out fires everywhere' in front of the back four and that's not to detract from the back four themselves, who put in a superb display.
It got me thinking - where are the truly great defenders in our game?
When you reflect on some of the scores and some of the defensive performances that we've seen from Premier League clubs in domestic and European competition this season, you have to wonder.
Take Manchester City on Tuesday, for example. City are not in danger of going out of the competition because of refereeing decisions; they are in danger of being eliminated because they've defended so badly, particularly in both games against Ajax.
And what about Chelsea? But for their 94th-minute 'get out of jail' card from Victor Moses (when Shakhtar's defence didn't cover itself in glory) their position in Group E would be a whole lot worse, principally because they defended poorly against an admittedly-talented side.
Problems
I was lucky enough to grow up watching the likes of Bobby Moore and Jack Charlton, and remember the days when Alan Hansen, Mark Lawrenson and - yes - even Phil Thompson made their mark on the field.
But have there been any truly great defenders in the Premier League era or are they a dying breed?
I think John Terry has been up there over the years because he's a no-nonsense player and frankly I was staggered to see him left on the bench against Shakhtar while David Luiz - who is anything but a defender - played.
But aside from Terry and possibly Rio Ferdinand in his hey-day and Nemanja Vidic when fully fit, I can't really think of anybody who would fit the bill in recent years.
Right now I reckon that United, City, Arsenal and Chelsea all need - or will need in the near future - a rock-solid central defender because they all have problems in that area.
Make-shift
Arsenal are a case in point. Defensively, they are a total mess at the moment; Thomas Vermaelen played out of position at left-back in the 2-2 draw against Schalke and Arsene Wenger went with a make-shift central defensive pairing of Per Mertesacker and Laurent Koscielny.
The scoreline at Old Trafford last week - 2-1 to Manchester United - was the equivalent of footballing botox because it put an entirely different face on the game.
Graeme Souness was practically seething on Tuesday when Bacary Sagna failed to chase back and cut out Ibrahim Afellay's cross; Graeme is scary enough now, so goodness knows what he was like in his playing days! I've heard lots of stories that suggest you wouldn't want to get on the wrong side of him!
But Graeme gave 100 per cent for his team-mates. In Sagna's defence, it would have been almost impossible for him to get back into position and cut out that cross, but he had to be seen to be putting in the effort to do so. Instead, he was jogging back.
He's not the only one because it seems so fashionable now to want to have defenders who can attack and who are comfortable enough on the ball to play football from the back. It's especially true of full-backs; Leighton Baines and Ashley Cole are at their best going forward - they are not out-and-out defenders as such.
It's understandable from one point of view; I go and watch a lot of Sunday morning football and next to nobody wants to be a central defender. It's second worst after going in goal!
I raise all this simply as a concern - not to be a kill-joy, because I enjoy an entertaining 5-4 or 7-5 as much as the next fan. But from a footballing purist's point of view, it would be nice to see the balance redressed.
Tackle
You can't lay the blame entirely at the feet of the defenders because these days the game is so loaded in favour of forwards that it feels like every tackle threatens to bring a yellow card.
I don't think that's right. There should have to be an element of malice or intent before a defender is booked, otherwise we'll get to a stage where players daren't tackle any more. Consequently, the art of tackling will be lost to the game because it is lost to a generation of emerging players.
I'd like to see referees award defenders a little more leeway if a player goes in with a genuine attempt to play the ball with a challenge that is not malicious or reckless in any way, shape or form but still fouls his opponent; I think that should just be a free-kick.
I'm not advocating a return to the seventies and games such as Chelsea against Leeds in the old first division, when Ron Harris and Norman Hunter would line up in opposing teams and it was 'X-certificate' stuff.
But I do think that too many players are picking up yellow cards - and second yellow cards in particular - for challenges that 20 years ago would not have needed a second look.
Mind you, Leeds have got a mate of mine in their ranks called Michael Brown who does like a tackle from the seventies! He's a smashing boy but he does like to put a tackle in, that's for sure!
Jeff's Gem of the Week
I'm sorry to be unoriginal but it has to be Celtic. When I said earlier in the season that Celtic could get out of Group G some people scoffed, but I have to say they've surprised even me. The UEFA stats say that they had 11 per cent possession against Barcelona but it all comes down to what you do with that possession. They were organised brilliantly defensively, despite missing four or five players, and they ran until they dropped.
All in all it was a terrific team effort. Neil Lennon has had his critics over the years but last night he got absolutely everything right, including his substitutions. He has matured so much during this Champions League that now he cuts an impressive managerial figure. I'm absolutely delighted for him and I'll tell you what, if Celtic make the knockout stage no-one will want to go to Parkhead.