Rafa Benitez may have impossible job at Chelsea, says Jeff Stelling
Are Chelsea an unmanageable club? Rafa Benitez is about to find out, says Jeff Stelling.
Last Updated: 23/11/12 3:39pm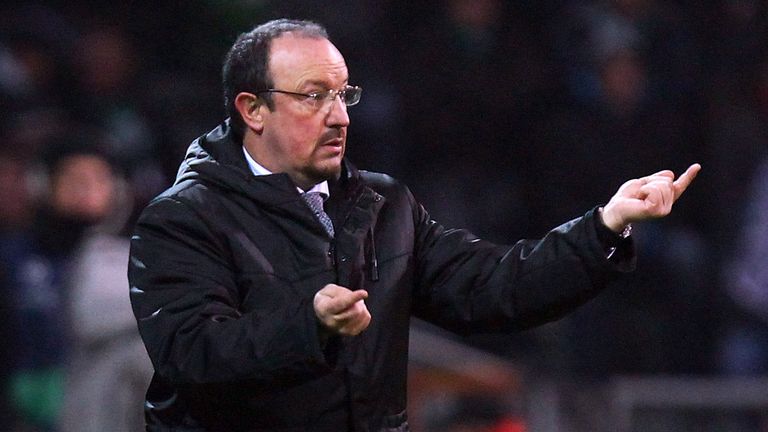 If the likes of Jose Mourinho, Carlo Ancelotti and Luiz Felipe Scolari - some of the best managers in the world - don't fit the bill, then who does?
And if Rafael Benitez is keeping the seat warm for Pep Guardiola, does the former Barcelona boss really want to come to a club that operates such a revolving door policy?
Cool
Let's be clear on one point: Roman Abramovich never wanted to appoint Di Matteo in the first place, not even after Chelsea won the Champions League.
The scenes on the steps as Chelsea went up to collect the trophy were telling.
Di Matteo was ecstatic and saying 'I've won it, I've won it' but to say the reception he received from the Chelsea owner was cool would be an understatement.
He seems to have this theory that you've got to play intricate, Barcelona-style football to win things. But that's not what goes down in the record books.
It doesn't say 'Chelsea won the Champions League but didn't play very well'. It simply says Chelsea won the Champions League.
Even after that famous night in Munich, Chelsea waited nearly a month before offering Di Matteo the job on a permanent basis.
So while much has been made of Di Matteo's failure to get the best out of Fernando Torres, (a player who Abramovich wants to see playing at his peak given his £50m investment), that is only one factor in a departure that was waiting to happen.
Problems
Now Chelsea face a situation where their fans have made it quite clear that they don't really want Rafa in charge - even though Torres enjoyed his best spell at Liverpool under him. Apparently the two get on well together and speak frequently.
One of the papers this morning quoted a fan reacting to Benitez's appointment under the headline 'Oh no! Not the fat Spanish waiter!', which is unkind, unfair and very cruel.
I spoke to Michael Owen about Rafa on our Champions League show last night and although Michael only spent a brief period with him before leaving to play to go to Real Madrid, the one thing Michael did say is that Rafa will immediately get Chelsea organised at the back; he said that's one of his great strengths. Chelsea's players can expect to work on it, work on it and work on it some more.
And they do need to do just that because there's no doubt, if recent performances are anything to go by, that Chelsea do have problems in that department. Rafa will also have to handle some pretty big egos, although I think he is used to that.
Disgruntled Chelsea fans can surely take comfort in Rafa's Champions League and FA Cup record.
I know that he's been desperate to get back into the game and I'm sure he'll be hoping to do such a good job that a few months down the line Guardiola's name will be completely forgotten. Self-belief won't be a problem in that respect and he'll feel this is his chance to put himself in the shop window.
I spent some time with Rafa last season when he was part of our commentary team for a Champions League trip to Barcelona and, for what it's worth, I can tell you that he's a genuinely nice man who deserves to be given the chance to succeed.
Sensational
Chelsea's chances of success in this year's Champions League now look slim indeed after that defeat to Juventus, but here's a little thought to dwell on: how many times last season did we think Chelsea were out of the tournament?
Wouldn't it be absolutely staggering if history repeated itself - another interim manager takes over a in a seemingly impossible position and goes on to win the Champions League? Chelsea are already 40-1 to defend their title...
Shakhtar Donetsk face Juventus in their final Group E game and although they've already qualified they will want to make sure that they finish top of the pile; they will feel as though they are potential Champions League winners, there's no doubt about that.
Ok, if it gets to half-time and it's all square then both sides may be tempted to play out the second half but I don't think either will start the game with that mentality.
I think Shakhtar will go out to try and win the game and if that's the case I don't think it's impossible for Chelsea to qualify for the next stage - and then who knows what Rafa might achieve? It would be a sensational story...
Jeff's Gem of the Week
After some consideration, I've decided to plump for Exeter's 3-2 victory at Gillingham rather than Coventry's thumping 5-0 win at Hartlepool. Gillingham have a fantastic home record; they are red-hot favourites for promotion so for Exeter to go there and win is tremendous. Jamie Cureton, who is 37 now, scored two of the goals to take his tally for the season to 15. No doubt Orient fans will be scratching their heads in bewilderment because when he was there he couldn't hit the proverbial barn door but now he's back at Exeter for another spell he's proving a revelation. It's nice to see Exeter in the upper reaches of the table because they have some of the most passionate, vociferous fans. In the lower divisions, St James Park is one of the hardest places to go and get a result. I can see them using the last couple of results as a springboard for making a real promotion challenge.