Arsene Wenger might not see out his contract at Arsenal, says Jeff Stelling
Jeff Stelling fears there is a real danger that Arsene Wenger might not see out his contract at Arsenal.
Last Updated: 17/12/12 9:10am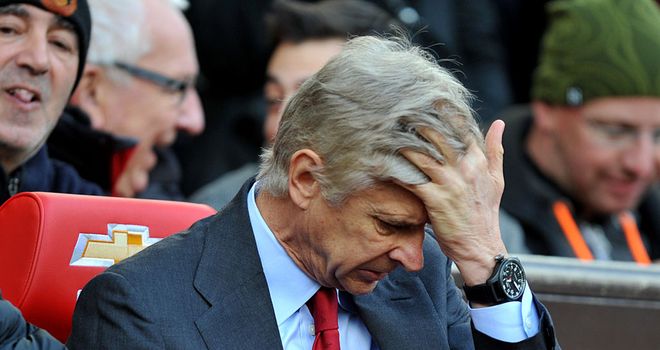 Even though he hasn't guided Arsenal to a trophy since 2005, it's hard to watch him going through the ringer because since he first arrived at Highbury over 12 years ago he has brought so much to the English game.
Back then he was a real innovator and went on to create a team unlike any other; he brought a freshness and a joy to the game, playing in a style that a lot of other teams are now imitating.
I've never believed that the day would come when I thought Wenger might walk away from the club but looking at his body language the other night I honestly think that could happen.
He still has a year-and-a-half left on his contract but it's abundantly clear that he isn't enjoying his football at the moment and as things stand I think there is a real danger that he might not see out those 18 months.
So Arsenal fans - particularly those who are protesting against Wenger now - be careful of what you wish for. Those fans should be asking themselves 'how many managers are there out there who could replace him and do a better job?'
If pushed I can think of only one and that's Pep Guardiola, who seemingly wants to manage not only in England but at a London-based team. Everybody has jumped to the conclusion that will be Chelsea but I'm not so sure.
But apart from Guardiola, who do you want Arsenal fans? Do you really want Jose Mourinho with his 'win at all costs' approach? Maybe you do - but do you really want a manager who pokes opposition coaches in the eye when things are going badly? Let me know if you like by using the feedback form at the bottom of this page.
Blame
In the past people have criticised Wenger for sticking by his principle of playing kids in the League Cup's various guises, so it must have been particularly galling for him to put out a strong team against Bradford, to lose and still end up taking plenty of flak.
But when you consider the players who were out there on the pitch, I don't think you can level the finger of blame at Wenger this time - not when he selected the likes of Jack Wilshere, Santi Cazorla, Gervinho, Lukas Podolski, Wojciech Szczesny, Per Mertesacker and Thomas Vermaelen.
Wenger has been criticised in some quarters for failing to motivate his players but when it comes to the quarter-final of a cup competition - particularly a match that could see them on the wrong end of a potential giant killing that would be a blot on their CV forever more - the players should be able to motivate themselves.
I'm not going to be a total apologist for Wenger, though, because one of the things that puzzled me about Tuesday's match - and I'm sure it puzzled Arsenal fans as well - was how Wenger set up the team.
Podolski is effectively a central striker yet he was playing out wide; Gervinho is a wide player but was playing as a central striker; Aaron Ramsey is a central midfielder, yet took up a wide role.
Maybe Wenger, after so successfully transforming Thierry Henry from winger to striker, thinks he can do it again? But it rather smacks of square pegs in round holes, I'm afraid, and it causes a fair amount of dissatisfaction.
Trouble
The question, with the January transfer window approaching, is can things really continue like this at Arsenal? Disgruntled fans will say 'no' but there's still a very good chance that Arsenal will finish in the top four at the end of the season and, if that's the case, I know of 88 other league clubs who would love to be in that position.
At present Arsenal are a soundly-run club. Some supporters will say they err too much on the side of caution but Arsenal did spend significantly in the summer and it amazes me when I hear people say that Arsenal need to go out and buy players for the present, not the future.
Have those same people not looked at the ages of Olivier Giroud, of Podolksi and Mertesacker? Wenger did go out and buy established players in the transfer window.
The trouble is that this time around the younger players haven't really flourished for one reason or another; I'm thinking of Wilshere, in particular, and before that, Kieran Gibbs. The Emmanuel Frimpongs of this world who were supposed to be 'the next generation' are struggling to deliver.
Frimpong, currently on loan at Charlton, is just one of a phenomenal number of players at Arsenal who haven't quite made the grade there and perhaps never will.
Structure
I've read reports this week that Arsenal chief executive Ivan Gazidis has promised to make 'significant funds' available to Wenger in January so that he can strengthen the squad but the club's recent lack of success means that attracting high-calibre players will be difficult.
Moreover, Arsenal's commitment to a rigid pay structure is a major stumbling block - one that cost them the services of Robin van Persie and probably Samir Nasri too. Who knows - it may cost them Theo Walcott in the not too distant future as well.
So how are Arsenal going to attract the superstar names unless they break that structure?
Every manager out there will tell you that January is the worst time to buy, and in Arsenal's case it's hard to see how they can achieve immediate returns because there aren't many players eligible to play in the last 16 of the Champions League who will sign for a wage that is less than they believe they are worth.
For my money, Arsenal simply have to give the players who are there right now more time to prove themselves. Giroud has barely had a decent run in the team. Likewise, Podolski has been in and out.
Yes, they've just got Wilshere back but only because he's playing at 90 per cent and the return of Abou Diaby, who was fantastic when he was fit earlier in the season, still seems some way off.
Personally, I think Arsenal should be reluctant to go out there and spend for the sake of spending.
The club is being carefully run and they shouldn't ruin that with a kneejerk, panic spending spree. Instead they should wait until the summer and if things are no better by then, Wenger - if he is ready for the challenge - will have a far greater number of players to choose from.
Jeff's Gem of the Week
Sorry Arsenal fans, but you know what is coming - yes, it's Bradford. It was quite something for a team of lower league pros who have been around the block a couple times to produce a performance like that. They were outstanding throughout the whole 120 minutes even if for much of the second half it was backs-to-the-wall stuff. They showed terrific resilience and when Arsenal equalised I don't think there was a football fan in the land - not even in Bradford - who did not expect them to capitulate in extra time, but they didn't! The bottle they showed was something else. Alan Connell's penalty, which put them 3-1 up in the penalty shoot-out, was absolutely fantastic. Bradford have always had fantastic support and rightly so because they were one of the very first clubs to introduce an innovative scheme where you could buy a season ticket for a ridiculously low price. They did it just to fill the ground and they did so successfully that a lot of clubs have followed their example. There are obviously good people running the club. I'm so pleased for the manager Phil Parkinson because he hasn't had the easiest of times since his success at Colchester. Meanwhile Bradford have spent years in the doldrums and it's so good to see them on their way back. They've got a good ground, a fantastic fan-base and a good manager. Hopefully, from their point of view, they can go further in the cup and secure promotion as well.