Celtic and Arsenal must play a Champions League blinder in the transfer window, says Jeff Stelling
Celtic and Arsenal have to play a Champions League blinder in the transfer window, says Jeff Stelling.
Last Updated: 27/12/12 9:40am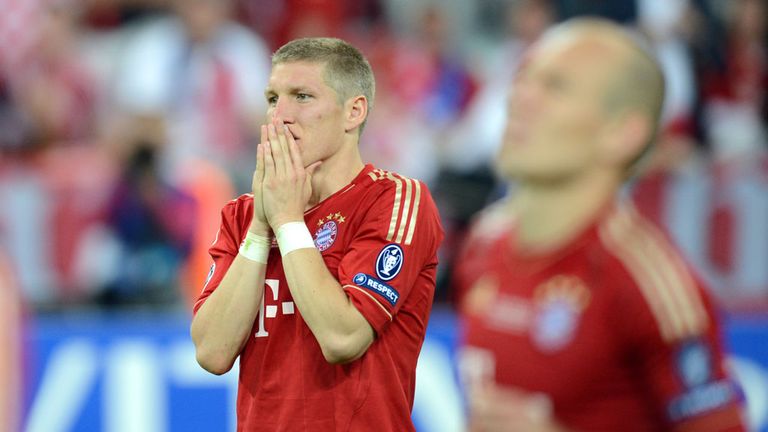 The good news is that Arsene Wenger has got his wish and avoided Barcelona - the bad news is they'll play Bayern Munich instead!
After losing last year's final on their home ground to an English club, Chelsea, I'm sure Bayern would take great satisfaction from winning the Champions League at Wembley. That would be the ultimate in revenge!
As it stands, Bayern are nine points clear at the top of the Bundesliga and looking strong in every single department on the pitch, from goalkeeper through to strikers.
They've only lost twice all season in all competitions but the only thing I would say is that one of those defeats - the 3-1 loss to FC BATE Borisov - will give Arsenal hope. That game showed that Bayern, on occasions, can be vulnerable; Franck Ribery and Arjen Robben can be hit-and-miss.
If Arsenal can catch Bayern on one of those days at the Emirates in February and take that sort of advantage to the Allianz Arena, then they'll have a chance.
What really worries me, though, is that Arsenal have looked vulnerable on their travels - not just this season in the Champions League, but in past seasons too, and I just don't see them going to Germany and getting anything.
That means they HAVE to win their home leg and win it emphatically, but we saw what Schalke did to Arsenal in October (winning 2-0 at the Emirates) and Schalke are not a patch on Bayern.
Who knows - Arsenal might have strengthened their squad by the time February rolls around, but as I mentioned last week, where do you go to buy a quality player in January who is eligible and good enough to play in the Champions League?
So much as I'd love Arsenal to go through, they have the most fearsome and thankless task of the British clubs who have reached this stage of the competition.
Priority
Somewhat in contrast, Neil Lennon called Celtic's draw with Juventus 'a beauty' and he's entitled to take that view because he's worked wonders in getting the Bhoys through to this stage.
I thought they had a good chance of going straight out when the draw for the group stages was made, but now they can look forward to a fantastic tie and one that gives them a chance of going through.
This is definitely a tie that Celtic can win over the two legs. I can see them nicking the home game by a goal to nil and then holding firm out in Italy.
Defensively Juventus are very, very strong - they've won their last five games in all competitions without conceding a goal - but they're not so good going forward.
But - and it's a massive but - I just wonder whether Victor Wanyama, Gary Hooper and Fraser Forster, three huge players for Celtic, will be there following the January transfer window?
Will Celtic decide that their priority is to keep as strong a team as possible together for what potentially might be just one more Champions League round? Or will they decide to cash in on some of their bigger name players when they are at their highest possible value, as, I think Wanyama, Hooper and Forster are?
That latter wouldn't be the view of Neil Lennon, that's for sure, but if I was on that Celtic board I would be thinking very seriously about trying to cash in.
Glory on the field is one thing but it's imperative to keep the club on financially-sound footing and I would be amazed if all three of those players are still there by the time Celtic play Juventus in February.
Threat
The one thing you can guarantee about Real Madrid's draw with Manchester United is that there will be plenty of goals!
Real is a great name in football but the club isn't performing well this season, that's for sure. They're third in La Liga, some 13 points behind Barcelona and there are an increasing number of stories doing the rounds about Jose Mourinho losing the dressing room.
They've had some shocking results along the way and too many performances littered with defensive blunders.
However, they are still potentially a fantastic side. Of course everyone will be talking about Cristiano Ronaldo's return to Old Trafford but don't forget about Mesut Ozil, Xabi Alonso, Iker Casillas and Lukas Modric (if he can get in the team).
Hopefully, from a United perspective, Nemanja Vidic will be match-fit and bedded back into the back four by the time February rolls around and United will be all the better for that.
Sir Alex's side pose a fantastic attacking threat themselves in Robin van Persie, Wayne Rooney, Danny Wellbeck and Javier Hernandez.
Quite simply this tie could be a goal-fest and if it is, I think United will win it despite the problem Ronaldo will pose.
Jeff's Gem of the Week
Coventry went to Doncaster on Saturday and won 4-1 as David McGoldrick grabbed two more goals. They've been embroiled in a battle over rent for the Ricoh Arena and there has even been talk of them playing their home games at Nene Park or Hinckley Town. None of that should detract from the fact that Mark Robins has done a fantastic job there - I think his track record has always been very good. They've scored lorry-loads of goals, which for a Coventry side is almost unheard of! But with it being Coventry, of course, there is a dark cloud on the horizon and that is that McGoldrick's loan spell is about to expire. Talks seem to be on-going on that score and Coventry will be desperate to keep him. He's already scored 15 league goals so far - and no-one's bagged that many since Dion Dublin in 1997/98! If you are Sean O'Driscoll at Nottingham Forest, you'd be thinking 'I wouldn't mind him back'. If you're a member of the Nottingham Forest board, you'd be thinking 'I wouldn't mind him back, we could sell him in the January transfer window'. So I think the chances of McGoldrick staying at Coventry are remote so my message to Sky Blues fans is 'enjoy him while you can' because he has been sensational. Mind you things could be worse, you could always be a Hartlepool fan... It's the big one this weekend Hartlepool v Portsmouth. We haven't won in 21 games, Portsmouth haven't won in 10 - that's 31 games between us!