Eden Hazard's red card masked an abysmal Chelsea display against Swansea, says Jeff Stelling
Chelsea did not deserve a League Cup final spot after an abysmal display at Swansea, says Jeff Stelling.
Last Updated: 24/01/13 2:01pm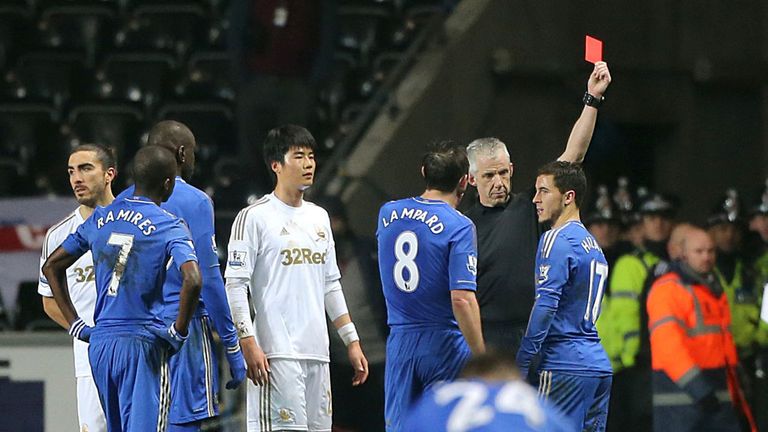 They seem to be making the news for all the wrong reasons of late, last night's outrageous incident in which Eden Hazard was sent off kicking a Swansea ball boy the latest example.
One or two pros have tried to defend Hazard, but to my mind what he did is pretty much indefensible.
What it did do, though, was mask a Chelsea performance which on the night was abysmal.
They were 90 minutes away from a Cup final - one of the few remaining trophies available to them - and yet to my mind they showed no sense of urgency.
I'm still not sure what their game plan was, either. They had Oscar, Hazard and Juan Mata in midfield but so often when they should have persevered with their passing game they went direct, which I found really surprising.
It was as if they thought 'we've got a big guy up front in Demba Ba now, let's hit it long and see if he can win some knock downs'. Sadly for them, Ba didn't win much in the air because Ashley Williams and Chico were exceptionally good.
Frankly, I thought that quite a few of the players just gave up in the last 15 minutes or so, even before Hazard put his foot in it, so to speak.
They didn't seem to be straining every sinew to win that game. Too many players appeared to think it was a lost cause.
Had John Terry been on the pitch it might have been different because he is that leader that they don't seem to have out there on the pitch at the moment - somebody to drive them on. His absence may well have been telling.
Contribution
In contrast, the desire shown by the Swansea players was staggering. I've already mentioned the two central defenders but, if anything, Leon Britton surpassed them.
By the end of the match he had more bandages on him than an Egyptian mummy. He fought like a tiger all of the way through and was terrific on the ball. He was calm, collected and always in the right place to make interceptions or put his foot in, in the right way.
And then there was Michu. Although he didn't score, I thought his contribution to the defensive side of his game was absolutely tremendous.
The cliché says that defence starts with your attack and Michu covered an incredible amount of ground, closing people down and making life difficult for Chelsea.
All-round, I thought that Swansea's approach was the polar opposite to Chelsea's. Towards the end of the match you expected Chelsea to lay siege to their goal, but Swansea were simply toying with them.
As Michael Laudrup said, it was a fantastic achievement to keep clean sheets against the European Champions in two legs of a semi-final. For all Chelsea's possession, Gerhard Tremmel only had to make one decent save all night.
Fairy tale
As I write, Sky Bet have Swansea 4/11 on to win February's League Cup final against Bradford and I can't say I'm surprised.
But as Laudrup was quick to point out last night, Bradford have already beaten three Premier League sides en route to Wembley and he won't treat them lightly.
I heard one radio commentator say they are going there for a 'day out', that getting to Wembley is their equivalent of winning the Cup. But I disagree.
Bradford will go there with nothing to lose. For a lot of the players - if not all of them - this will be the greatest moment of their careers and as much as I admire Swansea, I wouldn't totally write Bradford off. As Laudrup put it: "This final is between the small fairy tale and the huge fairy tale."
In some ways Bradford's approach against Villa was not dissimilar to Swansea's against Chelsea, in as much as they fought for everything and the final aggregate score of 4-3 to Bradford was flatteringly close for Villa in the end. Bradford created the better chances in the second half, while there seemed to be no rhyme nor reason to Villa's game.
The man who impressed me most was 35-year-old Gary Jones, who has spent all of his career in the lower leagues, playing more than 500 games for Rochdale.
In the last few minutes when Villa had finally got the goal which gave them half a chance, Jones was putting his foot on the ball in the middle of midfield, spraying it around; unlike some of the headless chickens in the opposition, he was calmness personified.
He can't ever have imagined that he'd be leading a team out as skipper in a Wembley final in the twilight of his career. It's one of the great stories in football right now.
Jeff's Gem of the Week
Millwall is no easy place to go, so all credit to Sean Dyche and Burnley for their 2-0 win on Saturday - particularly as their away form has been their Achilles heel in the past. Sean was treated incredibly harshly at Watford but he seems to have put all that behind him now. I've been fortunate enough to meet him on a number of occasions when he's been on the Soccer Saturday panel. He is a bear of a man but also someone who is incredibly tactically aware and knows football's footballers inside out.You could ask him a question about pretty much any player in any of the league teams and he'd know the answer.
I thought that any club that picked up Sean would be very fortunate, so much so that I recommended him to Hartlepool only for Burnley to come along before we got our bid in! Burnley are making light of the fact that Charlie Austin is injured at the moment and are marching up the table regardless. It would be no surprise to me if Burnley finish up in the play-offs and, who knows, they might end up in the Premier League.