Jeff Stelling blogs on Chelsea manager contenders, Ryan Giggs and Roberto Martinez
Jeff Stelling says Gianfranco Zola and Gustavo Poyet should be on Chelsea's managerial radar.
Last Updated: 09/03/13 11:46am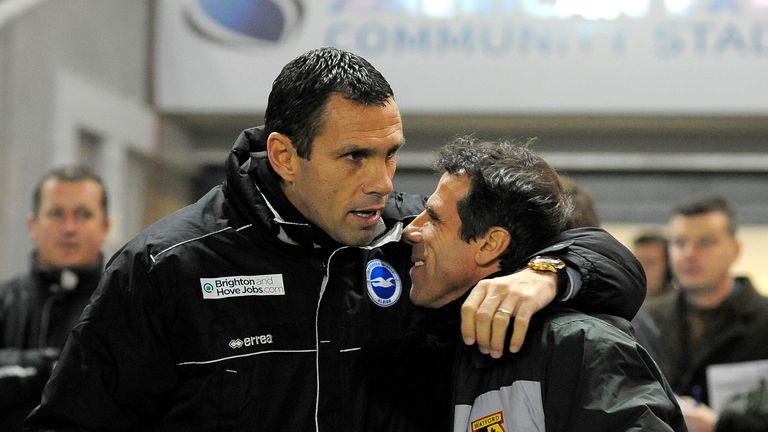 Rafa Benitez confirmed that in his extraordinary post-match outburst after the Blues' FA Cup fifth-round win over Middlesbrough on Wednesday night, so who will Roman Abramovich turn to next?
Brendan Rodgers remarked last season that he would not be interested in the Chelsea gig because "I want to build my reputation, not destroy it" and I think there will be quite a few bosses that look at the opportunity that way.
It's not going to be Pep Guardiola and if it is not Jose Mourinho - whose defensive, counter-attacking philosophies are diametrically opposed to Abramovich's thirst for scintillating football anyway - then it has to be a former player who will carry the support of the fans.
Gianfranco Zola and Gus Poyet, at Watford and Brighton respectively, appear to be the standout candidates as they have a huge bond with Chelsea and are faring well at the their current clubs.
Both men could quite conceivably guide their sides into the Premier League at the end of the season, but know that if promotion was achieved, they would face an almighty scrap to keep their Watford and Brighton teams up in the 2013/14 campaign.
Interested
Zola and Poyet are bright and articulate men and would know that there would be pros and cons of taking over at Chelsea, who have gone through managers at a rate of knots since Abramovich arrived on the scene.
On one hand they would get the chance to manage at one of the biggest clubs in Europe and have limitless resources, while on the other they could be out of work in six months - but I certainly think they would be interested in the opportunity.
Benitez, meanwhile, who is a good manager, a good tactician and a very decent guy - at completely the wrong club - made some very valid points in his rant.
But when he walks out at Stamford Bridge for Saturday's game with West Brom it will be like a gladiator entering the coliseum.
He will be slaughtered by the Chelsea fans even more than usual, but I hope for the club's sake that he sees out the rest of the campaign, as the Londoners are still in the Europa League, still in the FA Cup and still in the battle for the top four in the Premier League.
If Benitez went early the situation at Chelsea could degenerate into a total shambles - but the former Liverpool boss' career prospects are a whole lot better than that.
He has had a tough time since succeeding Roberto Di Matteo, but people within the game know the difficulties with the Chelsea job, while you can never take away that he has won the Champions League - and he may end up winning two trophies with the Blues.
Handled
I am delighted that the ageless Ryan Giggs has decided to sign a new one-year contract.at Manchester United because his performances recently have been exceptional - though he has been exceptional ever since he was a teenager.
There is no room for sentiment at Man United and there is no way Sir Alex Ferguson would have kept Giggs around if he did not feel he could contribute; he will be handled carefully and won't play every game but he should still play a major part for the club.
The Welshman started his career as a helter-skelter left-winger but I am not surprised he has converted into a classy central midfielder because as well as being an incredibly fit, model professional, he is a thinking footballer and always has been.
Giggs is an engaging and erudite man, too, and on the few occasions I have met him I have really enjoyed his company, so I certainly foresee him going into management once he finally hangs up his boots.
There are no guarantees that a top player will become a top manager and we have seen star names have difficult times in the dugout - Roberto Mancini is an obvious exception.
Over recent years a lot of the most successful managers have had little or no playing record - Benitez, Mourinho, and Andre Villas-Boas spring to mind - but given the right club and the right time, there is no reason Giggs shouldn't flourish.
On the subject of talented Welshmen, a few weeks ago in this column I said that that Gareth Bale was as good if not better than Cristiano Ronaldo and I got absolutely slaughtered for it.
But I refer all my critics to Tottenham's win over West Ham on Monday Night Football...
JEFF'S GEM OF THE WEEK
I'm going to stay in the Premier League and give the award to Wigan for their 3-0 victory at relegation-threatened rivals Reading last Saturday, where they were guided brilliantly by manager Roberto Martinez.
I heard the Spaniard criticised on a radio phone-in this week with the caller asking what he had ever done for Wigan who always battle against relegation.
What he's done is keep his club in the Premier League year after year while some of the big guns have fallen by the wayside - and done it all on a shoestring budget, in front of small crowds, and playing a brand of football that everybody would pay to see.
If I was chairman of one of the big boys and wanted to play an exhilarating style of football, I'd be looking at Martinez because he has a knack of getting a bit extra out of players.
If you look at Franco di Santo's goal-scoring record, you would class him as a dud, but Martinez has always said he was a fantastic player and you looked at him last week and thought: 'Yes, I can see why he has played for Argentina'.
Martinez is a brilliant operator, this is Di Santo's time of year and it wouldn't surprise me at all if Wigan survived yet again this season.